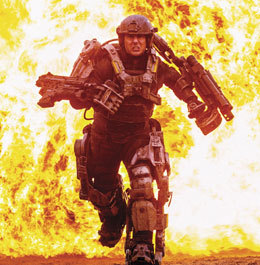 Coming Attractions
A look at the potential blockbusters (and flops) that will be hot tickets at the box office this summer.
It seems impossible that there was ever a time when the summer movie season was an in-between proposition, a time of throwaway releases holding the fort before the big titles emerged as the calendar wound down.
Yet that was pretty much the way things worked until Steven Spielberg's Jaws, released in 1975, demonstrated that there was a young, sizable, willing-to-return-for-multiple-viewings audience with discretionary income and the time to turn up at the box office in June, July and August as long as the titles or concepts or performers compelled them sufficiently.
And here we remain to this day, anticipating yet another summer movie season as a parade of high-profile, high-energy, big-budget spectacles—and little if anything in the way of Oscar expectations—comes our way, with a potential blockbuster virtually every weekend.
The summer of 2014 is characterized by vaguely familiar titles beckoning us from the marquees, with remakes and do-overs and updates and spinoffs and sequels—especially sequels—ready to perform for their built-in audiences, who are clamoring to spend more time in the company of their characters.
Here, then, are the shiniest 2014 summer attractions, including some recently released over Memorial Day weekend to officially kick off the season.
X-Men: Days of Future Past
(released 5/23)
MAJOR PLAYERS: Patrick Stewart, Ian McKellen, Hugh Jackman, Jennifer Lawrence, Michael Fassbender, Ellen Page, James McAvoy, Halle Berry
BEHIND THE CAMERA: Bryan Singer, the director of X-Men and X-Men 2, to say nothing of The Usual Suspects and Superman Returns, circles back to the franchise he abandoned a few installments ago.
REASON TO SEE IT: Time travel and changing history, with mutants both past and present, come into play this time. And Singer's two dips in this pool were grand.
REASON TO SKIP IT: Maybe there have been so many of these adventures that X no longer hits the spot. And there's another one on the way anyway in 2016.
HIT OR MISS: What are you, kidding? This one will blow the roof off the multiplex and be one of the summer's biggest hits.
Blended
(released 5/23)
MAJOR PLAYERS: Adam Sandler, Drew Barrymore
BEHIND THE CAMERA: Frank Coraci, who directed Sandler in The Wedding Singer, The Waterboy and Click
REASON TO SEE IT: Sandler and Barrymore were terrific together in the charming The Wedding Singer, which bodes well for this romantic comedy about blended families.
REASON TO SKIP IT: Sandler and Barrymore weren't so terrific together in the strained 50 First Dates, which serves as a warning about this romantic comedy. Then there's Sandler's track record in general.
HIT OR MISS: Two popular stars reuniting and blending should allow this one to become a modest hit.
Maleficent
(released 5/30)
MAJOR PLAYERS: Angelina Jolie, Elle Fanning, Sharlto Copley, Juno Temple
BEHIND THE CAMERA: Visual effects maven Richard Stromberg in his directing debut takes on a revisionist fairytale: Sleeping Beauty from the villain's point of view.
REASON TO SEE IT: Three words: Jolie as Maleficent
REASON TO SKIP IT: Three words: first-time director
HIT OR MISS: Jolie's superstardom and black horns should fill the seats, regardless.
A Million Ways to Die in the West
(released 5/30)
MAJOR PLAYERS: Seth MacFarlane, Charlize Theron, Liam Neeson, Amanda Seyfried, Sarah Silverman, Neil Patrick Harris
BEHIND THE CAMERA: MacFarlane, the creator of TV's Family Guy and director of 2012's Ted
REASON TO SEE IT: Ted was hilarious and you've been waiting a long time for a 21st-century farcical-western successor to Blazing Saddles.
REASON TO SKIP IT: Enthusiasm for the often divisive MacFarlane waned as of his disastrous Oscar hosting gig last year. And this time he stars in the flesh.
HIT OR MISS: If audiences are ready for an anything-for-a-laugh frolic with spurs, this one could catch on. But that doesn't appear likely.
Edge of Tomorrow
(released 5/30)
MAJOR PLAYERS: Tom Cruise, Emily Blunt, Bill Paxton
BEHIND THE CAMERA: Doug Liman, the director of The Bourne Identity and Mr. and Mrs. Smith
REASON TO SEE IT: It's a science-fiction thriller with an intriguing time-loop premise and features Tom Cruise in the midst of his impressive career comeback. And Blunt's no slouch.
REASON TO SKIP IT: Cruise's eyebrow-raising off-screen activities have pretty much canceled out his marquee appeal.
HIT OR MISS: This one, aided by a come-hither trailer, could be positioned to thrive as a solid summer action attraction.
The Fault in Our Stars
(releasing 6/6)
MAJOR PLAYERS: Shailene Woodley, Ansel Elgort, Willem Dafoe
BEHIND THE CAMERA: The relatively inexperienced Josh Boone, with just one credit—the relatively unseen Stuck in Love—behind him
REASON TO SEE IT: Shailene Woodley, from The Descendants and Divergent, is a rising star, and this teenage-lovers-in-a-cancer-support-group premise has a strong emotional pull among young adult readers of the John Green best-seller.
REASON TO SKIP IT: Either because you didn't read the book or you cherish it to the point that you doubt any movie could do it justice.
HIT OR MISS: The built-in audience should assure this romantic drama a decent liftoff, even if the narrowness of its target demographic limits its chance to be a blockbuster.
22 Jump Street
(releasing 6/13)
MAJOR PLAYERS: Channing Tatum, Jonah Hill, Ice Cube, Nick Offerman
BEHIND THE CAMERA: Phil Lord and Chris Miller, who also co-directed 21 Jump Street and The Lego Movie, teamed up again on this action-comedy sequel.
REASON TO SEE IT: Hill and Tatum were fine together in the surprisingly funny original, based on the TV series. And this time they'll have some fun with their public personas.
REASON TO SKIP IT: One dip in that nostalgic pool was more than enough.
HIT OR MISS: In a busy comedy summer, it will have plenty of competition, but 21 was such a big hit, audiences should be happy to return for 22.
How to Train Your Dragon 2
(releasing 6/13)
MAJOR PLAYERS: The voices of Jay Baruchel, Kristen Wiig, Cate Blanchett, Gerard Butler, Jonah Hill
BEHIND THE CAMERA: Dean DeBlois, who co-directed How to Train Your Dragon with Chris Sanders
REASON TO SEE IT: This is the summer's singular animated attraction. And the original was so much of a monster hit in 2010 that there's already another sequel, How to Train Your Dragon 3, set to open in 2016.
REASON TO SKIP IT: Despite its two Oscar nominations and obvious technical prowess, the earlier 'toon landed well on this side of magical. Perhaps draggin' the kids to a sequel lands well on this side of necessary.
HIT OR MISS: With the animation audience pretty much all to itself, the boffo numbers racked up by the first installment, and a third adventure already on its way, this has hit written all over it.
Jersey Boys
(releasing 6/20)
MAJOR PLAYERS: Christopher Walken, John Lloyd Young, Vincent Piazza, Erich Bergen
BEHIND THE CAMERA: The estimable Clint Eastwood brings this theatrical smash, a musical biography of Frankie Valli and the Four Seasons, to the movie screen.
REASON TO SEE IT: The stage show and its music were irresistible, and made you want to see and hear it again; film musicals are few and far between, and this one you've got under your skin; Young as Valli won the Tony and is starring in the movie; and it can't help but be one of the New Jersey-est movies ever made.
REASON TO SKIP IT: If you already saw it on the stage and thoroughly resisted its charms in the first place, the largely-no-name cast won't draw you in. And just because it worked on the stage doesn't mean it will walk like a man.
HIT OR MISS: Its charms may be more theatrical than cinematic, but if anyone can convert this into a million dollar baby of a must-see movie, it's musically inclined Oscar winner Eastwood.
Transformers: Age of Extinction
(releasing 6/25)
MAJOR PLAYERS: Mark Wahlberg, Nicola Peltz, Stanley Tucci, Kelsey Grammer
BEHIND THE CAMERA: Michael Bay, who also directed the first three flicks: Transformers (2007), Transformers: Revenge of the Fallen (2009), and Transformers: Dark of the Moon (2011)
REASON TO SEE IT: If you could abide the first three science-fiction adventures based on a line of toys, then chances are you're already lined up to see the fourth visit from the Autobots and Decepticons.
REASON TO SKIP IT: For those who resist the head-scratching appeal of battling robots, it's a matter of maintaining sanity. Or maybe you just miss Shia LaBeouf, who bequeaths the lead role to Wahlberg in this kickoff of a second trilogy. Oy.
HIT OR MISS: To the chagrin of those who hate this franchise, this is likely to repeat the success of the first three box office behemoths.
Dawn of the Planet of the Apes
(releasing 7/11)
MAJOR PLAYERS: Gary Oldman, Andy Serkis, Keri Russell, Judy Greer
BEHIND THE CAMERA: Director Matt Reeves, who knows how to shake up an audience, as he demonstrated in Cloverfield and Let Me In, replaces Rupert Wyatt.
REASON TO SEE IT: The 2011 reboot of this apes-of-wrath franchise thriller, Rise of the Planet of the Apes, was thoroughly entertaining. And the effects and illusions should be even spiffier in the follow-up, set 10 years later.
REASON TO SKIP IT: Has it dawned on anyone that we've already lived through an earlier version of this franchise, which consisted of eight movies, two TV series, plus comic books, novels and a video game? We're aped out.
HIT OR MISS: Rise was a big hit in 2011, nearly the equal of the 2001 smash remake of Planet of the Apes with Mark Wahlberg. So look for this one to pack them in as audiences respond to performance-capture escapism about ape-ism.
Jupiter Ascending
(releasing 7/18)
MAJOR PLAYERS: Mila Kunis, Channing Tatum, Douglas Booth, Sean Bean, Eddie Redmayne
BEHIND THE CAMERA: Andy and Lana Wachowski, perpetrators of the Matrix trilogy, Speed Racer, and Cloud Atlas, also wrote the script, which involves a conflict between a janitor and the Queen of the Universe. Say what?
REASON TO SEE IT: Kunis and Tatum are appealing stars. Uh huh.
REASON TO SKIP IT: But they're starring in a planet-hopping science-fiction adventure from the makers of Speed Racer and Cloud Atlas. Yikes and double yikes.
HIT OR MISS: This has miss written all over it.
Guardians of the Galaxy
(releasing 8/1)
MAJOR PLAYERS: Chris Pratt, the voices of Bradley Cooper and Vin Diesel, Zoe Saldana, Glenn Close, Benicio Del Toro, Djimon Hounsou, John C. Reilly
BEHIND THE CAMERA: Writer-director James Gunn, who previously directed Slither and Super, is in charge of this science fiction adventure about a team of misfit superheroes based on the Marvel comic.
REASON TO SEE IT: Because this Marvel property–unlike, say, Iron Man or Captain America—is low in profile and high on the weirdness scale, featuring a talking raccoon and a talking tree; it's a risky undertaking, worth supporting, and likely to be stimulating.
REASON TO SKIP IT: We've been marveling at the Marvel universe all summer, and superhero fatigue is starting to set in. This may be one comic-book movie too much.
HIT OR MISS: Difficult to predict, but it seems likely to appeal not to the mainstream audience but to a narrow but appreciative viewership. Carnac the Magnificent says: not a miss, but not quite a hit either.
Teenage Mutant Ninja Turtles
(releasing 8/8)
MAJOR PLAYERS: Megan Fox, Will Arnett, Whoopi Goldberg
BEHIND THE CAMERA: South African Jonathan Liebesman, who earlier directed Wrath of the Titans, Battle Los Angeles, and The Texas Chainsaw Massacre: The Beginning
REASON TO SEE IT: If you weren't alive yet in the '90s, when the three inconsequential live-action TMNT movies surfaced, then this reboot will feel fresh and new.
REASON TO SKIP IT: For parents, there are just too many to count. Simply screen any of the earlier efforts in this anthropomorphic-teen-turtles franchise, then repeat after me: "Who can I get to take my kids to this one so I don't have to?"
HIT OR MISS: If there's justice in the universe, miss. Which means it's bound to be a hit.
The Expendables 3
(releasing 8/15)
MAJOR PLAYERS: Sylvester Stallone, Jason Statham, Jet Li, Antonio Banderas, Arnold Schwarzenegger, Wesley Snipes, Dolph Lundgren, Mel Gibson, Harrison Ford
BEHIND THE CAMERA: Patrick Hughes, directing a feature for only the second time, with a screenplay co-written for a third- straight time by star Stallone.
REASON TO SEE IT: The big familiar ensemble cast, for openers. This second sequel to the popular action thriller promises more of the same for fans who flocked to the first two installments.
REASON TO SKIP IT: Because you've begun minding mindless action and the politically incorrect glorification of weaponry, and because of your sudden realization that this third shoot-em-up is expendable.
HIT OR MISS: The bullets will hit, the audience will show up and respond, and you'll miss movies with credible scripts.
Sin City: A Dame to Kill For
(releasing 8/22)
MAJOR PLAYERS: Eva Green, Bruce Willis, Joseph Gordon-Levitt, Jessica Alba, Rosario Dawson, Mickey Rourke, Josh Brolin, Ray Liotta, Lady Gaga, Juno Temple
BEHIND THE CAMERA: Like Sin City, the follow-up is co-directed by Frank Miller and Robert Rodriguez, but without "special guest director" Quentin Tarantino this time. Miller created the graphic novels, while Rodriguez has directed several dozen films, including Desperado, The Faculty, and the Spy Kids franchise.
REASON TO SEE IT: The original crime thriller was fascinating and haunting, so you've been waiting nearly a decade for a sequel.
REASON TO SKIP IT: You weren't that thrilled by the first one, which seemed a pretentious film noir indulgence that favored style over substance.
HIT OR MISS: The first one was somewhere between a cult sensation and a respectable hit. The second will be lucky to match the numbers of its predecessor.
Published (and copyrighted) in South Jersey Magazine, Volume 11, Issue 3 June, 2014).
For more info on South Jersey Magazine, click here.
To subscribe to South Jersey Magazine, click here.
To advertise in South Jersey Magazine, click here.