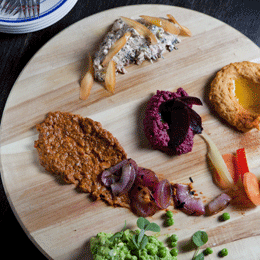 The Farm and Fisherman Tavern & Market
…A Dining Review from the pages of South Jersey Magazine…
Right at Home: The Farm and Fisherman Tavern & Market
1442 Route 70 E.
Cherry Hill
(856) 356-2282
3 and half forks
Chef Josh Lawler and his wife Colleen have made some serious waves in the local culinary scene. The couple opened up their Philadelphia BYOB, The Farm and Fisherman, in 2011 and the spot was quickly lauded as one of the best eateries in a demanding fine dining scene. A 2012 James Beard award nomination for Best New Restaurant quickly followed, alongside rave reviews and a growing reservation list that could barely accommodate their 30-seat space.
Looking for a place to build upon his success and expand his reach, the South Jersey native decided it was time he came home. Lawler announced the opening of his second restaurant in April of 2013, this time crossing the bridge into Cherry Hill, transforming Andreotti's Viennese Café into the Farm and Fisherman Tavern & Market, a seasonally inspired bar and restaurant with an adjoining marketplace that serves up local products and goods made in house.
"It's a place where you could go out on your anniversary but you could take your two kids and eat reasonably," says Lawler, who, as a father of three, wanted to open a space that featured fresh foods that were easy to fall for. "I thought it was a good area and people are very interested in eating healthy over here, and there are a lot of families, but not a lot of seasonal and lighter options."
Alongside a sprawling gray dining room, arranged openly with orange chairs and high-backed booths, you'll find a room dedicated to the tavern and market. A stretched horseshoe bar sits alongside high-top tables for those looking to grab a drink and a few quick bites, with the market on the other side of the room. Coolers and a deli-style counter are stocked with beers, snacks and house-made sides ready to be packed and sold.
Through it all, the theme remains clear: Local is better. From the ingredients and the products offered in the market to the tap list and cocktails, a huge portion of the menu comes from vendors, farms and brewers that are within a few hours' drive. That sustainable approach means crafting a menu that will change with the weather.
It was a small menu, almost too small considering the size of the space and diverse audience it was designed to feed. The selection of entrées was lacking, but the plates ranged from small to large. On a quiet night out for two, you could happily start with a few reasonably priced snacks, like the 24-hour onion dip and chips, light and crispy cheese and crackers, or "BeDeviled" eggs, which get a burst of color and flavor from beet juice, soaked into the egg white for a fun touch.
Or you could really tuck into a full-course meal with friends and grab any of Lawler's sharing-sized appetizers, like the Breads and Spreads, a lazy Susan packed with seasonal offerings, served alongside a massive pillow-y pita that is lightly roasted and served piping hot with just a bit of chew to it. The summer menu featured a locally harvested pea guacamole, walnut dip and smoky greens along with pickled veggies with just the right amount of bite, a creamy Romesco spread and crispy polenta fries for dipping. It was a fun, interactive plate of food, as we spun the wooden dish around and tore away bites of the pita to try what was next.
The list of constantly rotating appetizers always includes a local burrata, a creamy white cheese similar to mozzarella. The accompaniments to the cheese do change frequently, on one recent occasion featuring slow-cooked broccoli rabe and pesto. The creamy cheese melted onto toast, and blended with the broccoli rabe that was totally devoid of its usual bitter taste. The blend of peppery greens and garlicky pesto matched the milky cheese to form a mild and easily enjoyable bite.
While burgers, sandwiches and salads were abundant, the list of entrées was short and a little uninspiring. Still, the rigatoni Bolognese had flavor in its hearty serving. The large al dente noodles were served with chunks of braised short rib in a hearty tomato sofrito, all topped with fresh Parmesan. It was an easy dish to dig into, though not the most inventive.
The same could not be said, however, for the shrimp and grits. The dish that arrived was unlike any plate of grits I'd ever seen; instead of a bed of creamy mashed meal there were large cubes, fried on the outside but cheesy and creamy on the inside. Each cube came topped with a giant shrimp, sautéed and topped with a chunky tomato sauce. The shrimp were supremely meaty, and melded with the steamy grits. Finally, a blueberry rhubarb pie came in a hand-formed miniature pie shell, baked with a sugary crumble and topped with a giant scoop of house-made vanilla ice cream. Picked at their peak of ripeness, the late-spring fruit was sweet and coexisted beautifully; a perfect end to the meal.
It's clear that Lawler's passion for the Garden State shines through in his locally conscious and seasonally inspired menu. But more than anything, dining at Farm & Fisherman is an enjoyable experience, one that could be enjoyed slowly with the help of some great company and conversation. And when you get down to it, isn't that the goal of every great meal?
Published (and copyrighted) in South Jersey Magazine, Volume 11, Issue 3 June, 2014).
For more info on South Jersey Magazine, click here.
To subscribe to South Jersey Magazine, click here.
To advertise in South Jersey Magazine, click here.