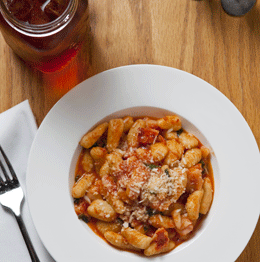 Palate Review: The Red Hen
…A Dining Review from the pages of South Jersey Magazine…
Aiming to Please: The Red Hen
1301 Kings Highway
Swedesboro
(856) 467-3058
2 and half forks
Just a little more than a year after stepping foot into Tavro 13, I find myself back in Terence Feury's same Swedesboro dining room. But there's no déjà vu here. The dining room has been totally transformed from the dimly lit Tavro space of the past to a bright and bustling new concept. Enter: The Red Hen, a home-style eatery designed with a broader audience in mind.
It's a bigger, brighter and more inviting place to eat, and a second chance for what was formerly the Old Swedes Inn to show locals just what this place is all about. While Tavro 13 still operates from Thursday to Sunday in the second dining room, The Red Hen has become the chef and owners' family destination, featuring a more accommodating menu—both price-wise and palate-wise—for all ages.
Gone is the stage that once housed live bands on the weekends, replaced by bigger tables and a market pantry packed with artisan products, local beers and wines. Antiques and knick knacks replace the modern red and black Tavro 13 design, including a particularly amusing velvet painting of a Doberman Pinscher that hangs comically near an outdoor patio area. A candy and toy bar sits near the entrance, where kids can fill a bag of treats for a set price or pick up something to pass the time while they wait for their meals.
Meanwhile, the menu, while still big on finesse and flavor, reflects the more casual space, with a complete kids' menu alongside sandwiches, burgers, pastas and full-sized seafood and meat entrées. There's also a selection of small snacking plates, like the ceviche, which features a constantly changing fish selection alongside sliced avocado, fresh lime and diced jalapeno.
The ceviche on this particular night came with diced salmon, tossed lightly in a creamy sauce. Though it was diced too finely for my taste, the flavors were bright and crisp, especially when paired with the fresh jalapeno and avocado. It was the fresh summer bite that you long for at this time of year.
And then there's the crowd-pleaser appetizers, like the chicken and waffles which seemed to sit on every table in the house. A family-sized portion of chicken—our table of three couldn't tackle the whole dish alone—came battered and fried with miniature bites of waffle, still hot out of the iron. The chicken was juicy and the waffles were soft with a hint of vanilla, and everything was taken to the next level when dipped in the accompanying maple Tabasco sauce. We got a bit of everything in each bite; salty and sweet with just a bit of heat.
The menu is expansive, and included a raw bar and cheese and charcuterie plates. But I had my eyes on the steak frites, which offered three different cuts alongside a pile of fries and a house-made steak sauce. I opted for the 16-oz. T-Bone served medium rare, which arrived slightly overcooked but bursting with smoky flavor from their open grill. It's rare to find a grilled steak with such charred smoky flavor in this area, and neither the fries nor the steak lacked in size.
The selection of pastas were all made in-house, like the perfectly prepared potato gnocchi that came tossed in a spicy tomato sauce with chunks of lobster meat and crispy pancetta. While I would have loved a little bit more pancetta to add an extra texture to the dish, there was plenty of shellfish, and the pasta and lobster went together exceptionally well.
Crab cakes were the only dish that actually required us to order an accompanying side, as they arrived with just two cakes, coleslaw and a house-made remoulade sauce. The sauce itself had a nice fresh flavor from fresh lemon that added some extra flavor to the crab cakes, while the Cajun-style slaw provided a nice crispy, cool bite that freshened everything up. Meanwhile, the side of macaroni and cheese was big enough for the table to share, a classic blend topped with buttery baked bread crumbs.
Then came a list of house-made desserts, more proof that chef Feury's presence was not lost in the change. The rich chocolate ganache cake was topped with spoonfuls of fluffy peanut butter mousse, then served alongside a crumbled peanut brittle that was also made in The Red Hen's kitchen. It's hard not to fall for the peanut butter and chocolate combo, especially when it's as creamy and moist as this plate, and the extra effort of constructing everything on the premises was certainly appreciated.
When The Red Hen was announced back in March, I feared that the restaurant might lose some of the brilliance that I saw during my trip to Tavro 13. It's clear that this new eatery has not lost any of its original spark. In fact, it looks like the team behind The Red Hen has found a new passion in feeding their neighbors, and are only just beginning to show what they can do.
Published (and copyrighted) in South Jersey Magazine, Volume 11, Issue 3 June, 2014).
For more info on South Jersey Magazine, click here.
To subscribe to South Jersey Magazine, click here.
To advertise in South Jersey Magazine, click here.