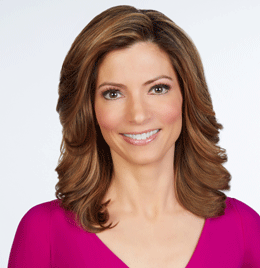 Risky Business
Off camera with FOX Business' Deidre Bolton
Deirdre Bolton hosts a popular TV show about financial trends and newsmakers for one of the world's most successful media companies. Her route to the anchor's chair was, in a word, circuitous—taking her from southeastern Pennsylvania (and the Jersey Shore) to Europe to Manhattan.
After graduating high school in Bucks County, Pa., Bolton headed west to the University of Iowa, where she earned her degree in English and French literature. Her pursuit of higher education, including a master's from New York University, ultimately took her to France, where she honed her foreign-language skills. It was there that she first fell in love with the world of finance, starting her down the path toward cable-news stardom.
She cut her teeth with Bloomberg Television, most recently as host of Money Moves, and in February she joined FOX Business Network as the face behind Risk & Reward with Deirdre Bolton. We spoke with Bolton about what she loves most about her job, why failure is a good thing and, of course, her favorite Shore points.
On moving from the world's fashion capital to the world's financial capital:
My story has lots of moving parts. I did study French literature, and all my graduate work and 80 percent of my undergrad work was done in France. When I finished my undergrad work I wanted to take advantage of my French skills, so I had a few options: fashion, and I did interview at a few places but it didn't seem like a good fit; import/export, which also didn't seem like the right fit; and banking. I was hired by a French bank at a junior level to do basic translation work. Also, for my own benefit, I enrolled in night school and started taking finance classes, explaining the basic stuff: What is a stock, what is a bond? … I took two years of classes and was ready for more a capital markets-driven job, so I started working on the trading desk [selling European equities to U.S. portfolio managers]. I loved my Wall Street years, and one of the reasons I can do my job now—and this is true for a lot of people who end up putting in tons of time and tons of energy—is because I love it. But I knew [working on the trading desk] wasn't where I wanted to be 10 years on. I also knew I didn't want my boss' job, so I knew it was time to go. I pitched myself to Bloomberg as a writer, but at the time they were more in need of TV people than magazine writers. They asked me, "If we put you on the trading floor, can you explain what's going on?" So after three days of training, that's exactly what I did.
The exciting parts of the job:
One of the most fun parts of what I cover is venture capitalism and new tech business. New York is full of investors who want to find the next Facebook or Twitter, so it's a really exciting place to be. There has always been money in the city, but for the first time in generations there are tons of entrepreneurs who have opportunities here. These are people we might not have heard of otherwise, so part of the joy for me is the discovery. These are great stories, even patriotic stories, and they speak to why people want to come here, go to school here, stay here, because they can have their intellectual property protected and they can find other people easily who are capable of helping them launch a business. … Entrepreneurs are also very honest; they will tell you, "I failed the first 99 times, but the 100th time was the one." They are "failure ready," so when they do it right, it's a compilation of every step they tweaked and honed along the way.
How Risk & Reward is being received thus far:
It's going great, touch wood. FOX has been super supportive. One thing that I'm doing is something called "Elevator Pitch," in which we block off a News Corp elevator, so we're in a moving elevator with an entrepreneur, and they have 30 seconds for the ride up to give their pitch, and there's a panel of judges waiting. Two or three weeks ago, off camera one of the judges wrote a check for $50,000 to an MBA student at Columbia [University] for his idea. … This whole show is my startup, and that segment ["Elevator Pitch"] has been my startup. I went to my boss and asked, "Can I do this?" and he told me to go for it. They're very supportive of creativity, which is unusual in the media right now; when you have a good idea, you can go for it.
Ways to relax away from the job:
I'm not an impressive runner, so I don't have bragging rights or anything, but I do love to run. … I use Central Park as much as I can; it's the best backyard a person can have.
Growing up in this neck of the woods:
It may sound trite, but it really is beautiful. My father still lives in Newtown, so I'm back there often enough, and when I'm there I'm always surprised that I'm still coming back to see farmland. Even when I was younger, being out and running around, there were a lot more farms, and you'd be driving past horses, past sheep, past cows; I still remember getting milk from a local farmer, which I don't think happens anymore. Back then we didn't have many proper restaurants in town; I think there were two, so we had to go to New Hope or Lambertville to find a proper restaurant. It was a very, kind of, "country" place to grow up, and my fonder memories are of seeing all that green.
I have friends on Long Beach Island, and I remember really liking it there. I also have very good friends in Manasquan, so I'm sure I'll be in Manasquan at least three or four times this summer. It's just now getting to be that time of year to get back there.
Published (and copyrighted) in South Jersey Magazine, Volume 11, Issue 3 June, 2014).
For more info on South Jersey Magazine, click here.
To subscribe to South Jersey Magazine, click here.
To advertise in South Jersey Magazine, click here.