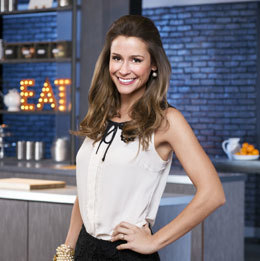 The Heat is On
Local culinarian Nicole Gaffney brings her coastal cuisine to the Food Network in their hot summer competition that produces big stars.
The Food Network's Food Network Star puts foodies, chefs, bloggers and more up against each other with the hopes of earning their own show on the popular channel. Now in its 10th season, Food Network Star has been known to produce some serious talent, like Camden's Aaron McCargo, "Sandwich King" Jeff Mauro, and even the now-legendary Guy Fieri.
This season brings a new batch of hopefuls to Los Angeles, where 12 contestants will tackle cooking and camera challenges under the watchful eyes of their mentors, Giada De Laurentiis, Alton Brown and Bobby Flay. One of those contestants is Brigantine's Nicole Gaffney, a personal chef who was born and raised at the Jersey Shore. Gaffney grew up in a family of commercial fishermen, even earning her culinary degree at The Academy of the Culinary Arts in Mays Landing before launching The Dinner Belle Personal Chef Service in 2010.
Now she's ready for her close-up, as she faces off to win the top prize. We talked with Gaffney to hear about the competition, her culinary goals, and her favorite places to dine at the Jersey Shore.
SOUTH JERSEY MAGAZINE: What made you decide to try out for Food Network Star?
NICOLE GAFFNEY: I've been a fan of the show since the first season, and every year I watch it and think to myself, 'I could probably do that.' But I've always been too shy to try out, and last year my husband and I were talking about it and he said, 'Just make an audition video and send it in.' So I did and got a call back to be on the show.
SJM: What was life like during the taping of the show?
NG: It was like going into the Twilight Zone for a while; everything is different from your regular life. I was expecting the unexpected going in: You have to know that anything can happen at any time, and you can be thrown some crazy curveballs, which definitely happened. But it was a lot of fun, almost like going back to college again. I loved meeting new people and finding our common interest, and it was so great getting to know everyone. I developed really strong relationships with my castmates. It was challenging for sure, but it was so fun. We spent every waking moment together, and we developed really close friendships.
SJM: What do you want to bring to the competition?
NG: From watching the show, I know that every contestant needs to have a culinary point of view. To succeed, you have to really focus on what you're doing and it has to be a clear focus. What I originally set out to do was cook what I'm passionate about, which is cooking using different cultures, foods from around the world that aren't really native to South Jersey. But when I got on the show I realized that the other contestants had so much international experience and what made me unique was my background, which was the coast. I come from a long line of commercial fishermen in Cape May, and it's something that I can bring to the show that other people can't.
SJM: So what is coastal cuisine to you?
NG: When people think of the coast, they immediately think of just seafood, but it's not just that. I try to drive home my definition of coastal cuisine, which is food that delivers bright, big flavors and is prepared with simple techniques. These days, you see chefs doing some amazing things with techniques and really pushing the envelope, and home cooks tend to see that and be intimidated by that, but it doesn't always need to be that way. I want to show that really delicious, high-quality food can be made in any kitchen.
SJM: Tell me about working with Bobby Flay, Giada De Laurentiis and Alton Brown.
NG: It's surreal working with the three of them, especially Bobby Flay who has such a long history on the Food Network. I've been watching Food Network since I was a kid, and watching Bobby Flay in his early years was how I learned. So getting in front of them and having them taste my food was nerve-wracking, but they're so inspirational. So being able to learn from them was an amazing opportunity.
SJM: Did any of the mentors stand out to you?
NG: They all did in a different way, but I would say maybe Bobby Flay [stood out] the most. I felt like his critiques hit home for me, and maybe it is because he has a restaurant in Atlantic City. He's sort of closer to me in attitude; he's a New Yorker, I'm a Jersey girl, and we don't sugarcoat things and I appreciate that. He was always fair in his critiques, and his were the most constructive.
SJM: So where do you like to eat when you aren't in the kitchen yourself?
NG: I'd say my top three are the Knife and Fork [in Atlantic City], Sage in Ventnor and Luke Palladino's [at Harrah's]. There are a lot of great restaurants around here. My husband and I love to go out to eat, simply because I love [food]. As much as I love cooking and entertaining for friends and family, I love going out and being served.
SJM: So what tips would you have for South Jerseyans who want to learn from your style?
NG: Find the best seafood market in your area and develop a good relationship with your fish monger. The same goes for produce; getting to know the food and where it comes from is so important. It helps you feel more connected to the food that you're making and it makes the food more special. I love gardening, fishing and crabbing and sometimes my husband and I will go out to the bay and dig up some clams. It's really great to be able to see your food from start to finish. There's nothing more gratifying to me, and I encourage as many people to get into that as possible.
Published (and copyrighted) in South Jersey Magazine, Volume 11, Issue 3 June, 2014).
For more info on South Jersey Magazine, click here.
To subscribe to South Jersey Magazine, click here.
To advertise in South Jersey Magazine, click here.