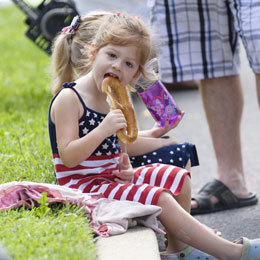 In the Neighborhood: Marlton
Following a Vision: Marlton holds onto its past while embracing the future.
Change has been in the air around Marlton over the past few years. If you've driven along routes 70 or 73 at all, you know a lot of businesses have been added and changes have been made to the roads themselves—namely the removal of the circle at the intersection of these two highways—among other improvements. While the changes are noticeable, there is one thing that has remained the same: Marlton's commitment to its residents. Despite its economic growth, Marlton has still been able to maintain a hometown feel that other towns can only hope to emulate.
Few know more about how close-knit the community is than Sandy Student, chairman of the Marlton Economic Development Commission. Student did not grow up in Marlton, but he says he can't imagine living anywhere else now. "I moved here 23 years ago, kicking and screaming," he says, explaining that the company he was working for at the time, Sony, had relocated him. "Two years later, they wanted to relocate me again, and I told them I didn't want to leave. The CEO of the company couldn't believe it, since I had put up such a fight just two years before. But I told him it turns out Marlton is a really cool place where the UPS guy brings stuff to my office if I'm not home and people know me at the supermarket and the gas station."
Part of the town's appeal is its ability to blend old with new. As Mayor Randy Brown says, the town still holds parades, a July 4th celebration and other community events where people can get out and spend time with each other, but it also offers modern conveniences that families have come to appreciate, like outdoor restaurant dining and a new baseball complex. Student says offering conveniences appreciated by the residents comes in part from the vision plan that the town put together in 2009. "In 2009, we developed a vision plan—a lot of towns call it a master plan—called Vision Plan 2020 that says what the town should look like in 2020. We got around 340 residents to come out and talk to us at our two 'vision' workshops," he says. "People told us what they liked and what they didn't like, and in the ensuing years, through redevelopment and rehabilitation, we have made improvements in six areas they noted.
"The Staples shopping center in town that people thought was not visually attractive was redone," he continues. "The old municipal complex that was vacant for years reopened last year as a gorgeous apartment complex. People told us they wanted outdoor dining and the Turning Point Restaurant, Red Stone, Brio and Panera now all have outdoor dining. … About 60 percent of what was identified we've changed or modified. There are four other projects in the works to reflect what the residents want."
Marlton also has the ability to attract businesses that are just making their way into South Jersey. Red Stone, for example, is originally from Minnesota, and opened its first South Jersey location in Marlton. Other restaurants, including Zoe's, from Alabama, and Turning Point from North Jersey, also first ventured into South Jersey via Marlton. Another restaurant, b. good, from Massachusetts, will be opening in June, adding to the list.
In addition to b. good, Marlton is looking forward to adding Cup and Cones, Rastelli's Market Fresh and The Learning Experience this year to its offering of restaurants and retailers. They join Estia restaurant, Dunkin Donuts, Lane Bryant, Visionworks, Halo Wellness Center, Pandora and Tranquility Salon, all of which also just recently opened. "We do a lot of things and we're glad we can show the way for other towns," Student says. "We have been held up as an example on the state level on how to do redevelopment smartly."
Development and redevelopment aside, Marlton has a strong volunteer core that makes sure its community events go off without a hitch. It also offers the "Live Where You Work Program," which encourages public service workers like firefighters, police officers and teachers to not only work in the community but live there and get involved as well. Student says Marlton is one of only 17 communities in the state to offer this program and notes, "I used to travel 300,000 miles a year for business, and I didn't see the kind of community involvement Marlton has anywhere else."
Brown grew up in Marlton, so when it came time to decide where he wanted to set down his roots when he got older, it was only natural for him to stay in the area. Though many people are attracted to larger cities or towns that they feel offer more than the places where they grew up, Brown didn't feel that he could find a town with a better fit for him than Marlton. "I consider Marlton the best place in the state of New Jersey to live," he says. "I enjoy living in Marlton because we've created a sense of community that throws you back to the days of the '60s and '70s when Marlton was first growing. It still has so many of those small-town qualities.
"Marlton has taught me the importance of family. I've raised my children here, I've been married twice here, I've played sports here, my dad was an elected official and my mom was in the school district. Family is just a really important part of this town."
By the Numbers
Number of annual community events: 8
Number of different sports offered by the Marlton Recreation Council: 15
Number of candles on birthday cake this year for one resident: 100
Number of volunteer firefighters: 120
Number of miles of roadways: 183
Number of first- through eighth-grade students in the district: 4,706
Number of rounds of golf played at Indian Spring Country Club in 2013: 37,123
Number of cars passing through on any given day: 90,000
Upcoming Events
6/20 Cherokee High School Graduation
7/4 Independence Day Celebration
7/7 Summer Concert Series begins
10/4 Evesham Harvest Fest
12/5 Winterfest
Published (and copyrighted) in South Jersey Magazine, Volume 11, Issue 3 June, 2014).
For more info on South Jersey Magazine, click here.
To subscribe to South Jersey Magazine, click here.
To advertise in South Jersey Magazine, click here.