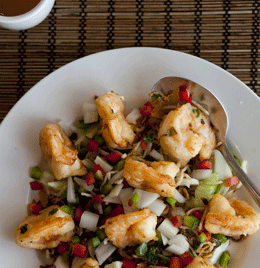 Side Dish
Quick Bite Salt n' Pepper Style Shrimp
Han Dynasty Cherry Hill
This Szechuan-style restaurant knows how to pack a punch, with loads of hot peppers and chili oils on the menu. But it's their surprisingly mild shrimp that leaves a great taste in our mouth. The entrée is also offered with scallops, both of which get lightly fried and served on a bed of diced red pepper, onion and shredded lettuce, then topped with crispy noodles. (pictured)
Key Ingredient: Asparagus
It's been a long wait, but some of our favorite local produce is starting to reappear, the first of which is asparagus. Available in purple, white or the well-known green variety, these spears are endlessly versatile and can come plated up in dozens of ways. Get your fill with any of these dishes around South Jersey.
Creamy Asparagus and Crab Soup
Sea-Lect Seafood, Maple Shade
Asparagus Nam Mun Hoy
Lai Thai Cuisine, Voorhees
Sautéed Peruvian Asparagus with Shaved Parmesan
Sweet Lula's, Pitman
Lunch Under $15
The Promenade at Sagemore, Marlton
A day of shopping can work up quite the appetite. That's why we find that The Promenade at Sagemore is the perfect one-stop location. Amid dozens of boutiques and shops, you'll find lunch options that will fuel you up for retail round two.
1. Short Rib Flatbread. Slow-cooked short rib gets nestled on a chewy flatbread crust with mozzarella, caramelized onions and Grand Padana cheese, then grilled and served with horseradish cream and a truffled Parmesan sauce. $14 at Redstone, (856) 396-0332
2. Mezza Chicken Limone. There's never a wrong time for chicken Piccata. This classic preparation of white wine, lemon and briney capers gets served with roasted veggies and mashed potatoes for a truly filling lunch option. $11.45 at BRIO, (856) 983-0277
3. Mediterranean Pita Sandwich. This newish eatery serves up Mediterranean inspiration in their light bites, like this pita which comes stuffed with albacore tuna, capers, diced red onion, olives and tomato. $7.69 at Zoe's Kitchen, (856) 334-5615
4. Chino-Latino Pineapple Pork. Slices of pork get flash-fried in a wok and coated in a tangy tamarind-chili sauce, then tossed with bell pepper, corn, tomato and a sweet pineapple relish. $14.95 at P.F. Chang's China Bistro, (856) 396-0818
5. Vegetarian Burrito. This fan-favorite lunch spot caters to vegetarians with their specialty burritos, which stuff house-made guacamole and slow-cooked black beans into a tortilla, along with cilantro-lime rice, and your choice of toppings. $6.45 at Chipotle, (856) 797-1569
Tasting: Grilling Greatness
It's time to get outside and grill … or smoke, depending on how daring you're feeling this year. To really become king—or queen—of the grill, you'll want to take advantage of some of these helpful tips from Chris Maynes, the co-owner of the Whole Hog Café in Cherry Hill.
Maynes and his barbecue team have become national legends, winning countless competitions, including three Memphis-in-May World Barbecue Championship titles. Here, he offers three tips for beginners looking to tackle their own barbecue or grill.
Use the right tools. "A really great tool to get a charcoal grill started is called a chimney starter. We use them for all of our barbecue competitions. You put a few handfuls of charcoal with some newspaper and give it about 10 minutes. It's really great for both charcoal grilling and for smoking. … And you want a good meat thermometer. A nice digital thermometer will help you monitor the temperature inside your grill as well as inside your meat so you don't overcook it."
Make time. "For barbecuing, where you're actually smoking the meat, one important rule would be to allow yourself plenty of time. The first few times I tried it, I didn't take into account how long it would take to get your smoker going and get the charcoal to temperature, and how long it would take to get your meat nice and smokey. You want to cook your meat at a nice, low temperature and really let the smoke do its work."
Season in advance. "You want to put a good dry rub on a piece of meat and leave it on there for anywhere from four hours to overnight, if you can. It really gives a great flavor to the meat, and if you're smoking, then the wood that you choose is very important. You can usually find apple, hickory or mesquite at your local home store."
Published (and copyrighted) in South Jersey Magazine, Volume 11, Issue 3 June, 2014).
For more info on South Jersey Magazine, click here.
To subscribe to South Jersey Magazine, click here.
To advertise in South Jersey Magazine, click here.