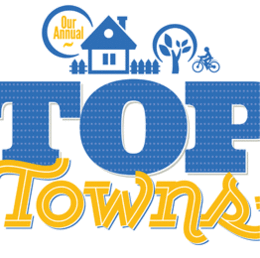 Our Annual Top Towns
The more things change, the more they stay the same. At least that appears to be the case when it comes to our annual ranking of the Top Towns in South Jersey. The top three remain unaltered from 2013, with Haddonfield once again taking the crown and Medford and Moorestown following ever so closely behind. A combination of high property values, tremendous schools and low crime rates have kept these great communities consistently atop the rankings.
This year, splitting the list between towns over and under a population of 10,000, we collected data from the state police, the state department of local government services and the state department of education. We then devised a formula that combined average property value and taxes, crime incidents reported per 1,000 people, and high school performance (which took into consideration SAT scores, the number of AP classes offered and graduation rates). We've also included the Top 25's rankings last year, three years and five years ago.
There's also tales from North Jersey transplants who have found a home in South Jersey, a look at the state of the local real estate market, and other interesting facts and figures that make this our most comprehensive Top Towns package to date. And if there's one thing that sticks out to us this year and every year, it's that the quality of living in South Jersey just keeps on getting better.
Top 25
Past years' ranking: 2013/2011/2009
Not on list: nol
Biggest gain: BG
Biggest drop: BD
1. Haddonfield 1 1 1
2. Medford 2 4 4
3. Moorestown 4 5 2
4. Marlton 6 8 6
5. Harrison 3 2 10
6. Voorhees 5 13 3
7. Woolwich 7 7 17
8. Cherry Hill 14 nol 5
9. Cinnaminson 13 16 9
10. Mantua 16 19 16
11. Washington Twp.
12. Mount Laurel 19 nol 14 BG
13. Burlington Twp. 10 15 19
14. Southampton 17 11 8
15. Lumberton Twp. 9 23 21
16. Delran 11 12 20
17. Bordentown Twp. 8 10 nol BD
18. Waterford Twp. 23 18 15
19. Haddon Twp. 18 24 12
20. West Deptford 22 nol 25
21. Florence 12 3 22 BD
22. Monroe 20 21 18
23. Gloucester Twp. 24 25 nol
24. Bellmawr nol 22 nol
25. Collingswood 21 nol nol
We asked area mayors and residents to tell us what they like about their towns, and in some cases, what they wish they could change.
TownTalk: Mayors
"Mostly I love the sense of community I feel that's obvious at annual events like Harrison Township Day, the Fall Festival or our Holiday Tree Lighting. One change? In 1974, I wish they decided to build the Commodore Barry Bridge a little further south, making Route 40 the primary East-West thoroughfare in South Jersey, not Route 322."
— Mayor Louis Manzo, Harrison Township
"We strive to maintain our small-town attitude, in spite of the growth that has taken place over the years. We have been working to diligently change our reputation from a town that is difficult for businesses with confusing regulations, to a town with a clear plan and open to developing new partnerships with entrepreneurs."
— Mayor Chris Buoni, Medford
"One of the many things I love about Voorhees is the diversity of our community and the fact that our residents acccept, embrace and celebrate that diversity."
— Mayor Michael Mignogna, Voorhees
"I love that our residents continue to have the same great pride in the township as we did decades ago, and that they are engaged in their community and in ensuring we continue to have great schools, beautiful parks and a thriving shopping district."
— Mayor Barbara Wallace, Washington Township
"I love Cinnaminson's high quality of life. Young and old alike are attracted to our excellent schools, parks and recreation programs, safe neighborhoods, exceptional services, affordability, and community pride. Yet Cinnaminson's greatest asset is its residents themselves—passionately loyal and civic-minded."
— Mayor Anthony Minniti, Cinnaminson
"What I love most about this town is the sense of community. The one thing I would like to change is being known for having one of the most dangerous stretches of road in the state. Route 130 continues to be a dangerous road to travel, not only for the residents of Delran, but the entire state."
— Mayor Ken Paris, Delran
"I love the rich, 300-year history of our town. I would like to save more trees and end the bacterial disease killing our tall oaks."
— Mayor Jeff Kasko, Haddonfield
"Since 2008, Woolwich has been attempting to develop the Route 322 corridor into a commercial 'town center.' The pace has been slower than what we had hoped, but it is on the horizon. We look to this center to promote closer proximity to shopping availability for our residents and to bring much-needed ratables to stabilize taxes."
— Mayor Samuel Maccarone Jr., Woolwich
TownTalk: Residents
"I've always said it sucks that Mount Laurel is all housing developments that make up the town and a few strip malls. We could have had it all if Mount Laurel was more like Collingswood or Haddonfield with a cute Main Street and boutique shops."
— Mary Veterano, Mount Laurel
"I would like if the Main Street shops were open a little later in the summer. … The elementary school district for Moorestown is very family friendly."
— Laura Connelly, Moorestown
"I appreciate the small-town feel. The neighborhoods are multi-generational and it makes for a close-knit town."
— Brandon Gray, Maple Shade
"The old Pennsauken Flea Market off of Route 130 was razed for new housing that has never materialized, and the area remains desolate. That was a cultural epicenter in the community and it is sorely missed."
— Patrick Barry, Pennsauken
"We fell in love with Medford because of the quiet setting nestled among the trees and away from major highways, and the school system is one of the best in South Jersey. If I could change something, I would like to see the intersections throughout the town kept cleaner: free of weeds, debris, cigarette butts, etc."
— Kathleen Moore, Medford
"I have lived in South Jersey just about my entire life and I am very impressed with everything that Collingswood/Haddon Township has to offer, from the extremely family- and dog-friendly parks and neighborhood culture, to the establishments that include award-winning restaurants, watering holes and event venues."
— Scott Boyd, Collingswood
"I love the accessibility to many destinations of commerce in Deptford, including the many retail stores and a large, clean mall. What I don't like is how we have two Walmarts in town that have squeezed out any ability for other supermarket chains to come in and compete."
— Michael Barreto, Deptford
"I love how Cherry Hill continues to grow and better itself … there is always some type of new construction or development in process, proving to the residents that Cherry Hill truly cares about the community and continues to strive for improvement."
— Julie Wilkins, Cherry Hill
"There is only one elementary school and all the sports are made up of only our town, so all the families know one another, which nowadays is a rarity. … The only real negative is the taxes; they are one of the highest in South Jersey. If it weren't for that, I think this would be one of the most sought-after communities in the region."
— Dana Marra, Wenonah
Big Towns
Average Residential Value; Average Residential Taxes; Crime Rate Percentage per 1,000
Burlington County
Bordentown Twp. $239,281 $6,744 16.8
Burlington Twp. $229,902 $6,225 16
Cinnaminson $283,505 $6,776 23.3
Delran $209,668 $6,817 16.1
Florence $227,410 $5,183 10.1
Lumberton $310,340 $6,700 27.2
Maple Shade $202,877 $5,239 26.1
Marlton $271,235 $6,761 15.6
Medford $330,013 $9,424 12.3
Moorestown $445,709 $10,227 25
Mount Holly $174,109 $4,367 35.6
Mount Laurel $142,165 $6,115 17.9
Pemberton $114,129 $3,070 33
Southampton $192,163 $4,814 18.8
Willingboro $158,731 $5,298 24.7
Camden County
Bellmawr $170,366 $5,741 27.5
Cherry Hill $223,542 $7,715 33.3
Collingswood $231,327 $7,144 40.2
Gloucester City $72,519 $3,753 34
Gloucester Twp. $195,574 $6,130 27.2
Haddon Twp. $223,620 $7,313 30.1
Haddonfield $487,395 $13,384 20.9
Lindenwold $97,733 $4,062 47.2
Pennsauken $90,442 $4,717 38.3
Pine Hill $154,140 $5,776 29.1
Voorhees $255,595 $8,727 22.8
Waterford $115,751 $6,311 17.4
Winslow $175,766 $5,497 21.4
Gloucester County
Deptford $178,516 $4,781 55.1
Franklin $185,803 $5,363 23.7
Glassboro $187,989 $6,141 33.4
Harrison Twp. $312,800 $8,228 15.5
Mantua $205,501 $6,092 17.5
Monroe $208,217 $6,513 25
Washington Twp. $210,648 $6,684 25.1
West Deptford $204,027 $5,364 21.2
Woodbury $140,564 $6,067 59.8
Woolwich $285,909 $9,262 6.5
Small Towns
Average Residential Value; Average Residential Taxes; Crime Rate Percentage per 1,000
Burlington County
Bordentown City $205,140 $6,204 12.5
Burlington City $140,743 $4,466 27.7
Chesterfield $395,014 $8,837 3.4
Delanco $234,020 $5,320 21.8
Eastampton $272,640 $6,513 19.2
Edgewater Park $194,849 $4,511 20
Hainesport $277,807 $5,765 27.4
Mansfield $239,381 $7,006 13
Medford Lakes $286,570 $8,244 7.2
New Hanover Twp. $177,636 $3,793 1.5
North Hanover Twp. $317,027 $5,935 7.5
Palmyra $148,175 $4,948 28.1
Riverside $153,519 $4,735 16.5
Riverton $246,542 $7,734 20.8
Shamong $308,378 $7,493 7.4
Tabernacle $296,220 $6,643 14.9
Westampton $239,378 $5,075 22.5
Camden County
Audubon $207,645 $6,240 42.2
Barrington Borough $220,690 $7,346 10
Berlin Borough $236,419 $6,733 27.5
Berlin Twp. $105,983 $5,775 52.2
Clementon $138,238 $4,832 57
Haddon Heights $286,403 $8,164 18.9
Magnolia $147,020 $5,476 31
Merchantville $185,422 $6,638 28
Mount Ephraim $91,705 $6,049 31
Oaklyn $163,838 $6,340 32.8
Runnemede $147,018 $5,380 34.4
Somerdale $158,836 $5,362 66.2
Stratford $106,107 $6,187 25.8
Gloucester County
Clayton $153,952 $5,187 19.1
East Greenwich Twp. $266,320 $7,497 12.2
Elk Township $201,555 $5,977 35.8
Greenwich Twp. $161,551 $4,504 29
Logan $186,524 $3,925 20.3
National Park $151,871 $5,606 32.2
Paulsboro $114,078 $3,755 42.5
Pitman $168,647 $6,404 19.7
Swedesboro $186,526 $6,725 10.6
Wenonah $303,395 $9,585 16.3
Westville $136,687 $4,753 40.7
Woodbury Heights $177,890 $6,663 37.3
Top Ten Small Towns
1. Medford Lakes
2. Chesterfield
3. Shamong
4. Tabernacle
5. Mansfield
6. North Hanover
7. East Greenwich
8. Swedesboro
9. Haddon Heights
10. Barrington
By the Numbers
5: The population of Tavistock, the golf course community that seceded from Haddonfield in the '20s, making it the smallest municipality in the state—followed by Pine Valley, also a golf course community in Camden County, with a population of 12
71,045: Population of Cherry Hill, the second largest in the tri-county region behind Camden City's 77,344
$190,000: Median sales price of single family homes in Gloucester County, as of March
$180,000: Sales price in Camden County
$235,000: Sales price in Burlington County
30: Number of lakes in Medford that were originally cranberry bogs and mill ponds
1858: The year William Parker Foulke discovered a Hadrosaurus skeleton, the first nearly complete dinosaur skeleton in the world, in Haddonfield
3,200 acres: Size of Logan Township's Pureland Industrial Park, the largest such complex on the East Coast
1,200 acres: Amount of that land that's preserved within it
Where the Grass is Greener
North Jersey 'transplants' tell us why they moved south, and didn't look back.
There's a particular memory that Valeria Galarza will always remember from when she first started dating her husband, Eddie. Though they grew up in seemingly different states—North and South Jersey, respectively—they met through mutual friends in college, and he took her for a drive one day around Camden County.
"I looked around and said, 'Oh my gosh, there's so much grass!'" she recalls, chuckling. "He laughed and asked if I was serious, but you just don't see that much green space in North Jersey."
With only one county park near where she grew up in Hudson County (in a small town called Guttenberg), she describes discovering South Jersey as a breath of fresh air—literally—and a welcome break from the congestion of everyday life back home.
Though she says it was a great place to live, "I haven't been back since," she admits, adding she moved to Cherry Hill within five months of meeting her husband. After they got married in 2004, they bought a house in Voorhees and now have a 3-year-old son.
They've discovered the delicate line here in South Jersey, a balance between peace and quiet and access to the action, that many find to be the perfect location to raise a family. But for those who aren't originally from here, it could still take a little persuasion to make the move. Fortunately, love is quite the motivator.
It was the same thing that kept Alan Wheeler from moving back home after college to Bogota, a small town near Hackensack in Bergen County. He met his wife, Delran-native Michele, after landing a job as a cameraman for CBS3 in Philadelphia in 2000.
"It's like the tale of two halves," he says. "It's different [in North Jersey.] Everything is more condensed, the houses are right on top of each other, it's more urban and industrial. Having lived in both places, the people are a little more … edgy."
The couple, and their now three kids, started out in Cinnaminson and have now been living in Mount Laurel—"a big town with a small-town feel," he says—for eight years. "I love the fact that you get more for your money here property value-wise," Wheeler says. "We have a half an acre, so it's plenty of room for the kids."
Does he miss North Jersey? "Not really," he says. "New Jersey always felt like home. Whether it was North or South Jersey, I just knew I needed to be in New Jersey."
For Galarza, she remembers there were a few family and friends who raised their eyebrows at the thought of moving south and leaving the backdrop of New York City behind, but then a funny thing happened—her cousin, sister and mom all moved down here as well, so there isn't much she misses either.
"You still get the feel of a big city with Philadelphia being right next door," she says. "I still need that city feel. I feel like I have a little bit of everything in South Jersey."
On the Market
We take a look at how local real estate is faring, and ask realtors for their perspective on why certain towns are consistently at the top of our list.
At the end of 2013, the New Jersey Association of Realtors (NJAR) basked in good news: Not only were closing sales at the highest levels since 2005, but prices were moving up as well—reaching a three-year high median of $283,500.
That upswing is being felt locally. Val Nunnenkamp, with Berkshire Hathaway HomeServices Fox & Roach in Marlton, says his sales were up 36 percent last year, and they're beginning to see homes—particularly under $500,000—receive multiple bids.
"If you live in a demanding school district in a community that has newer housing, something under 35 years of age, and it's well-maintained, then it's a seller's market," he says.
Haley DeStefano, with Keller Williams Realty in Sewell and Swedesboro, agrees. "I definitely think this is an improved market," she says. "If a home is beautiful, it's turnkey and in a nice location, buyers are falling over each other."
The numbers paint the same picture: For Burlington, Camden and Gloucester counties, as of March, new listings and closed sales were up compared to this time last year, while days on the market were down, according to the NJAR.
"Between the price range of $250,000 to $500,000, there's like 10 buyers for every house," says Anne Koons, of Berkshire Hathaway in Cherry Hill, who adds that within the next two weeks, she'll be listing at least 11 homes—so although inventory is currently low, it is increasing. "The market is leaning toward sellers because they're getting their prices today. If your house is in tip-top shape, it sells. I've had a couple go over asking price."
Location does matter, of course. Despite the past volatility, there has always been one constant: the top-selling towns. According to our realtors, the hotbeds have consistently been Moorestown, Marlton and Mount Laurel in Burlington County; Haddonfield, Cherry Hill and Voorhees in Camden County; and Woolwich, Logan and Mullica Hill in Gloucester County. And the reason why centers on schools.
DeStefano points to Woolwich, which has a highly successful school system and is one of the few towns that's continuing to see new construction. "I listed a house in Woolwich two weeks ago, and in three days it had three offers," she says.
Nunnenkamp adds that in Moorestown and Haddonfield—two of the top districts in the state—if a seller is asking under $750,000 and the house is in "A-plus shape," you could end up with multiple offers.
"When people used to ask me if we had hit the bottom of the market, I didn't know," DeStefano admits. "But now I can look back and I know. Prices have risen and they're just going to continue to rise."
Published (and copyrighted) in South Jersey Magazine, Volume 11, Issue 2 May, 2014).
For more info on South Jersey Magazine, click here.
To subscribe to South Jersey Magazine, click here.
To advertise in South Jersey Magazine, click here.