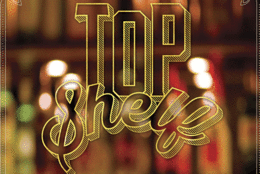 Top Shelf
It's a five-word phrase almost of all us have uttered at some point in our adult lives: "I could use a drink." We totally get it. In times of celebration and in times of aggravation, sometimes there's nothing better than a good stiff cocktail. That's why we sipped everything from Aviations to zinfandels in our first-ever mission to find the Best Bars in South Jersey, places where you come for the drinks and stay for the experience. Read on to find out where you should order your next round, as well as our choices for the best places to grab a pint along with the top spots for live entertainment.
The ChopHouse
in Gibbsboro
The deeply warm, inviting bar area at this restaurant is more than just a place to grab a drink while waiting for your table. The beer and wine offerings are quite respectable, but the menu of specialty cocktails is what has us buzzing—in more ways than one.
Drink this: The Cucumber Mojito, a blend of Hendrick's gin, muddled lime and cucumber added to simple syrup and fresh mint. It's crisp, refreshing, and the perfect way to kick off a spring or summer evening.
Fleming's Prime Steakhouse and Wine Bar
in Marlton
With five cocktails, five wines and five appetizers priced at $6 each, happy hour here is a structured thing of beauty. And we're not talking nachos and wings, think carpaccio and crispy pork belly instead. The regular bar menu also complements the array of well-crafted cocktails available, but some of our favorites are their drinkable desserts like their bourbon peach martini—Maker's Mark mixed with fruit and toasted almond.
Drink this: The Half Moon Rudy is an extremely sippable drink consisting of gin, small batch tonic and apples, garnished with white flowers.
The Capital Grille
in Cherry Hill
Tucked away from the main dining room, the quaint and cozy bar at The Capital Grille can be an experience unto itself, and one that never gets old. It's the perfect place to raise a glass no matter if you're toasting that big business deal, a milestone birthday or just good friends and family.
Drink this: Since 1990, this steakhouse has been serving up their signature Stoli Doli martini: Vodka infused with pineapple, chilled and served straight up; the way it should be.
Caffe Aldo Lamberti
in Cherry Hill
We love this bar for many reasons, especially when the weather breaks and they open up the doors to the patio. Though the open patio can add to the din, it's still a romantic scene for sure, meaning you're actually able to hold a conversation with your significant other while you decide on which libation to order.
Drink this: Creamy limoncello made in-house highlights the Lemon Meringue Pie that also features Frangelico, a liquer whose nutty notes work harmoniously with your glass' crushed graham cracker rim.
Terra Nova
in Washington Township
This L-shaped bar is a great place to belly up to come happy hour (even on Saturdays!) when martinis are $6 and the inventive sushi rolls are half price. And the personable bartenders here aren't afraid to show their mixology skills on a rotating list of inspired specialty drinks. Drink this: The Hibiscus Fizz is a martini concocted of Aboslut Hibiskus vodka, fresh lemon juice, fresh mint and a splash of Champagne.
Blue2o
in Cherry Hill
The modern décor in this beautiful bar space is as fresh as the seafood on the menu. On Fridays and Saturdays live jazz bands and other entertainment serve as the perfect soundtrack for a proper adult evening out on the town. There's something for everyone here, including a suprising Scotch list.
Drink this: The classic vodka martini is elevated with the use of Zyr vodka and we can't ever get enough of those blue cheese stuffed olives.
Giumarello's
in Haddon Township
Whether you're looking for a place come date night or just a great night, it's hard to beat the long and winding bar here. Still very much a part of the restaurant, but affectionately known as G Bar, this is where you'll find piano players tickling the ebony and ivory while martinis are expertly prepared with a deft hand. The fare on the bar menu is as polished as the space itself.
Drink this: Any of the martinis will do, but we're also partial to the Anguilla rum punch, which packs, well, quite the punch.
RiverWinds
in West Deptford
With picturesque views of neighboring Philadelphia , the bar at RiverWinds offers scenery to match its upscale décor. Happy hour runs from 11 a.m. til 7 p.m. during the week, which means you can stop by for a cocktail before a round of golf or after a long day at the office. Either way, you'd be hard pressed to not enjoy yourself in this grand space.
Drink this: The Blood Orange martini starts with orange vodka then combines two kinds of blood orange liquer and a touch of cranberry juice for a sweet way to wet your whistle.
Filomena Lakeview
in Deptford
We never mind arriving a little before our reservation so that we can snag a seat at Filomena's bar, where we're greeted with a smile and plenty of solid drink offerings. It's also a great place to linger after your meal, assuming that you weren't tempted by the appetizing bar menu offerings beforehand.
Drink this: The Campari Express is our preferred way to travel thanks to Ketel One, Campari and muddled fresh lime juice.
Seasons 52
in Cherry Hill
This calorie-conscious establishment may not have a traditional happy hour, but their Flights and Flatbread offering serves us just fine. Three 2-ounce pours of wine and a signature flatbread for $15 is great, but getting to choose your favorite wine of the three and then getting a full glass is even better.
Drink this: You don't need to be wearing a grass skirt (thankfully) to fully enjoy the Hawaiian Pineapple Cosmopolitan, a concoction of Van Gogh Pineapple vodka and Patrón Citrónge.
Café Madison
in Riverside
From an outdoor bar with its own grill and taps to the slick Martini Bar inside serving up tapas to the neighboring Towne Tavern, a renovated century-old bar next to the dining room with its own specialty menu, happy hour and specials, there really is a setting for every occasion.
Drink this: Towne Tavern's Jolly Madison is a specialty martini featuring smooth vanilla vodka blended with Watermelon Pucker, sour apple mix and a finishing touch of cranberry juice.
Redstone
in Marlton
It may be giant, but this bar is always packed with diners looking to take advantage of the specialty drink list. Then there's the outside space, which features live music during the week, a fire pit lounge, and even more dynamic drinks.
Drink this: One of our favorites is the Key Lime Pie Martini, a blend of Stoli Vanilla, Midori, simple syrup and lime juice, which gets blended with a splash of half and half and served in a glass rimmed with graham cracker crumbs.
Brio Tuscan Grille
in Cherry Hill and Marlton
Locals rave about Brio's impressive Tuscan-themed happy hour served up at the bars in both locations, which includes a cocktail list that aims to please. Small bites combine with martinis, a stellar wine list and more to create a relaxing post-work atmosphere.
Drink this: The White Peach Sangria is a heavenly mix of peach nectar, fresh berries and citrus fruits, peach schnapps and chardonnay, served on the rocks.
Tavro 13
in Swedesboro
Tavro's bar is like stepping back in time to when there was a certain reverence to fine cocktails, complete with capable bartenders dressed to the nines.
Drink this: Tavro 13's known for nailing classic cocktails, like their take on the Buccaneer. Spiced rum gets mixed with ginger liqueur, velvet falernum—for an added sweet and spicy kick—and angostura bitters, then blended with pineapple and lime juice and served up.
Farm and Fisherman Tavern
in Cherry Hill
Chef and owner Josh Lawler is a Cherry Hill native, so it's no surprise that he's embraced South Jersey's local offerings, including a list of draft beers from all over the area. Grab a seat at their sprawling bar and take a sip from any of the seasonally inspired drinks offered, which change throughout the year.
Drink this: All of Farm and Fisherman Tavern's cocktails are inspired by a local landmark or neighborhood, like the Tavistock Aviation. This floral creation blends gin, maraschino liqueur, lemon juice and crème de violette.
Grand Lux Café
in Cherry Hill
The space inside this Cherry Hill Mall restaurant certainly is grand, and that includes the chic bar area. Think high ceilings, dark wood and low lighting, all of which creates an intimate and separate experience from the rest of the dining room.
Drink this: Grand Lux Café's Mai Tai ups the ante with four different kinds of rum, then is finished off with passion fruit and more tropical juices.
Catelli Duo
in Voorhees
Voorhees Town Center's Italian eatery is known as much for its bar area as it is for its innovative dishes. Grab a seat inside to catch up with friends or watch the game, or head outside to their second bar, equipped with a stylish modern counter and a fire pit for lounging.
Drink this: Bulleit bourbon gets a sweet twist in the Modern Ward, a cocktail featuring pomegranate juice, fresh lime, and house-made simple syrup that gets finished with a ginger ale float.
Firebirds Wood Fired Grill
in Moorestown
Heading to the mall and grabbing a drink in the otherwise dry Moorestown is worth celebrating, that's why we love heading to the eclectic bar at Firebirds Wood Fired Grill. The brightly lit wall of colorful bottles is almost as impressive as their cocktail menu, which is combined with a reasonably priced and diverse after-dinner drink list.
Drink this: Look to the pitcher of citron vodka, stacked with pineapples soaked for 21 days, seated on the bar counter before ordering their signature Double Black Diamond martini. Each drink gets splashed with the vodka, then combined with fresh pineapple juice and served with a pineapple slice.
Treno
in Westmont
Treno's bar space is its own intimate part of the restaurant, featuring an exciting craft beer and cocktail menu, along with a wine list sorted by glass and organized by price to help make your pick a bit easier. Meanwhile, the floor-to-ceiling windows open up in the back bar to let in the fresh air and create a sheltered but inviting outdoor space.
Drink this: Treno's Bloody Mary gets a hearty spin with the restaurant's specialty mix, Ketel One vodka and an antipasti skewer on top.
Sweetwater Bar and Grill
in Cinnaminson
This bar is designed with all in mind. It includes wrap-around seating with more than enough flat screens for sports fans, along with a martini and cocktail list that rivals their superb local draft list–including their own brew crafted by Flying Fish.
Drink this: Fall for the Sweetwater Love Elixir, which combines Van Gogh's dark cherry, raspberry and acai-blueberry vodkas with cranberry juice to create a sweet and fruity love potion.
Beer Here
Ten places where craft brews are king
Geraghty's Pub
in Burlington
If you can't find something you like on one of Geraghty's 13 taps, you're sure to find it on their hefty bottle list.
Carolina Blue
in Sewell
The beer-savvy crew here keeps favorites like Victory and Chimay on tap at all times, which brings consistency to the rotating brews you'll find down the row.
Champps
in Marlton
Plenty of big screens to watch the game and a surprisingly great selection of beers on draft make this an unassuming winner in the eyes of a serious beer drinker.
Tap Room and Grill
in Haddon Township
This bar may not have the quantity of taps as some other locals, but they certainly don't lack in the quality department when it comes to their beer list.
Village Idiot Brewing Company
in Mount Holly
Some may call it a boutique brewery, but good things come in small packages at our new favorite hangout in Mount Holly. Technically considered a tasting room, they don't serve food, just quality beers crafted on premises.
The Irish Mile
in Westmont
We can't get enough of The Irish Mile's stacked draft list, and with 72 rotating brews on tap, you probably can't either. Better yet, you can always find some locals from the likes of Carton, Kane, Flying Fish and Cape May Brewing Company.
Iron Hill Brewery & Restaurant
in Voorhees and Maple Shade
Brews are made in-house at each location, with a constantly rotating draft list of seasonal beers, along with regular Iron Hill favorites and bottled reserves that vary from location-to-location.
Blue Monkey Tavern
in Merchantville
Featuring 40 taps, the remarkable offerings here range from local to international with enough variety of styles to please any discerning beer geek.
House of Brews
in Turnersville
With 24 taps on hand, the name says it all. You'll rarely see the same beers twice here, and if you do it's because they are that good.
The PourHouse
in Westmont
Known for throwing stellar beer-centric events, a topnotch tap list and a bevy of bottles (143 at the ready), this has become one of South Jersey's destinations for beer aficionados.
Five Alive
Our favorite bars for live entertainment
Prospectors Restaurant
in Mount Laurel
The Saloon Bar prides itself on stellar live country music. You can find live performers weekly out on their patio or country concerts and dance parties inside the club. Don't forget your cowboy boots.
Dubh Linn Square
in Cherry Hill, Bordentown
DJs, acoustic bands and popular local rock acts take over during "Dubh After Dark." You can also make your own beat during Thursday night karaoke in Bordentown.
Coastline Bar & Grill
in Cherry Hill
There's a party every night at the Coastline, with regular live acts, karaoke, Disco Night, and a weekly oldies dance party keeping the energy on the dance floor alive.
P.J. Whelihan's
MULTIPLE LOCATIONS
The weekends get wild at all five locations, with live bands performing every Saturday at Cherry Hill, Medford Lakes, Maple Shade and Haddon Township. Meanwhile, live DJs make an appearance on the regular at both the Cherry Hill and Washington Township bars.
Scatturo's
in Marlton
When the sun goes down on Friday and Saturday nights, Scatturo's bar really heats up with live music, especially outside where the vibe always seems a little more celebratory.
Published (and copyrighted) in South Jersey Magazine, Volume 11, Issue 2 May, 2014).
For more info on South Jersey Magazine, click here.
To subscribe to South Jersey Magazine, click here.
To advertise in South Jersey Magazine, click here.