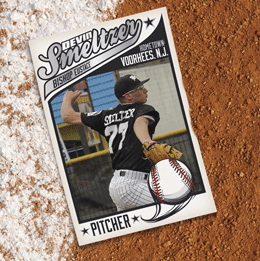 Living the Dream
When Devin Smeltzer was diagnosed with cancer at 9 years old, he just wanted to play baseball again. Now, he's cancer free, on the verge of going pro, and making sure other kids in similar situations know he's by their side.
Although it was nine years ago this summer, Devin Smeltzer remembers the moment like it was yesterday. He had just been told, at age 9, that the severe abdominal pain he had been experiencing for months was actually a form of cancer called pelvic rhabdomyosarcoma, and a softball-sized tumor was discovered on his prostate. But his immediate reaction wasn't fear or anger or even sadness. He simply asked, "Can I still play baseball?"
That was in the summer of 2005, and the following spring he got his answer. Despite facing grueling treatments at St. Christopher's Hospital for Children in Philadelphia, losing his hair because of chemotherapy, dropping 30 pounds off his 80-pound frame, and missing almost his entire fourth-grade school year, cancer couldn't keep him off the baseball field.
"To be honest, it was my only way to be a kid," says Smeltzer, a Voorhees resident. "I couldn't go to school. I couldn't go to any crowded public places with my immune system being so low. It was risky playing, but my doctor said, 'Hey, if you feel up to it, it's on you. Just don't be stupid.' But every game, I put it all out there. I'd lay out for balls and take pitches for the team. With my platelets being so low, I'd get bruises everywhere. I honestly don't know where the strength came from; I'm just blessed that I had it."
Looking at Smeltzer now, you'd never guess the ordeal he went through as a kid. He's grown into a 6-foot-3, 190-pound senior baseball star at Bishop Eustace Preparatory School, his left arm fires fastballs in the 90-mile-per-hour range, and he's almost certain to hear his name called in a few weeks in the Major League Baseball First-Year Player Draft. But while the disease has left his body—he was declared cancer-free in December 2012—it has never left his thoughts, and neither have the kids who are affected by it.
One of the top 100 high school prospects in the country, according to Baseball America, Smeltzer has pitched often in front of major-league scouts, whether during showcase tournaments in the summer or during games at Bishop Eustace. He also frequently fills out questionnaires for those scouts, and one of his answers left an impression.
"Matt Hyde from the [New York] Yankees and Tim Alexander from the [Tampa Bay] Rays, they read my questionnaire," he says. "The one question asked what I wanted out of my career off the field. I said to give back to the kids who are in the same shoes that I was in. They got inspired by that and got this big Northeast showcase together for all the top players in the Northeast. It really went well; we raised a lot of money."
The fundraiser, called the Swing for the Cure Camp and Home Run Hitting Contest, was held in Syracuse over the winter and helped raise more than $35,000 for cancer and diabetes charities. Smeltzer shared his story at the event, and about a month later presented a check for almost $20,000 to St. Christopher's, the hospital where he was treated. "At the beginning of my high school career, I was scared to death to even talk in front of my classmates," he says. "Over the past few years … I've loosened up and I have no problem at all talking in front of people. It meant a lot to me to be able to thank the people who came out and supported us."
Smeltzer continued his fundraising efforts this spring. Inspired by former St. Joseph's-Montvale pitcher Rob Kaminsky, he started an endeavor called Strikeouts for Cancer. People can pledge any dollar amount for each strikeout that Smeltzer records during his senior season, with the proceeds going to the charity Katie's Krusaders and the families of children treated at St. Christopher's. The registration form is available on KatiesKrusaders.com, and Smeltzer's goal is to raise more than the $17,000 that Kaminsky raised last year.
"He's one of these kids that, at such a young age, is able to see the big picture in life," says long-time Bishop Eustace baseball coach Sam Tropiano. "He treasures every day that he has and appreciates it more than most of us because of what he's been through. He really feels for the kids that are fighting because he had to fight. He's such an advocate for the cause and it's really awesome to see him do these things."
"That's one of his passions," adds Tim Smeltzer, Devin's father. "He was a typical kid when he first got to the hospital, asking 'Why me?' But after a few weeks, he saw that he wasn't as bad off as some of the others, even though he had it bad. He's had that type of mentality [to give back] ever since then."
Perhaps even more important than Smeltzer's fundraising efforts is the emotional support he gives to kids at St. Christopher's. He visits the hospital often, and whenever a new patient comes in—especially an athlete—Smeltzer is brought in to answer any questions he or she might have.
"They ask some questions about cancer, but most of the time they're just looking for someone who understands what they're going through," he says. "I didn't want to be looked at differently [when I was sick], I just wanted to be a kid, and I feel like that's what all kids want. When I was at the plate, I didn't want people treating me different or pitching me different because I had cancer. I was still the hardnosed player that I always was. I feel that all the kids are looking to live a normal life and have someone who's been there to understand."
Smeltzer needed that support himself when he was sick, and got it from the staff and his fellow cancer patients at St. Christopher's. Unfortunately, some of those friends didn't make it. One in particular, a boy named Frankie who was two years younger and became Smeltzer's closest friend, lost his battle with cancer. The pitcher now has Frankie's initials, along with the initials of other friends he's lost, written on the inside of his hat. "I put them there so they can watch over me," he says. "If anything ever gets tough, I know I can look up at them and they're there for me."
Smeltzer will continue that tradition at his next stop, wherever that may be. His senior season at Bishop Eustace is shaping up to be a special one—the Crusaders are one of the top teams in South Jersey and should be a state championship contender—and after that comes the draft in June. Depending on which team selects him and what round he's chosen in, Smeltzer could soon be chasing his dreams of professional baseball; if not, a scholarship to Division I Florida Gulf Coast University is waiting for him.
"I look at it as a win-win," he says. "If I get drafted, I'm one step closer to the dream. If not, I'm in one awesome place with a great team and a great coaching staff that I really connected with."
No matter where he ends up, don't expect Smeltzer to hide from his past. Cancer will always be part of his story, and he plans on continuing to help sick children, and St. Christopher's, in any way he can. "I was in these kids' situations at one point and I know how much it meant to me, just meeting survivors and seeing that there's light at the end of the tunnel," he says. "It means a lot to me to be able to give back to these kids and help them out and show them that there's hope on the other side."
Published (and copyrighted) in South Jersey Magazine, Volume 11, Issue 2 May, 2014).
For more info on South Jersey Magazine, click here.
To subscribe to South Jersey Magazine, click here.
To advertise in South Jersey Magazine, click here.