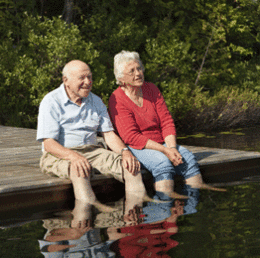 Quality of Life
Trends in senior living give new options for growing old.
It's a fact that people are living longer than ever before. A study conducted by the National Institute on Aging found that the number of Americans age 65 or older increased tenfold in the last century. Study researchers report that the elderly are not only living longer lives, but are living in more comfort and in better health. Advances in medicine, a greater focus on wellness care, and improved elder services are all contributing to this positive effect. These days, older adults have more options than ever before when it comes to long-term living.
"The focus for consumers now, more than ever, is about choosing the absolute right environment not only for today's needs but for tomorrow's as well," says Melissa Repkoe, CALA, director of community relations for Brandywine Senior Living at Voorhees. "I can't tell you how many clients I've met with who are really puzzled about how to predict the future. Of course, that's impossible, but the pursuit continues."
As people try to plan for their future as best they can, they want to know what options are out there. Many people wish to stay in their existing home as they age. That's becoming increasingly possible with the concept of "aging in place." In fact, builders and contractors are becoming specialized in the home modifications needed to make aging in place possible. Homes can be converted for one-level living and handicap accessibility modifications can be made.
A community connection
Of course, not everyone wants to go through renovations. Some people simply like the idea of moving to a senior living community where all of those things are already taken care of on top of other amenities. Edward Toy, director of sales and marketing at Lions Gate in Voorhees, says this particularly rough winter was a catalyst for many to revisit the idea of a senior living community. "We've had an increase in requests for information and appointments, and many people are telling us they don't want to have to worry about things like shoveling or transportation anymore," Toy says.
For those that do make the move, they often want it to be their last move. The concept of aging in place still applies. Repkoe says the fact that the senior population is "older than ever before" is part of the reason. "For most retirees, finances aren't growing significantly enough to compensate for this new age expectancy," she says.
"I've met people recently who are still working well into their 70s, even 80s. So while I've seen a boom in the assisted living move-in traffic, I'm seeing older residents who have maybe only just left the workforce. Such a consumer is looking to be able to age in place, meaning, 'Once I move, I don't want to move again. I want to age, in place, in my assisted living apartment, and if I need more care, I want that option available to me. I do not want to have to go elsewhere to pursue a higher level of care.'"
A continuum of care is definitely a key trend in senior living, agrees Christine Carruthers, of Cadbury of Cherry Hill. "The new trend is the opportunity to remain in your apartment—as long as it's safe—and receive services there," Carruthers says. "Cadbury does offer fully independent living along with the option for some in-home services. But for those that need 24/7 care, we do also have the assisted living option as well as rehab care and secured dementia care. The whole trend of having all services and opportunities available in one location is what many people are interested in these days."
Independent living as long as possible is also an important part of good mental health as one ages, adds Jared Scherz, PhD, a clinical psychologist in Mount Laurel. "The greater the self-sufficiency, the greater the will to live," he says. "If the elderly are kept in settings that promote their independence, their mental health will generally be preserved."
But the ability for assistance, when needed, is also critical as one ages, adds Scherz. "If their physical and cognitive decline is making caring for themselves more difficult, it can be scary to be alone."
Out and about
The opportunity to meet and socialize with others may be a big part of the decision to move into a senior living community. Moving in with the kids seems like a good idea until it's realized that busy lives and schedules leave mom or dad sitting home alone all day. The chance to socialize and participate in planned activities not only keeps older adults busy but may have a positive impact on their mental health, says Scherz. "Socialization plays an integral role in mental health in that it ties into our needs for acceptance, fun, belonging, excitement and connectedness," he says. "If individuals moving into this type of community were previously lacking socialization, there is a chance they will experience this in their new community."
Of course, Scherz says that's not always the case for everyone. "For those continuing to have difficulty making connections, the awareness that there are many more people in which to engage may only amplify feelings of isolation," he warns.
"Someone who didn't like socializing beforehand can still move into a senior living community and keep their door closed all the time," Toy adds. "But we do find that with the wide range of activities and opportunities available, that many residents find something they really enjoy or want to participate in. We promote a culture of wellness and have the pool, aerobics, hot yoga and many other things our residents are getting involved with."
Carruthers says that with all the activities a senior living community has to offer, it makes sense to move in when one is still active, which helps keep residents young.
"Staying active with age is definitely a current trend," she says. "People are still pretty active when they move in and they're ready to enjoy their retirement. They move in as an independent and progress, only if they need to, to assisted living care."
A plan for the future
Doing your best to plan ahead can make aging a bit easier. Financially, many communities like Cadbury are offering lock-in rates that take care of a key aspect of planning. Carruthers says the Life Care program has been a tradition and part of the Cadbury culture (a Quaker community) since 1977. Residents pay one amount that locks them in for lifelong care, covering costs of future assisted living and skilled nursing for as long as they live.
But even if it's not financial planning, simply having a plan in place for the future can be incredibly helpful—not only for yourself but for loved ones. Obviously life is unpredictable, but Repkoe adds a senior living community which offers a continuum of care is prepared to handle unpredictability. They're ready for all stages of aging and that peace of mind goes a long way.
Published (and copyrighted) in South Jersey Magazine, Volume 11, Issue 2 May, 2014).
For more info on South Jersey Magazine, click here.
To subscribe to South Jersey Magazine, click here.
To advertise in South Jersey Magazine, click here.