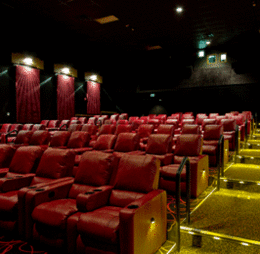 A Night at the Movies
Leather recliners and unique menu options enhance the theater experience in South Jersey.
The Oscar-nominated movie Silver Linings Playbook was a popular flick in early 2013, but with a new baby at home, Michael Rossi had gone months without getting a chance to see it. After finally finding an opportunity to slip out for a night on his own, he left his Mount Laurel home for the newly renovated AMC Marlton 8 theater on Route 73. What followed was, while not as life-altering as the birth of his second child, a major game-changer for a movie geek like Rossi.
"It was the greatest movie experience of my life," he says, recalling his first encounter with the now-famous reclining seats at AMC. "I knew they had redone the theater, but I didn't know the seats were going to be like that. I went in and sat down and watched Silver Linings Playbook all by myself. I had my popcorn, my Buncha Crunch, and I had the seat all the way back. It was wonderful. I didn't want to leave when the movie was over; I stayed for all of the credits."
A little over a year after the renovation, AMC continues to be a popular spot for film nerds like Rossi and casual movie fans alike. The aging theater added a revamped concessions menu, remodeled its restrooms and, of course, introduced the reclining seats to South Jersey, which have been debuting at AMC theaters across the country but first landed in our area in Marlton. If you haven't seen them, the recliners are like something out of your living room, so comfortable that you might be in danger of falling asleep if the movie isn't holding your attention.
Because they're so spacious, the reclining seats reduced the facility's overall seating capacity from approximately 3,000 seats to 700. But even with that drop-off, business has picked up considerably at the location.
"The seats have a wow factor; that's the best way to explain it," says Jamal Bush, general manager of the Marlton 8. "They give customers an amazing experience that they've never had before, which of course has them wanting to come back. Once they experience the recliners, this is their theater of choice. There has been a tremendous spike in business."
The reclining seats, which were also recently added at the Deptford 8, are part of the nationwide trend of enhancing the movie experience, as theater owners attempt to compete with the many entertainment options available and keep people coming to the movies. The recliners are probably the most talked-about feature right now, but in South Jersey there are a number of unique experiences available.
For the nostalgic types, Vineland's Delsea Drive-In is the only drive-in theater in the state. It originally opened in 1949 before closing in 1987, but was reopened in 2004 by new owner John DeLeonardis. Now open just on weekends until summertime, the drive-in has two screens, and for admission prices lower than the local multiplex, you always get a double feature and sometimes a triple. Since concessions fuel the drive-in's business, there are strict rules against bringing in outside food or beverage, but there are a variety of options offered, from traditional fare like popcorn and candy to cheesesteaks, burgers and milkshakes, even teriyaki chicken with edamame and margherita pizza.
But the drive-in isn't the only place you can combine the dinner-and-movie date night at the same place. Several theater chains have experimented with the dine-in movie experience, which often includes waiter service, several food options and alcoholic beverages. While there are currently no plans to bring the concept to South Jersey, AMC has three locations that offer it in the state, the closest being a little over an hour away from Cherry Hill in Bridgewater. The AMC Painter's Crossing, in West Chester, Pa., is also in the process of becoming a dine-in theater.
"I hear a lot of people that say they'd rather stay home because they can get so many movies at home, and they don't want to spend the money or hear people talking or chewing in their ear. So I guess [the theaters] are trying new things," says Rozann Marzarella, a Marlton resident and frequent moviegoer. "When I was in Florida last year with my girlfriends in Marco Island, they had a movie theater that served cocktails and food. I don't particularly want to go to the movies and eat like that, but the guy that took us in from the airport said if you want the best burger in town, go to the movie theater."
While Marzarella isn't interested in eating dinner at the movies, she usually visits the cinema on Sunday mornings with her boyfriend, and that's why her usual theater of choice is the Carmike Ritz 16 in Voorhees, one of the first theaters in the area to offer a coffee bar. "We love to go to the movies early on a Sunday morning, that's our thing … we'll go to Carmike because we know we can get great coffee."
For the younger crowd, the AMC Loews Cherry Hill 24 is a trendy spot for a number of reasons, including its IMAX screen, variety of movie selections, interesting menu options like Buffalo wings and mozzarella sticks, and movie times at midnight or later on the weekends. The Cinemark 16 in Somerdale is another of South Jersey's nicest theaters, and is located in a busy shopping center.
And it's not only the actual moviegoing experience that's evolving; how you pick and choose what film you want to see has also become a new encounter. The days of walking up to the window and securing a seat for a new release are becoming a thing of the past. These days, most moviegoers are purchasing their tickets ahead of time online. The renovated theaters in Marlton and Deptford have reserved seating, meaning you choose your exact seat when you buy your tickets, similar to a sporting event or a concert. Those seats are yours for that particular show, whether you show up early for the previews or walk in a few minutes late.
"We get people from Philly all the way to Central Jersey who come just for the experience of locking their seats down and taking the stress out of going to the movies," says Bush. "They don't have to worry about coming in late and having to look for a seat, because it's a done deal no matter what time they arrive. If you go to a baseball game in the seventh inning, you still expect to have the seat that you paid for. It's the same concept." Bush adds that showtimes are announced every Wednesday for the week that starts on Friday. So if you want to see a summer blockbuster on the weekend, it's smart to pick the show you want on Wednesday and get your tickets then.
Rossi has certainly noticed that his neighborhood theater is a lot busier since the renovation, but that hasn't deterred him from visiting the Marlton 8. Just the opposite, in fact. "I won't go to another movie theater unless I know they have seats like that, and most of them don't," he says. "I love the seats and the fact that it's a nice, clean theater. Every time I go there, I'm a happy person."
Check out KYW Film Critic Bill Wine's Summer Movie Preview in next month's issue.
Published (and copyrighted) in South Jersey Magazine, Volume 11, Issue 2 May, 2014).
For more info on South Jersey Magazine, click here.
To subscribe to South Jersey Magazine, click here.
To advertise in South Jersey Magazine, click here.