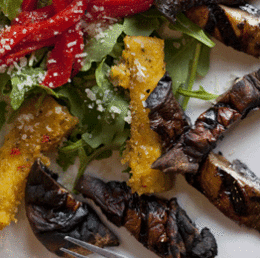 Palate Review: Crux Café
Variety Show
Crux Café
34 W. Merchant St.
Audubon
(856) 546-2789
3 and half stars
Stumbling on a new restaurant is always an adventure. In the past year, new spaces have seemed to pop up across South Jersey, like the Crux Café nestled along Audubon's train tracks off Merchant Street. The space was formerly known as Alphabet Soup, then Lillian's Cafe before being revamped last September by Joe Stewart, a chef who has made his rounds up and down the East Coast before settling in to call Camden County home.
It's a simple but elegant space. Light, freshly painted walls and tall white pillars are brightened up by two walls that are each covered by patio doors, which, on this particular night, welcomed a beautiful sunset. Meanwhile, each padded beige chair in the dining room gets a personal touch, each with its own pop of color on the back to add some subtle hues to the otherwise monotone room. It's understated but eclectic, and creates an intimate area to unwind with a BYO bottle and friends.
The portabella mushroom appetizer came on a massive mound of baby arugula, and would have done better under their list of salads. But no matter what you call it, the dish fell a bit flat; the portabella was overcooked and shriveled atop a bed of overdressed greens served with bits of roasted red pepper and polenta fries that were crispy, but weren't compatible with the overall plate. It seemed more of an organized mess than an actual appetizer.
But it was no reflection of the menu, which was so creative and unique that I was left with plenty of options. The list of entrées was seemingly limitless: fresh tuna, gumbo, pasta, salmon, shellfish and even liver and sweetbreads. At first glance, some of these options might take you aback, but look closer at their preparation and you'll see just how enticing the dishes could be.
Take the scallops appetizer, which plated buttery grilled scallops alongside flash-cooked green apple and celery root. It was all lightly drizzled with a house-made poppy seed dressing and garnished with sage, forming a creative blend from the fresh, crispy apples and celery with the meaty, soft scallops.
The same unique finesse could be seen in the cod entrée, which felt almost like a lighter, deconstructed bowl of New England clam chowder. The flaky cod filets sat in a light and salty broth alongside thick cuts of bacon, sautéed leeks and steamed clams, served with halved fingerling potatoes. Smoky bacon shone through every bite, while the clams held their own briny flavor without overpowering the subtle cod. The whole plate screamed "summer time," combining the seafood to create something that was familiar while still being new and exciting.
Duck breast in an orange gastrique was next. It came on a bed of duck leg risotto, which was really just rice in a loose cream sauce with added bits of meat, a dish that is all too often advertised and so rarely successful. The rice was topped with shiitake mushrooms that were missing any sort of flavor. But the duck meat was tender and well-cooked, and the hints of orange became stronger when combined with blanched and lightly sautéed baby bok choy.
And while desserts weren't as creative as the rest of the menu, there was no shortage of sweets made in-house. First came coffees, a typical cup followed by a plate of extras—like whole sugar cubes, shaved bittersweet chocolate, freshly whipped cream, ground nutmeg and whole cinnamon sticks for stirring. Coming in at the same price as any after-dinner coffee, it could have settled as a dessert itself if not for the sharing-size crème brûlée that followed. A hard, sugary crust cracked opened to reveal a creamy custard with just a hint of lemon, a harmonious blend of sweet and acidic.
Chef Stewart and his team deserve credit for creating a really unusual and cohesive menu, dishes that still pique my interest. And while there were a few hiccups, this is certainly a place worth trying, especially if you're looking to add something new to your repertoire. Stewart has managed to create a space and a menu that goes off the beaten path without leading diners astray.
Published (and copyrighted) in South Jersey Magazine, Volume 11, Issue 2 May, 2014).
For more info on South Jersey Magazine, click here.
To subscribe to South Jersey Magazine, click here.
To advertise in South Jersey Magazine, click here.