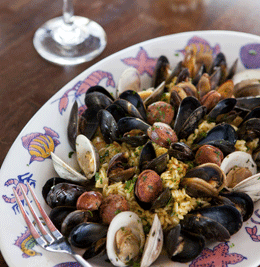 Palate Review: L'Oceano
Fresh Catch
L'Oceano
833 Haddon Ave.
Collingswood
(856) 833-9888
2 and half stars
Finding a bite to eat on Collingswood's Haddon Avenue is never too hard. Walk down the street on any evening and you'll find small crowds of people at every corner, clutching wine bottles and waiting on reservations at a dozen or so different eateries.
One of those spots is L'Oceano, located at the end of Haddon Avenue's restaurant district. Formerly known as Joe Pesce, original chef-owner Joe Tucker moved his concept to the Jersey Shore for good last summer, leaving the space in the hands of associate Chris Grasso. Grasso did little to change the familiar restaurant, keeping the same staff, interior design and almost an identical menu, but giving the space a much-needed new name that better matched their upscale seafood and shellfish dishes.
Since re-opening in August, the restaurant has seen a continued string of success. In fact, finding a weekend reservation was a struggle, so I opted to check out the revamped scene during the week. Even then, tables were full and remained so throughout the evening.
The busy dining floor might have led to the first hiccup of the evening: continuously slow service. In fact, a meal for two ran almost an hour and a half, most of which was spent either waiting for plates to be cleared or for food to arrive. But throughout the evening, you could always find Grasso hopping from table to table, making it a point to explain any specials that were available to each customer that walked in.
The JP's grilled romaine—aptly named for the identical dish that appeared on the Joe Pesce menu—arrived as a full heart of romaine, sliced down the middle and lightly kissed on the grill. It was topped with chunks of lump crab meat and small sautéed shrimp, then coated in their housemade Caesar dressing. The romaine, which takes on a new dimension when lightly grilled, paired well with the crab meat and shrimp, but I would have liked it if there was more restraint with the dressing, which coated everything and was much too overpowering.
Finesse was shown with the lamb chop appetizer, a saltimbocca variety in which each lollipop of Colorado lamb was wrapped in a thick cut of prosciutto, served with sage and a hint of rosemary in a light Marsala reduction. It was a successful blend of flavors: The meat was tender, and the crisp prosciutto added a nice bite of salt, and the fresh herbs elevated every bite.
The lobster mac and cheese was a dish with big potential that was hurt by going a little heavy on the truffle oil. L'Oceano's four cheese sauce left a gooey string from the fork to the plate with every scoop of al-dente orchiette, crunchy panko and oh-so-buttery lobster. However, the truffle oil left a bitterness that left me thinking of what could have been.
Flavor suffered again in the Paella Ala L'Oceano, a plate of saffron risotto topped with cuttlefish (a sea creature similar to squid), small shrimp, clams, mussels and sliced chorizo. The beautiful, gold color that I've come to expect in paella was totally absent, and the overcooked rice that was there was missing any sort of seasoning. Chorizo added some much-needed saltiness, but the cuttlefish was rubbery and distracted from the flavors of any of the shellfish or shrimp.
A generous fillet of Mako shark was grilled alongside a serving of risotto, then topped with small shrimp and lightly stewed tomatoes, garlic, capers and chopped olives. The tomatoes paired well with the bold, rich shark meat, which was unlike any fish I had ever had. Meanwhile, capers and olives added a brininess that helped created a very rustic and comfortable flavor. While I wasn't a huge fan of the risotto, the fish itself was meaty, hearty and satisfying.
At last, Grasso appeared once more at the end of the meal, to discuss the dessert options, presenting selections made in house and those brought in from local bakeries. We opted for one of the latter, a chocolate cake with chocolate icing that was rich and heavy, but a delectable finish nonetheless.
It seems like L'Oceano has no problem keeping up with their neighbors, but with some big misses in the menu and some struggles with service, this seafood spot might have the potential to flounder. Still, with summer approaching and a new batch of fresh catches available, I would bet that the eager Grasso and his team get their sea legs.
Published (and copyrighted) in South Jersey Magazine, Volume 11, Issue 2 May, 2014).
For more info on South Jersey Magazine, click here.
To subscribe to South Jersey Magazine, click here.
To advertise in South Jersey Magazine, click here.