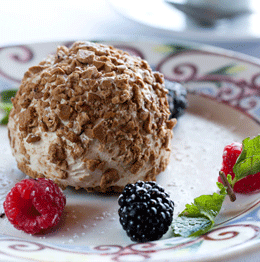 Side Dish
Quick Bite: Cappuccino Tartufo with Hazelnuts
La Locandam, Voorhees
Your sweet tooth will thank you for this frozen treat. A chilly orb of cappuccino ice cream arrives bursting with a creamy chocolate center, then gets rolled in chopped hazelnuts and served with fresh berries. It's one of many frozen tartufo varieties offered at La Locanda, and serves as a light ending to any sized meal.
Key Ingredient: LOBSTER
It's time to dive back into the sea and celebrate the summer. What better way to do that than with one of our favorite crustaceans, the lobster? This buttery meat can be prepared dozens of different ways, and we have no problem tasting them all for you. Check out some of our favorite lobster dishes this month.
Lobster Mashed Potatoes
Bobby Chez, Mount Laurel
Roasted Lobster Bisque with Sherry
The Little Tuna, Haddonfield
Zucchini Crab Cake with Lobster Sauce
Fischer's Pelican Restaurant, Sewell
Lunch Under $15: Haddon Avenue, Collingswood
Take a walk down the always-bustling Haddon Avenue on your next lunch break and really take in all the options that are available to you. You're never too far from a new restaurant featuring a totally new cuisine.
1. Lunch Buffet If you just can't settle on one thing, stop by chef Vipul Bhasin's Indiya for their daily spread of curries, naan and tandoori dishes. You get your pick from vegetarian and meat dishes, so there's something for everyone. $10 at Indiya, 612 Haddon Ave.
2. Fish Burrito This dish is part of a two-course lunch special, which gives guests a pick of a soup or Caesar salad and a choice of a wrap, hot sandwich or entrée. The fish wrap features tilapia on a bed of greens with a smoky chipotle aioli. $10 at That's Amore, 690 Haddon Ave.
3. Virginia Grilled Cheese The Pop Shop is known for having a rather impressive spread of grilled cheeses, like the Virginia, which combines goat cheese, garlic, sautéed spinach, tomato and roasted peppers on ciabatta bread. $8.99 at The Pop Shop, 729 Haddon Ave.
4. Tofu Teriyaki Cuts of tofu get deep fried and served with a special sauce, as well as a California roll, and your pick of gyoza or shumai, rice and soup or a salad for a Bento box-style lunch that's worth every penny. $9 at Woksabi, 608 Haddon Ave.
5. Chorizo Enmoladas Tortillas get stuffed with chorizo, pickled red onions, Mexican crème and queso fresco, then get coated in a rich Mole sauce and served with red rice and black beans on the side. $10 at The Tortilla Press, 703 Haddon Ave.
TASTING: Burger Bash
May is National Burger Month, and when looking to mix things up, there's enough variety across our area for you to try a new burger every day. Check out our five current favorite burgers of all different varieties before embarking on your quest for char-grilled perfection.
1. Brunch Burger
Bobby's Burger Palace, Cherry Hill
Topped with a fried egg, bacon and American cheese, this burger from Bobby Flay is the perfect combination of breakfast and lunch.
2. Whiskey River BBQ Burger
Red Robin, Deptford
An all-beef patty gets topped with fried onions and melted cheddar cheese, then smothered in tangy, bourbon- infused barbecue sauce. Top it with lettuce, tomatoes and mayo for the ultimate splurge.
3. New Jersey Burger
Smashburger, Glassboro
A local specialty, your choice of "regular" or "big" beef burger come with applewood-smoked bacon, bleu cheese, and grilled onions as well as fried haystack onions and mayo on a soft onion bun.
4. Clint's "Almost Famous" Veggie Burger
Zinburger, Cherry Hill
A moist black bean burger topped with smoked mozzarella, avocado, tomato, crispy pea shoots and mayo.
5. The Ahi Tuna Burger
Burger 21, Voorhees
Fresh Ahi tuna is crusted in Panko breadcrumbs, then fried and served on a sesame seed bun with pickled cucumber, avocado, lettuce, tomato, caramel soy sauce and a Sriracha aioli.
Drink This: The Strong Stuff
On the hunt for a local—and legal—liquor? That's where Kentucky-born distiller James Yoakum comes in, who's taking advantage of the craft brewing trend and opening Cooper River Distillers, South Jersey's first distillery. With a space just blocks from the Cooper River in Camden, he's an entirely self-made man.
"It's been a four-year process for me. It's been a lot of trial and error, and it takes a lot of effort to learn how to do it. I think the craft distilling trend is a new phenomenon," says Yoakum. "It's really taken off in the last decade, and New Jersey was one of the last states to have any craft distillers."
Being from Kentucky, Yoakum says he's partial to brewing bourbon. "I'd love to be known as a great New Jersey-based bourbon distiller," says Yoakum. "But they age in the barrel, so that's a few years down the road."
While the bourbon ages, he's releasing Petty's Island Rum, which pays homage to the strip of land on the Delaware River between Camden and Philadelphia. It's the first product out the door, and available to all who are ready to try some South Jersey tipples.
Fast Food
The New England-based franchise b.good will open its first New Jersey location at The Promenade at Sagemore in Marlton. The fast-casual eatery, which specializes in house-ground burgers and seasonal ingredients, is expected to open in June.
The owners of Ocean City's famous Manco & Manco Pizza were arrested at the start of April, charged with 30 various counts of tax evasion.
Westmont's newest eatery is Bricco, a coal-fired pizzeria that opened in April. The casual dining room features pizzas and tomato pies, alongside appetizers, paninis and entrées.
The space formerly known as Blackbird and Benny's Burger Joint in Collingswood has been leased and will become Welcome Market and Café. The market—set to open in August—will sell specialty groceries, as well as prepared foods made in-house and sandwiches.
Published (and copyrighted) in South Jersey Magazine, Volume 11, Issue 2 May, 2014).
For more info on South Jersey Magazine, click here.
To subscribe to South Jersey Magazine, click here.
To advertise in South Jersey Magazine, click here.