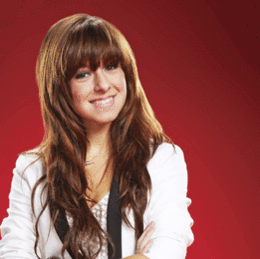 Vocal Leader
When we first met Christina Grimmie in 2011, she was a teen YouTube singing sensation who seemed destined for celebrity. Thanks to her success on The Voice, she's on the verge of becoming one of music's brightest stars
Christina Grimmie admits she was a little nervous the first time she made a music video to post on YouTube. Though she has been singing since she was 5 years old, and playing the piano since she was 10, when a friend suggested the then 15-year-old post a video of herself performing, it took her favorite pastime to a whole new level. "I'm a very awkward person, in a way," Grimmie admits. "I didn't know what to do with my face; I didn't know where to look."
Though she may have felt awkward at first, the now 20-year-old Marlton native quickly got over her reservations and, through subsequent video postings, earned herself more than 2 million YouTube followers. She also caught the attention of Brian Teefy, step-father and former manager of Selena Gomez, who reached out to her about being her manager. Since then, she has been on two international tours with Gomez and released two albums—an extended play (EP) as well as a full studio album (LP), both of which reached top 40 status in their first weeks.
Grimmie's stardom has continued to grow as millions of viewers have watched her perform every week since February on Season 6 of NBC's hit show The Voice. Though things are undoubtedly moving quickly for the singer, who now lives in Los Angeles, she has maintained her charming personality and quick wit, and she admits while L.A. is great, nothing compares to home. "I really miss South Jersey," she says.
"Everything was so laid back and chill. I used to be able to text my friend and say, 'Hey, I'm coming over,' and we could just chill. L.A. is a lot more rushing around and busy. I love it here, I do, and I don't think I'm going to move for a very long time, but New Jersey is always going to be home."
We spoke to Grimmie about what it is she misses about New Jersey, who her inspiration is for performing, and why she was so starstruck when she got to meet Coldplay singer Chris Martin on The Voice.
No place like home
It's with a bit of trepidation that Grimmie discloses that she hasn't been back to New Jersey for a few years. She and her family moved to L.A. in 2011, and though New Jersey will always have a place in her heart, she knows being in California is her calling. That's not to say she doesn't long for hot summer days in Ocean City, or hot panzarotti from Sal's Pizza Works on Main Street in Marlton. "I used to eat there all the time," Grimmie recalls of the pizza joint. "They have the best pizzas and the best panzarottis ever. In fact, my best friend Sarah has been going there whenever I've been on The Voice so far to watch the show. She gets everyone there to watch."
Finding her voice
During her audition for The Voice, for which she performed Miley Cyrus' Wrecking Ball, all four celebrity judges—Adam Levine, Blake Shelton, Shakira and Usher—turned around to see who was singing with such gusto. Though each of the judges vied for her to take a spot on their team, Grimmie eventually chose Maroon 5's Levine to be her coach. She says getting to know him has been like a dream come true. "Adam is one of those people that's so cool to be around," she says. "He's like your friend. It's not difficult to be around him or hold yourself together around him. He's like your buddy." Grimmie has also enjoyed getting to know the other contestants. "Everyone on the show has been amazing. There have been no egos. There's been no, 'I'm better than you.' Everyone loves each other and everyone is supporting each other, which is something that is so refreshing. We're all supporting each other, and we're basically all friends."
A star among stars
Since starting her musical journey, Grimmie has had her share of encounters with celebrities. In addition to touring with Gomez, and meeting the celebrity judges on The Voice, musical artists One Republic and Jason Mraz both tweeted praise for her covers of their songs and she has spent time in the studio with producers who have worked with Beyoncé, Demi Lovato and Lil' Wayne. Nothing compares to having the opportunity to meet Chris Martin, who was a guest mentor this season for Levine's team on The Voice, though. "I was super starstruck when I met Chris Martin," she says. "I got to tell him Violet Hill was my favorite Coldplay song ever. In any previous interview, if anyone said, 'What's your favorite song,' I would always say Violet Hill so it was cool that it was a game-changer for me and I got to tell him that."
More than a singer
Grimmie got her start covering songs by other artists. She does regularly write her own music, though, and she says she would like to make more of a name for herself in that realm. "I love to write. I actually write all the time," she says. Though writing is in her blood, she says she has lost a bit of her inspiration since she's moved to L.A. "Writing came a lot more natural for me [in South Jersey] than it does in L.A.," she says. "I've had this weird writers block in L.A. Writing definitely came a lot easier in South Jersey."
Being inspired, inspiring others
Each time she is on stage, Grimmie says she wants to give a performance that will make people say, "I need to go home and look this up on YouTube." For Grimmie, the performer who makes her do that is Christina Aguilera. "She is my favorite singer. I study how she does certain things. I'm always striving to be a better performer, and I think that's the way to do it—watching the people you admire," she says. "Study how they perform and learn their techniques. That's what I want to do in terms of my career. I want people to watch my performances and say, 'Wow, I want to do that.'"
Career choices
The season finale of The Voice is set to air May 20. While the patrons of Sal's and the rest of the country watch the season play out, the legion of Grimmie followers (which Grimmie affectionately calls Team Grimmie) would love to see her be the next winner. Although she would obviously love to take the top prize, she does have a fallback if singing doesn't work out. "Obviously I want to be a singer, but if I wasn't a singer, if for some reason it didn't work out, I feel like I would want to go into the gaming industry in one way or another," she says. "I'd like to do video game design or stuff like that. It's my passion. But I really do plan on making singing my career."
Published (and copyrighted) in South Jersey Magazine, Volume 11, Issue 2 May, 2014).
For more info on South Jersey Magazine, click here.
To subscribe to South Jersey Magazine, click here.
To advertise in South Jersey Magazine, click here.