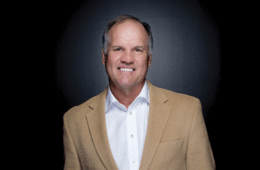 Back for the First Time
More than three decades ago, Ryne Sandberg was a prospect in the Phillies minor league system. Then he went on to have a storied career in another city. Now, in his first full season as a major league manager, he's back where it all began, eager to prove himself all over again.
Former player. Current manager. Hall of Famer. Baseball junkie. Those are just a few of the accurate ways to describe new Phillies skipper Ryne Sandberg. As he gears up for his first full season managing the Phils, Sandberg is well aware that plenty of challenges lie ahead. But, have a conversation with the man and you get the sense that he's looking forward to the test. In some ways he has prepared for this moment for years, whether on the playing field or toiling as an upstart manager in the minor leagues. Once drafted by the Phillies only to be traded away to the Chicago Cubs where he became arguably the greatest second baseman that ever played the game, Sandberg is the epitome of how gritty hard work can lead to a polished career. Now, he's hoping to instill his Hall of Fame work ethic on a team of aging veterans and young prospects that are looking to regain their place as playoff contenders. Once regarded as the Phillie that never was, Sandberg is back in red pinstripes still seeking the World Series crown that eluded him during his playing days. All we can say is better late than never.
SOUTH JERSEY MAGAZINE: You're a Hall of Fame player, but yet you still decided to pay your dues and manage in the minors in pursuit of a major league job. When did you decide that managing was something you wanted to pursue?
RYNE SANDBERG: I think going through the Hall of Fame process and being voted in the Hall of Fame in 2005 sparked some interest with reuniting with former coaches and managers that were a big influence on me. It was two years after that I went to A ball and started managing in Peoria, Ill. That got me started and took me on the path of doing it for six years. I thought it was important to start at the lower levels to see if I liked it and to see if I was any good at it; [laughs] two important elements I think. I took to it right away and I had some success right away, so I enjoyed it.
SJM: A lot of people would say, he's a Hall of Famer … he has nothing to prove … he doesn't need the money … why put yourself through the perceived torture of managing in the minor leagues? Did you become bored with being away from the game you spent so much of your life around?
RS: The smartest thing I did was I retired in '97 and in '98 I went to spring training as a guest instructor as part of the coaching staff. I was living in Phoenix at the time and spring training was out in Arizona for the Cubs, so for eight straight years I participated in spring training and started coaching the guys a little bit. I enjoyed it and at the time it was enough for me because I had five kids in the house and I got them all through high school and college during those years, and then it got to the point where our youngest son was a senior in college and my wife and I decided with a conversation with the family about going back into baseball full time.
SJM: You were going to be an empty nester and needed something to fill up your time?
RS: Might as well be empty nesters doing something constructive and possibly leading to something. I didn't know that first year what was in store, if I would like it. But it didn't take long for me to figure that out.
SJM: Are you excited to lead this Phillies team?
RS: I'm excited; I was drafted by the Philadelphia Phillies in '78 and I spent four and all of my minor league seasons with the Phillies. It's where I learned to play the game … being around Pete Rose and Larry Bowa and Mike Schmidt, that whole team. Coming back now after having a playing career and rejoining the Phillies ... I look at it as a positive.
SJM: The baseball season is such a grind; how do you like to unwind? What are some of your favorite hobbies or interests?
RS: I'm an avid golfer.
SJM: How's your handicap?
RS: About a 2 handicap. I enjoy playing golf courses across the country. Oftentimes we'll play with coaches on the team during the season. We'll tee off at 7 o'clock in the morning, be done by 11, get some lunch, a little rest and be ready to go to the ballpark. That's a good way to relax—even during the year. The offseason is when I really enjoy working at the game, playing maybe two times a week. I also enjoy the outdoors. I grew up fishing in Spokane, Wash. Even in spring training, while we're in Clearwater, some of the evenings just to relax and enjoy myself, I'll do some fishing. You never know what I'm going to catch there, it's pretty cool [laughs].
SJM: Have you played many of the local golf courses yet?
RS: I've played Merion. I've got an invite to Pine Valley. I also played Saucon Valley, up in Lehigh Valley. But I'm looking forward to Pine Valley, possibly this summer.
SJM: The Phillies drafted you, giving you a shot at becoming a pro player, and now they've given you your first MLB managerial position. You'll forever be tied to the Cubs, but is there something special about the connection you have to this franchise as well?
RS: For four years, and what I consider growing years from 18 years old to 21, I felt like I was being taught how to play the game of baseball. I felt like I was being groomed to be a Philadelphia Phillie. Well now I feel like I can do that in this capacity as a manager. One of my top goals, which I haven't achieved yet, was to play in a World Series and win a World Series, so that's the biggest thing burning at me. That's a goal at the top of the list.
SJM: You were only with the Phillies for a short time, but any memories from back then?
RS: It was pretty brief. I was a September call-up and I had six at-bats and got one hit. I was staying at the Holiday Inn at the end of the parking lot, which is still here. I took the block and a half walk to the ballpark and that was about it. Now, since then and especially last year being here for a full year, I took in a lot of sights. My wife and I love the downtown area; that's where we live. We like parking the car and being able to walk to tremendous restaurants. We've been to the Rocky stairs numerous times; that's a good walk. We've been to the museums. We're avid fans of the Walnut Street Theatre, which is right down the street from us. We also like to entertain our family members and guests that come into town to visit and show off the city.
SJM: What was your family's reaction when you got the managerial job, knowing the work you put in to get here?
RS: They've been pumped along the way, even managing in the minor leagues and moving up a level. They could see the progress. Last year was a big thrill being on Charlie [Manuel's] staff as third base coach. Under the tough circumstances taking over for Charlie, that was bittersweet at the time, but it didn't take me long to put on my managerial hat and get to work.
SJM: No time to dwell on it, right?
RS: No. I dwelled on it for one day, I really did, but then it was time to get to work.
SJM: When you're a manager, or a star player for that matter, you take a lot of hits in the public eye. The same fans that cheer for you one night will boo you the next night, and there's the saying that coaches are hired to be fired. What helps you stay grounded?
RS: I'm a family man. We're a tight-knit group, but we communicate real well. Our kids, who are older now, will come in to visit and stay with us. They love the atmosphere and the excitement of taking in a baseball game. All I know is win, lose or draw, when I leave the locker room and we drive home, they've showed me they had a great time regardless. So it's refreshing, either way. I always know there's a game the next day to get things turned around if we've had a bad game. If we had a good game, I go home thinking let's keep it going and get a winning streak. I know the ups and downs of the season, and here in Philadelphia I understand the expectations. It's a very passionate fan base and they love Phillies baseball and like it played a certain way and I'm all for that. I'm all about the players playing the game the right way and representing the uniform they wear and having pride in that and taking that to heart.
SJM: Having five children and five grandchildren, how thrilling has it been to watch your family grow? That has to trump anything you've ever done on the baseball diamond.
RS: Being a grandfather, that's kind of first and foremost right now. They call me "pappy" by the way and it's endearing. It's a lot of fun … playing a little soft toss in the living room and letting them hit the ball all over the place, and getting them ready for tee-ball. I'm doing it all over again on a part-time basis. And also to allow them to share with what I've done my whole life. They come to games and we got them all the day-game cream-colored uniforms. They are ages 2 to 6 and a few games last year all five of them were there in full uniform and taking in a game watching me work.
SJM: Is your wife as into the game as you are, or does she have to be the opposite for your sake?
RS: She likes the social aspect of a baseball game. The conversations, looking around, people watching … the eating and entertaining.
SJM: So she's not giving you advice when you get home?
RS: No, no, we talk about the game. She's into it; she knows the game very well. She gives me advice and it's often very good.
SJM: Is there anything you can take from raising a family and translate it to leading a baseball team?
RS: No question. At one point, we had five teenagers in the house at the same time. We had five vehicles and we had rules in the house. I had accountability, I had discipline, all those things. What my wife and I found was communication between her and I was No. 1 and being consistent with the rules and discipline was the biggest thing, with her and I being on the same page. Now our kids are older and they reflect back on that and they joke and they say, 'Every time we had a conversation with you guys, it was always two against one.' Exactly [laughs]!
SJM: Managing in the minors is a lot different than the pros—small towns, long bus rides—what was that experience like for you?
RS: Ten-to-12-hour bus rides. Lower-rated motels with bed bugs. Wearing skeleton jersey tops, or Santa Claus outfits to play a professional baseball game—and that was in Triple A. But I also saw the entertainment value for the smaller towns and what it was all about. [The family aspect] was unbelievable.
SJM: I'm sure you started playing the game at a very young age. After all these years playing and coaching, what do you still love about the game?
RS: I love the competition part of it. I love the preparation side of it, practicing the game. I was big on practicing and I always felt that was how I got better. I don't think there was a player that out-practiced me.
SJM: Does that have anything to do with how you were raised?
RS: How I was raised [to have] work ethic, work for what you want. And probably just the way I was made. I used to shovel our family's walk at 8 years old and then walk down and find some grandmas that needed their walk shoveled. Getting $5 a sidewalk, that was the bright side of it, but at the end of the day having $20 in my pocket because I wanted to work I thought was fun. I earned it, but I liked the physical exercise and effort that was behind that. I still feel that way today. I enjoy getting on the field and working with the players and breaking a sweat. It keeps me in shape too, keeps me young.
SJM: Talk about the chemistry you think you have with Larry Bowa, having played alongside him and now bringing him in to sit on your bench. Bowa is noted for being fiery, and you come across the opposite. What's your relationship like?
RS: It's great. We go back to 1981 with the Phillies and then we were put in the same trade with the Cubs. I was a rookie player, he was a veteran player, and he helped me along the way as far as taking me under his wing and talking to me on a daily basis and making me feel comfortable. I think that's one of the biggest things with young players is that they have to get over the comfort level first and then their natural ability takes over. There's no substitute to hard work and winning on his end, and we are on the same page on that.
SJM: When you look out at second base, where you had a Hall of Fame career, and see a player like Chase Utley—a guy who is revered for everything you talk about; playing hard, playing the right way—what do you see?
RS: He's a no-nonsense player. He's fun to watch, fun to be around. He's a winning type player and one of the guys I expect to lead in the locker room.
SJM: Not that you want to think about this, but had you gone to minors that first year, and after the bus rides and Santa Claus outfits, decided this wasn't for you, what do you think you would be doing right now?
RS: Probably be at home waiting for the baseball season to start and regretting I'm not going to spring training somewhere. Since I was 18 years old, I've been waiting for the winter to get over with to get to the warm weather, green grass … the sound of ball hitting the bat, the smell of a new glove. It takes me back to when I was a kid and here I am 54 years old now managing and I get those same type of feelings.
Published (and copyrighted) in South Jersey Magazine, Volume 11, Issue 1 April, 2014).
For more info on South Jersey Magazine, click here.
To subscribe to South Jersey Magazine, click here.
To advertise in South Jersey Magazine, click here.