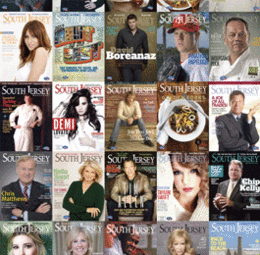 A Perfect 10
They say time flies when you're having fun, and so 10 years and 120 issues later, we find ourselves here. This month marks our 10th anniversary, and so we are celebrating a decade as the definitive lifestyle resource for South Jersey. We've survived on creativity, consistency and a continuing desire to push the needle forward. And we've only gotten better with age. Here we take a look back at some extraordinary highlights, and it's easy to see that great things truly do come from humble beginnings. We hope you enjoy this trip down memory lane and get ready because the next 10 years should be something really special.
The Stories
Ten years of thought-provoking articles, celebrity tell-alls and insightful opinion celebrating our region
Volume 10 Issue 1: Student Athletes
Every spring and fall (including this issue) we spotlight the local high school athletes who are making strides both on and off the field. Many of these bright youngsters have gone on to big things at some of the country's biggest colleges.
Volume 5 Issue 6: Donovan McNabb
The former Eagles quarterback appeared in the magazine many times over the years. In this story we examined the many charitable endeavors he's led in South Jersey along with some of his former teammates also living in the area.
Volume 4 Issue 5: Nuclear Power
We examined what role the state's nuclear reactors could play in helping make New Jersey a greener place to live. Many things like solar panels and wind power generated off the Jersey Shore have become a reality.
Volume 2 Issue 6: Joe Piscopo
Funnyman Joe Piscopo graces the cover, telling us: "I'm just a working actor, a working entertainer basically. That's all I ever wanted to be." Years later, the SNL alum is still going strong, performing regularly in A.C.
Volume 3 Issue 4: Flight 93
We talked with Medford resident J.J. Johnson about his role in the film United 93. The real-life pilot was approached by directors to audition for the film, something he didn't believe when he received the random phone call. "I really believed it was all a practical joke," Johnson said.
Volume 6 Issue 4: Best of the Best
Our annual Best of the Best feature is something we are always proud and excited to unveil each July. The roundup of the top people, places and things in South Jersey is the culmination of many months of hard work and we take it very seriously. Judging by the overwhelming response we get every year, it would seem our readers do, too.
Volume 10 Issue 7: Super Women
Every October we shine a light squarely on the women in South Jersey who are making a difference in our communities. From philanthropic givers to ladies who go the extra mile to make someone else smile, it amazes us how many wonderful people there are in our area that put others first.
Volume 4 Issue 12: Golden Forks
Gourmands can't wait for our February issue to roll around every year so they can dig into our Golden Forks package. This annual collection of the best restaurants in South Jersey is a celebration of the local dining landscape, not to mention it makes planning your next meal as easy as pie.
Volume 4 Issue 5: Headliners
Don Rickles is just one of the many notable names we've featured in our Q&A series over the years. Whether they're from the area, or just passing through, we've landed some big names including Larry King, Aaron Neville, Bob Saget, Jennifer Weiner and George Thorogood.
Volume 10 Issue 5: Dynamic Docs
Come August many local doctor's offices experience an influx of calls. That's because that's the issue when we release our list of the top physicians in the area in a variety of specialties. It's one of the most comprehensive lists you'll find, including both third party selections along with readers' choices.
Volume 2 Issue 5: Up in Smoke
Back in 2005, we explored how some people with terminal illnesses found comfort in marijuana use, and were willing to risk illegal activity in order to improve their health. Since then, New Jersey has OK'd the use of medical marijuana in the state, though not without many obstacles.
Volume 7 Issue 2: Brit Morgan
You could very well say we introduced a lot of folks to Brit Morgan, a talented actress from Marlton. Morgan was cast in a prominent role on HBO's True Blood and we were so enthralled by her magical journey from Cherokee to Hollywood, that we put her on our cover. She has also starred in Desperate Housewives and Showtime's Shameless.
Volume 10 Issue 2: Best Sandwiches
Last May, we tackled the big task of finding the 50 best sandwiches in South Jersey. We're still working off some of the calories, but the journey was worth it as we discovered some new gems to go with old favorites.
Volume 9 Issue 12: Joe Flacco
We followed Audubon native Joe Flacco to New Orleans as he and the Baltimore Ravens captured the Super Bowl in 2013. Not only did Flacco's team win the game, he took home MVP honors, signed a monster contract and started doing endorsements for McDonalds.
Volume 9 Issue 5: Mike Trout
We knew Mike Trout when he was just a star baseball player in Millville, so it was a no brainer for us to speak to him during his record-setting rookie season in the Big Leagues. The young phenom is only a few years into his already stellar career, and is widely considered to be the best baseball player in the world. We couldn't be prouder of him.
Southern Exposure
Over the course of 10 years, our Southern Exposure section has evolved into one of the most-read sections of the magazine. From interesting facts and figures, to current events and names to know, you never want to miss what we have in store here.
Palate
Much like our Golden Fork awards, our monthly Palate dining reviews are must-reads for any discerning foodie. We take you through the good, the bad and the sometimes puzzling meals you'll find on area menus.
Profiles
We've profiled several South Jerseyans in the past decade who have gone on to do big things elsewhere. Walking Dead star Lauren Cohan spoke to us last year about life on the set, what she misses most about her native Cherry Hill and what life's like starring on one of TV's most popular shows.
Who Said What? A decade's worth of memorable quotes from our pages
1."I grew up in Cherry Hill and we grew up in this amazing little home, and our dog would walk my sister and me to school and we'd ride our bikes over the covered bridge."
2. "I loved running around Stone Harbor with my little brother, walking up and down 96th Street exploring ... I look back on my childhood in Stone Harbor, and not only do I smile, I burst out laughing."
3."You know, I've been all over and the Jersey Shore is the only place in the world where people say they are going 'down the Shore.' No one else says that anywhere!"
4. "There was one year, for Nights in Venice, it was my freshman year of college. I was on a float with 16 guys dressed in togas and we had two kegs and we were Mr. Nights in Venice [laughs]."
5."We'd drive down [to Ocean City] for the day and go to 34th Street, to the little hamburger stand there, and have lunch on the beach. ... I have a lot of wonderful memories about being with my grandparents; they'd take me to Steel Pier and to ride the rolling carts on the Boardwalk [in Atlantic City]."
6."New Jersey is home. I have had houses in other states, but home is Jersey and that is where I know."
7."Out here ... I don't think anybody is star struck. They see me in passing and see me as a neighbor."
8."I also worked at an Exxon station on the corner of Route 70 and Kresson Road for three years, and my mom would bring my dinner up to the corner."
9."I had every job in Ocean City; my parents bought a house there while I was in high school. I worked at The Chatterbox, a great place to work. ... We'd end up staying up all night, go to the dunes until 3 a.m., and then go to work at six, that's how you lived."
10."The best thing about growing up in New Jersey was graduating from high school and leaving. It was just so cold in the winter and too hot in the summer ..."
11."You go into these small towns, and each one has got its farmer's market and its coffee shop. ... I love history, and in Philly and South Jersey, there is tons of history. You forget living out West how old our country is."
12."I've been to places all over the world, and our beaches are some of the most beautiful."
13."There was a singing joint, Frank Sinatra used to perform there [the Latin Casino in Cherry Hill]. I saw Ray Charles there when I was 15. I shouldn't have gotten in! ..."
14."I'm proud to see whenever someone from the East Coast makes it, especially from South Jersey."
15."I get in my car in New York, put some hip-hop on, and drive here in no time. ... I spent early summers, from 1 to 6 years old, growing up at the Jersey Shore. I have a connection here. It's part of my growing up with my mother."
16."I got to Atlantic City in 1997. ... People started to say they wanted better restaurants. The past 20 years have been amazing there, they are a food destination now. ... You can't get away with just a mediocre cheese- steak."
17."When I was in high school, the only place I ever went on vacation was the beach from Asbury Park on down further south. I also babysat for two lovely couples in Long Beach Island; I was an au pair for the summer. I love it there. ... That was a lot of fun. ... I'm interested in growing things and New Jersey farmers know how to grow so well, from tomatoes to peas and onions."
18."In high school, I used to go to the Country Club Diner after class almost every day. ... We would also hang out in the parking lot of the Wawa in Holly Ravine. I can't even remember what we did ... Very glamorous!"
19."Marlton Village, my hand was shaking, I thought I signed my life away. It was $30,000 for a little townhouse, just starting my life."
20."New Jersey is such an easy target, and I've spent most of my life trying to defend it. Whenever anyone says something about New Jersey, I say 'Where are you from? Where is this paradise you call home?'"
21."In a way, writing the book was like going home—I was able to use Philly and South Jersey as a backdrop and create characters like the ones I grew up with."
22."Eventually knew we would make this our home. Not only from a sports side, but from a people side. There was a certain feeling of community that we really liked. Our kids went to Eastern High School … the environment created in South Jersey for myself and my family was tremendous ..."
KEY: 1. Ali Larter 2. Taylor Swift 3. Kevin Bacon 4. David Boreanaz 5. Jill Biden 6. Jon Bon Jovi 7. Jimmy Rollins 8. Orel Hershiser 9. Chris Matthews 10. Chelsea Handler 11. Brad Lidge 12. Maria Bello 13. Joanna Cassidy 14. Mike Trout 15. Bobby Flay 16. Robert Irvine 17. Martha Stewart 18. Cristin Milioti 19. Doug Collins 20. Bill Maher 21. Matthew Quick 22. Ron Jaworski
Timeline
April 2004
South Jersey Magazine makes its debut.
March 2005
Local news reporters and anchors model the en vogue fashions for our first-ever spring fashion spread.
November 2005
The late Mike Wallace spoke with us ahead of his appearance at the Katz JCC in Cherry Hill. Wallace was one of the country's most respected journalists, but told us he once contemplated becoming a radio announcer rather than a reporter.
May 2006
Jersey Boy Frankie Valli talked about his longevity in the music industry: "I would hope that I have given something in my music that was important to somebody. I mean, how could it get any better than millions of people loving what you did, or them reacting to your songs?"
August 2006
Celebrity chef Bobby Flay dons his chef whites for our cover story about his then-new venture in Atlantic City, Bobby Flay Steak at The Borgata.
April 2007
Jon Bon Jovi shared his passion for getting involved with groups like Habitat for Humanity and Project Home, and why no matter where his travels take him, New Jersey will always be his home.
May 2008
Philadelphia Phillie Jimmy Rollins sat down with us to talk about the team as well as his love for his Gloucester County neighborhood, and why he let Ryan Howard move in with him during his rookie season.
November 2008
Cherry Hill's Ali Larter appears on the cover as the star of NBC's Heroes. She may still be better remembered for one unforgettable scene in Varsity Blues.
September 2009
Former Eagles quarterback Donovan McNabb and his fellow teammates/South Jersey residents David Akers and Sheldon Brown talked about the importance of giving back to their communities. "When I can bring a smile on anyone's face and inspire somebody to be better, I feel like I've done my job," McNabb said.
February 2010
Ivanka Trump discussed her desire to step outside her famous father's shadow. "I have learned to be confident in my abilities and see my father's great success as an opportunity to further challenge myself," she said.
March 2010
The 2003 case of four boys being starved in their Collingswood home sent shockwaves through the nation and changed DYFS forever. We visited with the boys and their new family this month and found the kids to be in good health and excelling in school and socially. "After what my brothers and I went through," one brother said, "I want to be in a position to take kids out of bad situations at home and make their lives better."
November 2010
Pop music megastar Taylor Swift was more than willing to share her fond memories of summers spent living in Stone Harbor and her experience growing up in the public eye.
December 2010
We stopped by NFL Films in Mount Laurel to spend an afternoon with the man they call Jaws, Ron Jaworski, to get a glimpse of his routine as professional broadcaster with ESPN as well as a local business owner.
May 2011
Larry King spoke with us about his upcoming comedy tour that was to debut in Atlantic City. The longtime CNN host said it was a lifelong dream to become a comedian: "I set a special place in American television, I am aware of that. But I would have liked to have a life of making people laugh," he said.
September 2011
For the 10th anniversary of the Sept. 11 attacks, we relived the tragic day with the South Jersey people who volunteered their time, the politicians who scrambled to understand, and one Marlton woman whose late husband piloted Flight 93.
October 2011
Second Lady Jill Biden took time out of her hectic schedule to do our cover story and discuss her passions for promoting education and her work through various breast cancer foundations, including her own Breast Health Initiative she founded in the '90s.
November 2011
Bobby Flay once again shows up in our pages, this time after giving us a behind-the-scenes look at Bobby's Burger Palace at the Cherry Hill Mall. Collingswood's Zeppoli gets a rare 5 Forks dining review just months after opening.
March 2012
We traced Bruce Springsteen's South Jersey roots, including his early days in Camden, Cherry Hill and Haddonfield, and talked with some of the local people who helped him along the way. Grammy Award-winning producer Rodney Jerkins also told us about working with the likes of Michael Jackson and Whitney Houston right in his South Jersey studio.
May 2012
Everyone's favorite homemaker Martha Stewart discussed being a business mogul, lifestyle guru and, of course, a Jersey Girl.
March 2013
After years in obscurity, we got an exclusive interview with Jim McGreevey just ahead of his HBO documentary, Fall to Grace. "We all have ups and downs. And we all want the same thing: a good family, a hopeful future for our journey, and to be guided to try and do the next great thing," McGreevey said of his newfound career mentoring women in prison.
September 2013
The buzz surrounding the hiring of Chip Kelly as the Eagles new head coach was electric, which is why we were thrilled to have him on our cover for an exclusive interview. We also examined the return of Miss America to Atlantic City and what it meant to South Jersey financially and emotionally.
December 2013
Rod Stewart was friendly and open during our interview for this issue. "I love what I do. It's a part of me. I don't have anything to prove but there is plenty of gas left in my tank," he said of his decades-long career.
February 2014
Smack in the middle of a harsh winter, we spent a few days exploring the tent cities in Deptford and Camden, getting to know the "residents." "We've all made mistakes, and I'm not asking for money, but not having housing I can't understand. This is the only option we have," one man said of his need for opportunity.
Published (and copyrighted) in South Jersey Magazine, Volume 11, Issue 1 April, 2014).
For more info on South Jersey Magazine, click here.
To subscribe to South Jersey Magazine, click here.
To advertise in South Jersey Magazine, click here.