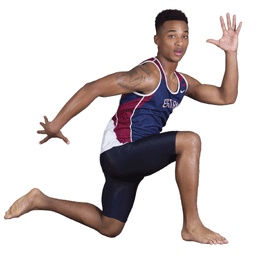 Elite Squad
These eight star high school athletes are poised for big seasons and even brighter futures.
John Murphy, Gloucester Catholic baseball
In his first two seasons of high school baseball, the junior pitcher has earned 15 wins, including one in the state final as a freshman. Last year he went 8-1 with a 0.61 ERA and helped the Rams win their fourth-straight state title, tying a New Jersey record.
SOUTH JERSEY MAGAZINE: The bar is always set high for Gloucester Catholic baseball, but after winning four straight state championships, would anything less this season be a disappointment?
JOHN MURPHY: Yeah, obviously we're going for that fifth state championship in a row, and if we get it we'll be the only team in New Jersey history to do it. That's the biggest goal this year, but we're going to take it game by game. We open with a big tournament and we're going to worry about that first. When the state championship game comes, we'll worry about it then.
SJM: What's it like being part of a program that's been so good for so long—do you like being the team that everybody wants to knock off? Do you like playing under that pressure?
JM: Oh yeah. Everybody on the team, we can all handle the pressure of being the top team. There are a bunch of great teams in the area who want to knock us off, and we always give them our best game. We can handle the pressure really well.
SJM: You've played varsity since your freshman year. Do you think it will be different this year now that you're one of the older guys?
JM: I don't think so. I'm just going to do what I've been doing the past two years. I'm going to keep cheering on my teammates, make sure they're doing everything right, and have their backs on everything. It's going to be a good season.
SJM: Take me back to your freshman season. I know that [former Gloucester Catholic ace pitcher] Mike Shawaryn got hurt that year and you were kind of thrust you into the No. 1 spot, but did you expect to have immediate success like you did?
JM: No, I didn't think that was going to happen. Once Mike got hurt, I just did what I had to do. Beans [former Gloucester Catholic coach Dennis Barth] really helped out a lot. He put me in good situations to get me better and get used to the competition. I really have to give the credit to Dennis on that one.
SJM: You pitched in the state final that year and pitched a great game. Did the significance of the moment not really affect you?
JM: No. I could handle the pressure pretty well because I knew we had one of the best teams in the state that year. We could hit the ball one through nine; we could all field the ball.
SJM: Last year Mike was back and you had two really good arms at the top of the rotation. Did that make it easier for you?
JM: I think so. It was definitely a luxury to have that, and we can't forget about Tyler Mondile and Steve Mondile and all the other pitchers who helped out. Everybody did great and stepped up when they had to.
SJM: Did you grow up hearing about Gloucester Catholic baseball and did you always want to go there?
JM: I live in Merchantville and I actually really didn't know about Gloucester Catholic until my eighth grade year, when another kid that I went to middle school with was talking about it. I didn't grow up playing for Brooklawn, I always played against Brooklawn. So I didn't hear about Gloucester Catholic and I wasn't really into high school sports.
SJM: Obviously you've had a lot of success your first two years. What can you improve on going into your junior season?
JM: I think you can always get better at everything. I can get better with all of my pitches, my command, everything.
SJM: You have a plus-fastball, but it's important to have other weapons at this level. Do you have confidence in your other pitches?
JM: I have confidence in my curveball. The changeup is shaky but it's getting there.
SJM: How do you determine what you're going to rely on as far as pitch selection? Does it depend on your opponent, or do you wait to see what's working during warmups?
JM: My curveball is usually always there. I'll try some changeups in the bullpen and see how it's feeling and then decide if I want to use some in the game. But coach [Mike] Rucci usually doesn't call a lot of them during the game.
SJM: I know you have a long season with high school ball and American Legion. How long do you take off over the winter and when do you start preparing for the season?
JM: I start doing some light tossing in December and then I start throwing bullpens in January. I wasn't able to get outside too much this winter because it was so cold and there was all of that snow.
SJM: We talked about the two state finals you played in. After starting as a freshman, last year you came in and got the save. Can you compare the two experiences?
JM: They were both different feelings. Going in as the starter, I had to think of it as any other game. I just had to stay calm and make sure I wasn't too riled up, because you have a different mindset as a starter and a reliever. Last year, I knew I didn't have to go seven innings so I could give it a little more right out of the gate.
SJM: Can you compare winning the state championship with winning the American Legion World Series, like you did last year with Brooklawn?
JM: The state championship is awesome, but the national championship is just on a much bigger scale. We were the best team out of the whole country. I've never felt like I did the night we won the World Series.
SJM: Was every hitter you faced at that level a challenge?
JM: Yeah, every hitter was good. Everything was good up there.
SJM: You've had a reputation since your freshman year for being aggressive and not scared of any hitters, but is there someone in South Jersey who stands out as a really good challenge to go up against?
JM: I can't think of anybody right now, other than players on my own team. Anthony Harrold, Sean Breen, Phil Dickinson, Pete Farlow—they're all a challenge.
SJM: Is it fun going up against those guys in practice? Is there trash talk going on?
JM: We have a good time going up against each other, but practice is always serious at Gloucester Catholic.
SJM: Were you always a pitcher, even in Little League?
JM: Yeah, I was always a pitcher. It wasn't my main position in Little League, I was mostly a catcher until I was about 12. That's when I started focusing on pitching.
SJM: Do you try to model yourself after any big-league pitchers?
JM: Not really. I don't try to model myself after anybody, I like to try to be my own pitcher and do my own thing.
SJM: Is there a ballpark that you would love to pitch in, either in the majors or college?
JM: Yeah, it would definitely have to be Fenway Park. When we went there last year for the World Series—because we won the [Legion] World Series—the energy in that place was just awesome. It's very historical and I think it would be awesome to pitcher there. I've always liked the Red Sox.
SJM: You've already committed to playing at the University of Maryland. Why did you make the decision so early as a junior?
JM: I just wanted to get it out of the way so I could focus on playing baseball. The relationships that I made with coach [Jim] Belanger and coach John [Szefc] and coach [Rob] Vaughn over the months that we were talking before I committed, got really strong. [Brooklawn teammates] Mike Shawaryn and Nick Cieri are also a big reason why I committed there, and I know a bunch of other kids who are going there. I just thought it would be easier for me to jell with the team and fit in and get used to playing Maryland baseball.
Justin Kang, Shawnee tennis
A senior, Kang has played No. 1 singles since his freshman year. He was all-South Jersey and all-Olympic Conference in 2013, when he lost just two matches all year and helped the Renegades win their second straight South Jersey Group IV title. He will continue his career at Johns Hopkins University.
SJM: Can you believe your high school career is almost over?
JK: It seems like it went by really fast. I can remember each season really vividly, but it still went by fast. It's crazy to think this is my last year leading the team.
SOUTH JERSEY MAGAZINE: Do you consider yourself to be the leader this team, especially since you're a senior?
JUSTIN KANG: I think I am. I'm captain this year, and a lot of the guys are younger than me so they kind of look up to me. I think it's cool to be first singles and captain, so I feel like I have the responsibilities of being the leader this year.
SJM: What does that mean in tennis to be the captain and the leader? What kind of responsibilities does that entail?
JK: When you're playing No. 1 and you're the captain, they kind of look at what you do on the court, what you do during matches. I feel like the kids look up to me and it's my responsibility to be a good person and a good player, and hopefully they can follow my example.
SJM: Does that trickle down to preparation, which is obviously so important in tennis?
JK: Yes. I take tennis very seriously, so I know that they want to win a championship with me. I think they watch me prepare and kind of follow what I do.
SJM: When did you first really start getting serious about tennis?
JK: I first started playing when I was 6 or so, but at the time I was really into soccer. I was into both sports until middle school, and that's when I started realizing that I enjoy tennis a little more. So I kind of branched away from soccer and started focusing on tennis and playing more tournaments. I think it worked out.
SJM: Did you know when you first started playing that you were going to be good, or did it take a lot of time to develop?
JK: When I was growing up I always enjoyed sports and I was pretty coordinated. I enjoyed every sport, but tennis came a lot more naturally than everything else. Soccer came naturally too, but I just kept improving faster in tennis.
SJM: How would you describe your style?
JK: I wouldn't say I'm a big hitter; I would say I'm an all-around guy. I'm more athletic than most tennis players, I feel. I don't really think I have a big serve or any groundstrokes, but I have an all-around game and I can use my athletic ability to win matches. Soccer taught me that, to be well-rounded in everything instead of just concentrating on one aspect or stroke.
SJM: Did you know a whole lot about the Shawnee program when you were growing up?
JK: I have an older brother who's four years ahead of me, and the last two years he played he was No. 1 singles. So I kind of knew what was going on and I knew the coach already. I went to some of his matches, so I think it was an easy acclimation for me. I think I transitioned pretty well.
SJM: What was it like joining the varsity as a freshman and playing No. 1 singles?
JK: I was No. 1 and the rest of the team was either juniors or seniors, so I was kind of the odd one out. I was really nervous for the first match. I had to play Tyler Arsenault for No. 1 because we were both playing for that spot. But I pulled through, and I think he respected that. I enjoyed being at the top of the lineup. As I played more and more matches, I became more comfortable.
SJM: Shawnee has had a lot of team success the last few years, winning back-to-back South Jersey titles. With a lot of guys back this year, do you feel like you have the talent to add to that total?
JK: I think a three-peat is definitely doable. We only lost two starters from last year, so we pretty much have the same team back. I know a lot of other schools lost a lot of seniors, so I think we have a good chance of winning again. But we don't just want to win South Jersey; hopefully we can do better at states.
SJM: When you've gotten to that point the last few years, what has the experience been like? Do you feel like you're close to those teams from North Jersey?
JK: The teams from up north are pretty good compared to the teams from South Jersey. We knew that we were good enough to play them, but we were kind of nervous when we got up there. I think we played well, the teams are just really good. Hopefully this year, if we go, we can play better and hopefully win a few matches.
SJM: Do you set personal goals for yourself? I know you went to the round of 16 in the state singles tournament last year; is that something you're focusing on?
JK: Yeah, that's always in the back of my mind. The team stuff comes first, but that's always in the back of my mind motivating me every day. I really want to do better than what I did last year. I think if I keep doing what I'm doing, in high school tennis and the tournaments that I enter by myself, I think I can go farther in the individual tournament.
SJM: Your only two losses last year came to state singles champion Maverick Lin of Highland Park and state semifinalist Ryan Dickerson of Moorestown. What did you take from those matches?
JK: Ryan is pretty good, I look forward to those matches. In the state tournament against Maverick Lin, I thought I played pretty well. It wasn't the best draw in the world, just a little bit of bad luck. I play a lot of [top] players throughout the year, not just in high school, so it's nothing new. It's different with the team behind you, but tennis-wise it's the same person. The biggest thing you have to get used to is people cheering for you or cheering for him.
SJM: Where do you train throughout the year?
JK: I practice at Legacy Youth Tennis and Education in Philadelphia (formerly known as Arthur Ashe Youth Tennis and Education), and I also practice at the Princeton Tennis Program in Princeton. Usually a bunch of guys who are pretty highly ranked in the section come to Legacy or PTP and we usually just hit around in clinics.
SJM: I know you have committed to Johns Hopkins. What were your reasons for picking that school?
JK: It's a D-III program. I was looking at some D-I programs, but I like the balance in a D-III program. I think academics are more stressed, but Johns Hopkins is still a top 10 program in the nation in D-III. You still get really good competition. I like the city of Baltimore, it's only two hours from where I live. It felt like a good match and I'm happy with my decision.
SJM: Do you know what you want to study?
JK: I'm thinking about mechanical engineering right now, but with Johns Hopkins there's always the science background that I can fall back on.
SJM: Are you excited to get going with college, or are you really trying to enjoy your final months at Shawnee?
JK: I'm excited for the last months at Shawnee and the summer, and I'm also excited to start school. I'm having the most fun senior year, so I don't want it to end any time soon. But going to college is also a huge thing for me and I'm looking forward to it. It's a new environment, new tennis and a new lifestyle. It's crazy to think I'll be in a new place in a few months, but I think it will be a beneficial change.
SJM: Have you always lived in Medford?
JK: Yes, I've been here since I was about 4. I've traveled a lot and I know what other places are like, but I think permanently staying in another spot will be pretty cool, I think.
SJM: What do you think you're going to miss about home or South Jersey in general?
JK: Probably my family and my mom's cooking. All the friends I've made won't be there, but I know I'll make friends at Hopkins.
SJM: Are you a big fan of professional tennis?
JK: Yeah, I follow most of the tournaments. I usually go to the U.S. Open every year and I watch all of the Grand Slams and the Masters on TV. I follow it more than others.
SJM: Do you have a favorite player?
JK: To be honest, I don't think I do have a favorite player. I kind of admire them all equally. They all have their good traits and I can't really choose one person over the others.
SJM: When you watch, are you able to take things and use them in your game?
JK: Yeah, I pay a lot of attention to what they do each point. What kind of serve they're serving at deuce, or what kind of serve they're serving at the beginning of the game. It's different for each point. I think it's helpful for me to follow what they do and translate it to my game.
SJM: You said you go to the U.S. Open every year. If you could go to one of the other Grand Slams, which one would it be?
JK: I'd probably go to Wimbledon. I know that's what everybody would say, but it's true that it's the most prestigious tournament in the history of tennis. It would be cool to see where tennis came from. It would just be cool to say you went to Wimbledon.
Jessica Hughes, Washington Township softball
As a sophomore in 2013, the junior shortstop led the Minutemaids with a .510 batting average and 53 hits while finishing second with 41 RBIs. She helped the team set a school record with 30 wins and claim the Group IV state championship.
SJM: What's it like going into this season after the amazing run you had in 2013? Is there pressure to live up to the standards you set last year?
JH: No, I'm pretty excited. We have a lot of the same girls and I feel confident that we'll do well, even though we lost a few really good players.
SJM: Your team graduated some standout seniors, including three who are now playing Division I softball in college. Do you have to take on a leadership role with them moving on?
JH: Yeah, they were very good leaders. It's going to be a lot quieter; they were very loud. I guess we have to step up and fill their shoes because that's a big role. They taught us a lot and they were always fun, so it's going to be hard to live up to their leadership.
SJM: When you talk about them being loud, are you talking specifically about Kylie Mulholland (last year's starting catcher)?
JH: (Laughs). Kylie Mulholland and [first baseman] Kristen Turner. When they got into little fights, that was the worst.
SJM: What was it like as a sophomore just being around talented seniors like that?
JH: It was a lot of fun. I was excited to go to practices, and obviously play games. It was just a good environment to be around every day. We grew really close and we always wanted to see each other. We were like a sisterhood, I guess—a family.
SJM: Could you tell going into last year that it had the potential to be such a special season?
JH: At first I didn't, but then I thought about it a little and I thought it could be a possibility. Then as the season went on I just knew we were going to go all the way.
SOUTH JERSEY MAGAZINE: In your division, the Olympic American, you pretty much face a challenge every game. Does that help to keep you focused, knowing that you can't afford to slack off at all?
JESSICA HUGHES: Yeah, good competition is what makes it fun. You're not just going to breeze by every game; you have to play hard to win.
SJM: Which teams do you see as your top rivals?
JH: Shawnee, they were a close game last year, and we lost one to Lenape last year. And Williamstown is definitely a rival.
SJM: I don't know if you pay attention to your stats, but obviously you put up some really big numbers last year. Do you have any individual goals for this season?
JH: I definitely want to get better, obviously. Specifically, I want to get my 100th [career] hit and just play as well as possible.
SJM: You're also known for your defense at shortstop. Do you take pride in that aspect of the game?
JH: Oh yeah, I love playing defense. That's probably my favorite thing—I like it more than hitting. You don't hear that often, but I love it.
SJM: Do you have a favorite player you grew up watching?
JH: I've always watched Cat Osterman on the U.S.A. team, she's a pitcher. My grandparents' last name is Osterman, so that was always a thing we had.
SJM: I know softball is your main sport but you were also a very good field hockey player before giving it up this year. Was it a tough decision to stop playing for Washington Township?
JH: It was definitely a tough decision, but I realized I had to put softball before anything else because that's what I want to do in college. After thinking it over, I knew that's what I had to do.
SJM: Did you miss it last fall when you saw the other girls start practicing and going to games?
JH: At first I did, but not as much as my fall softball season went on. I realized it was worth it because I like that a lot more, being focused on softball.
SJM: You mentioned college and I know you've already made a commitment to Fordham. What was it about the school and the softball program that made you choose that school?
JH: When I visited I basically fell in love with the campus; it's beautiful. Then I met the coaches and some of the team and they were all so nice, and I just saw myself going there.
SJM: Do you think there will be an opportunity to play right away?
JH: The coach said the best players play, so I'm hoping to prove myself and hopefully I will [play as a freshman].
SJM: Your brother Shaine is now playing baseball at Monmouth. What's it like having him out of the house for the first time?
JH: I'm a lot less irritated every day, but I do miss him at times. I call him and text him and tell him what's been happening.
SJM: The college teams started playing when there was snow on the ground. For you, how did the brutal winter we had affect your preparation for the season?
JH: Well, for my travel team [the New Jersey Gators] we have five-hour practices indoors every Sunday during the winter, so I'm pretty much caught up on softball.
SJM: So do you think Washington Township can contend for a South Jersey title again this year, and possibly another state championship?
JH: It will definitely be hard but I think we can do it. Not that it was easy last year, but we'll have to work even harder.
Marie McCool, Moorestown lacrosse
A senior, McCool had a remarkable season in 2013, even by Moorestown standards. She scored 86 goals to go with 26 assists and led the Quakers to their second straight Meet of Champions title and undefeated season. She will continue her career at the University of North Carolina, last year's national champion.
SOUTH JERSEY MAGAZINE: Obviously last year was a great one for you and the team. Do you feel pressure to have an encore to that season?
MARIE MCCOOL: There's definitely some pressure since we're 51-0 [over the last two seasons] and we don't want to be the class to screw that up and have a loss. We just have to keep in mind not to let that get to us and play our hardest every game.
SJM: The bar has been set so high at Moorestown and I'm sure you knew what you were getting into when you joined the team. Is it an honor just to be part of a program like that?
MM: It's definitely an honor. I say this all the time to my friends and family, even just walking around and wearing Moorestown lacrosse stuff, people look at you. At my tournaments over the summer, if they see you wearing Moorestown lacrosse stuff, they just stare you down because of the amount of success the program has had in the past.
SJM: At the same time, everybody is trying to take you down and you probably get every team's best game.
MM: Oh yeah, definitely. People definitely play harder when they play us because everybody wants to beat us. That just makes us want to play harder, too.
SJM: What have you learned being around other great players and a great coaching staff that has sent so many players to Division I college programs?
MM: The main thing I've learned is that most of the success in our program comes from the coaches. I never thought about that before I came to high school, about how much the coaches affect winning and losing. I just thought we had really good players, but they help us so much and form us into the players we are today and make us better each and every day at practice. They're the reason we're so successful.
SJM: When you look at your personal numbers from last year, they really jump out. Do you pay attention to statistics and do you set personal goals for yourself?
MM: No, I don't set goals for myself like I want to score this many goals today or this many goals for the season. I just want to do my best every game to help our team and be a leader on the field. It's not all about the numbers for me.
SJM: Were you always a goal scorer ever since you first started playing?
MM: I like playing defense too, but yeah, I always liked playing attack. I guess I kind of was natural at it, but I didn't really think about it in middle school. I didn't realize how much potential I had until my sophomore year in high school.
SJM: Your uniform number is 51. Can you tell me about the tradition at Moorestown surrounding that number?
MM: It's a tradition, the number is passed down and it's usually worn by players that stand out at Moorestown. Steph Toy had it when I was a freshman and sophomore, and when she graduated she handed it down to me with a note saying that it was my turn to wear it, and that wearing it means I have to try my hardest every game, be a leader on and off the field, never slack off and just do the best that I can.
SJM: Were you surprised when she gave it to you?
MM: I was surprised because I never really thought about it. I never thought, 'I hope I get 51,' or 'I wonder who she's going to pass it down to.' I just didn't take into consideration. When she came up to me at our banquet and gave it to me, I wasn't expecting it.
SJM: So now that responsibility will fall to you. Have you thought about who you want to pass it down to?
MM: I honestly have no idea. I guess I'll have to see this season how things play out and then I'll decide. It's really a tough decision, because there really are multiple people I could give it to. This season is going to be a deciding factor for me.
SJM: I think the Moorestown-Shawnee lacrosse rivalry is one of the best in our area, not just for lacrosse but for all sports. I know you're friends with a lot of players on their team, so what's it like when the two teams come together?
MM: Even though my best friend [Caroline Shinske] is on that team, during the game it's really intense. You can tell by the fire in their eyes how much they want to beat us, and we feel the same way. It doesn't even feel like I'm playing against my best friend, because you kind of forget about that. Then after the game we talk, but it's just a really, really intense game for both teams.
SJM: You went to Oregon last summer for an elite lacrosse event sponsored by Nike. How did that come about and what was the experience like?
MM: That was honestly the best experience of my life and I wish I could go back to it so badly. I got a phone call from Oregon and I didn't answer so they left a voicemail. I listened to the voicemail and they said I was selected and they were going to fly me out to the Nike headquarters. So I got all these things through email asking for all my sizes. Then I got there and it was way more than I expected. I walked in and there were lockers for all of us with our names on it. There was an outfit and a stick inside, and then later when we walked back in there was another outfit for the later session. Most people got to keep it, it depended on the rules from your state. The New Jersey rules said I could only keep $250 worth, so I picked out what I wanted. But then I could pay for extra items I wanted, so my mom gave me a check and I just bought everything else, basically.
SJM: What was the competition like when you were playing out there?
MM: It was supposed to be the top 50 girls and the top 50 guys in the country, so it was really good. We did SPARQ testing to test your athletic abilities, and then we played a lacrosse game. They made two teams and gave us a uniform that was so nice and cleats that matched our uniforms. It was really fun because I knew some of the players from summer tournaments and I got to go with my friend Gianna [Bowe, from Clearview]. I met a lot of guys there, too, and it was fun getting to know them. There was this one room … with all of these Xboxes and different stations where you could get customized head bands or socks. There was one station where you couldn't even bring your phone because it was never-seen-before Nike products and it was top secret. It was so cool, and it was beautiful there. Our hotel was right in the city of Portland and it didn't even feel like we were in a city because it was so clean and nice.
SJM: That didn't make you want to change your mind about college, did it?
MM: Oh no. My sister goes to Oregon so I've been out there. It's just too far for me.
SJM: Speaking of college, tell me about your decision to go to North Carolina. Obviously they're coming off a huge year of their own with the national championship, but didn't you make your decision before that?
MM: Yeah, I made it the summer going into my junior year. I've always wanted to go there, it's been my dream school forever, that and Notre Dame. I always flip-flopped back and forth between those two, but in the back of my mind when I visited [Carolina] I knew that was where I was going to go. It was my first visit of nine, so I still had a lot more visits to make. But I knew when I was visiting those other schools that I just loved Carolina. The coaches are amazing. Jenny Levy is not only an amazing coach, she's such a good person. The assistant coaches are great, the school is beautiful. I didn't want to be too close and I didn't want to be too far away, so it's the perfect distance for me. And the academics are amazing, so it's the full package.
SJM: Did you get to see their national championship game last year [at Villanova]?
MM: I went to the semifinal game. For the championship game, I had games all day, so I went home and watched it on TV because I was tired and I didn't think I could last for the whole game. It was freezing, too.
SJM: We talked about the great Moorestown-Shawnee rivalry, but North Carolina-Maryland is a great college rivalry for lacrosse. Are you excited to be a part of that?
MM: Yeah, it's funny because Maryland was actually my second choice.
SJM: And of course Carolina's huge rival in all sports is Duke. Do you hate Duke yet?
MM: Oh yeah. On my visit I went to the UNC-Duke basketball game, so that was fun. But it was the game when Austin Rivers hit a buzzer-beater, a 3-pointer [to lead Duke to a victory]. The whole arena got silent, it was crazy. But it was a good experience. I was just watching the Duke and Georgetown lacrosse game and I was rooting for Georgetown the whole time.
SJM: But obviously you have one more season at Moorestown before you get to Chapel Hill. What would be the perfect ending to your high school career?
MM: A state championship and an undefeated season. That would be perfect.
Mikhail Micheaux, Eastern track and field (pictured)
A versatile star who shines in the sprints, long jump and triple jump, this senior was the Group IV state champion in the long jump last spring and took second at the Meet of Champions. He will continue his career at the University of Houston, the alma mater of another South Jersey product who became a track legend¬—Carl Lewis.
SJM: Can you believe this is your last season of high school track?
MM: No, it went by really fast. I wasn't expecting it to end this quickly, honestly.
SOUTH JERSEY MAGAZINE: What are your goals for your final season at Eastern, both individual-wise and team-wise?
MIKHAIL MICHEAUX: Personally, I'd like to re-break the long jump record, improve my triple jump marks and be more into the track [events] this year. Team-wise, we have a young team coming up, so hopefully we can get it together. I'm pretty sure we will, we usually do.
SJM: Going into the state meet last year, did you know you had a good chance to win the long jump title? Were you feeling good that day before jumping?
MM: Yeah, actually I was. I had just recovered from pulling my hamstring at the Meet of Champions in the winter, so coming back that spring was a little difficult, just with the rehab. Plus, we didn't have a track or anything last year because of construction. But the coaching that I had was pretty decent, and my coaches and my team were behind me at states. I felt good that day. On the bus ride down there, I knew it was going to happen.
SJM: Did you have a certain number in mind that you had to hit?
MM: I knew I had to go 24 [feet] again, no doubt. The competition was stiff so I had to get 24 again. I wasn't really expecting it, but I did it. Before my last jump, my coach said, 'Just go for it.' And that's usually how it happens.
SJM: Is there a specific number you're shooting for this year?
MM: I'm trying to go 25. I'm definitely headed for 26 in my opinion, but that's going to take a lot of hard work. I've got to go 25 first.
SJM: Last year you were coming off an injury, but in a normal year how do you build up to the point where you're peaking for sectionals and states and the Meet of Champions?
MM: I try not to do too much at one time. I usually work on one area, step by step. Once I'm focused on something, I go for it and put all my attention on it. So just working and making sure you stay healthy is the key.
SJM: Is it difficult to find enough training time for all the different events that you do?
MM: Yes, I find it quite difficult sometimes. But I would say I've gotten to where I've gotten in the pit based on what I've done on the track. That's really where a lot of my strength comes from, running the 400 and the 200. I usually do a lot more running workouts than jumping; I might get one day at most to work on jumping.
SJM: Do you prefer one event over the others?
MM: It's really hard to say. I love the long jump, it's my favorite event, but I could never forget about the track. It's really hard to choose, but if I had to pick, I would say long jump. I'm more consistent in that and that's what I would like to excel in.
SJM: Do you think you have a chance at adding a state title on the track this spring?
MM: Yes, I'm definitely shooting for that. I think I'm going to get back into the [400] this year and see where that takes me. I don't like to run the 4 unless I'm in shape for it, because that's how you get hurt. So I'm hoping to do that, but the 200 is definitely on my list. The long jump, triple jump and 200 are definitely on my list for Meet of Champs.
SJM: Last year you and Antwan Dickerson from Pennsauken were always in contention at the big meets in the long jump. Do you get to know your top competition from around the state by seeing them so often?
MM: Oh man, me and Antwan have a history. I've known him since I was like in sixth grade. He's already at Houston, so I'll be with him again next year. It's definitely friendly competition. I always say that if I have to get beat, I want to get beat by one of my friends. I was kind of glad to see him win [the Meet of Champions] last year. It was his senior year and he deserved it, he worked hard for it.
SJM: Obviously, Houston has a great program and it has some ties to this area. Why did you want to go there?
MM: I actually got contacted by [volunteer coach] Carl Lewis and the head coach [Leroy Burrell, a former Olympian and Philadelphia native]. They've done anything and everything they could for me. I really appreciated that, and when I went on my visit I just felt comfortable when I was with the team. It just felt like I was supposed to be there. They have some of the best coaching there and they have a great young team. When I get there, [Timber Creek senior] Jamaad Muse and all of these other people will be there. We'll have a good chance of winning the national championship.
SJM: What did Carl Lewis say to you when he was selling you on the program?
MM: He told me how Antwan [Dickerson, of Pennsauken] had already increased [his long jump] by a foot by the beginning of the winter season, and I thought that was pretty amazing. He understood what was going on with me, and why this was hurting or why I wasn't getting as far doing that. He seemed to want to help me more than anyone else. He also told me about the academics, how they just reached a new record with a 3.1 grade point average [as a team]. I'm going to be big on academics, and they have my major. I want to do construction management.
SJM: Plus it will be pretty cool to compete for the same program that produced Carl Lewis and Leroy Burrell.
MM: Oh yeah, definitely. It's really nice down there, too. I'm tired of this Jersey weather.
SJM: Are you worried about being so far away from home?
MM: Actually, I'm not. I think it will be good for me to get away a little bit. My mom is thinking about moving down there. Their economy is developing and she's heard good things about Houston. She's already leaving Jersey regardless, so why not go there?
SJM: What will you miss about South Jersey when you leave, especially if your mom ends up moving to Houston?
MM: I'll miss my friends and the people I grew up around. This town really grew on me, because I was originally from down in the Atlantic City area. I'll definitely miss Voorhees. But I won't miss it as much after this winter.
SJM: Do you have dreams of competing in the Olympics?
MM: Yeah, I'm trying to go to the next one. [Lewis] said he's going to try and get me there and that I have the potential to go there, and I believe him. You never know.
SJM: Were you always into track, even from a young age?
MM: No, not really. I used to run around like a normal kid. I used to race people back in elementary school, that's how I found out I was quick. But I didn't look into track, I just wanted to play football. Coming into high school I didn't think I was going to be all that great. All the guys were bigger and faster and I had never run track. I didn't have much of a freshman year because I got hurt, but sophomore year I worked hard and that's when I started to excel, so I stuck with it. Both my parents were freshman state champs at Pleasantville, so yeah, it's in the genes.
SJM: Obviously you have an indoor season during the winter, but as far as getting outside to prepare for the spring season, how has this rough winter affected things?
MM: I think I went outside once or twice. The snow definitely prevented us from doing what we need to do. Jumping wise, I couldn't practice at all, so I was really surprised to jump 23 [right before the season started]. It was hard this year, because running in the hallways is bad for your shins and we couldn't do all of our workouts.
SJM: At least you had a strong indoor season, winning a state championship in the 55 meters. How did that compare to winning the long jump state title in the outdoor season?
MM: Track is track, whether it's indoor or outdoor, but I like outdoor better. Honestly, I wasn't that happy with my time [in the 55], but you take what you can get.
Blaine Lafferty, Cherokee golf
This senior came on strong at the end of last year, overcoming a back injury that forced him to miss the first several weeks of the season. He shot a 75 to tie for second at the South/Central Group IV Championships, helping Cherokee win the team title. He will continue his career at the University of Delaware.
SOUTH JERSEY MAGAZINE: What's your mindset going into your final season?
BLAINE LAFFERTY: It's definitely bittersweet. I'm just trying to have fun this year. I'm going to Delaware to play, so I'm excited about that, because I won't be finished yet with my career. We had a good season last year, so hopefully we can back that up and it will be fun if we can go to states again. I feel like we can have a really successful season if everyone has their best rounds during the tournaments.
SJM: So tell me about the back injury you were battling at the beginning of last year.
BL: Last year at this time I was only putting. I couldn't swing because my back hurt. So that's pretty exciting, too, that I get to start off right away. Last year I don't think I started until about three weeks into the season.
SJM: Was that tough to overcome?
BL: Yeah, that was tough because everybody was playing and I was afraid I was going to lose my swing. I just took it slow and had patience with it, and eventually I was pain free and rolling again in the tournaments.
SJM: How did you get hurt?
BL: I got hurt working out and playing golf—I didn't stretch or something. I think it was a combination of the two. It was kind of a weird injury, my muscles would tighten up and I'd get really bad back pain. It's all good now though. I stretch a lot and get massages to loosen it up. I've got it under control, I think.
SJM: How has the winter affected your preparation for the spring?
BL: Basically what I do every year is go to GolfTEC [in Moorestown]. I don't get lessons there but they let me practice because I'm friends with the guys over there. So I work on my swing. If the winter's not as harsh I'll try to get out, but this year I only got out a couple times because of the snow. So I just try to work on swing mechanics. They have video cameras, so I video my swing a lot. I putt around a lot in my house, too. Then when the season starts I try to work on my short game.
SJM: If it were just a normal winter with not as much snow, would you be able to golf outside?
BL: Yeah, when there's no snow I try to get out as much as possible. I'll put on as many layers as it takes. Sometimes it's unbearable, so I'll just putt or chip. But I go out whenever I can if there's no snow or rain.
SJM: Do you pay attention to the other top golfers around South Jersey, like Joe Russo from Washington Township or Josh Pederson from Moorestown?
BL: I kind of know what's going on but I don't pay too close attention to them. You kind of figure out who your biggest competition is just from playing in the summer and the school year. Russo is a really good player, he's developed a lot since freshman year. I've been playing him all four years and Washington Township will be good competition. But I don't research kids or anything, I just remember them from previous tournaments.
SJM: You and the team really played well at sectionals and states last year. Did you feel like you had it going on those days?
BL: That was when I was finally in my normal routine and everyone on the team was healthy. Everyone just happened to have good tournament days. The 18-hole tournaments are sometimes harder, but everyone seemed to put it together at the same time, which was nice. I think we can do that again. Obviously, we lost Jevon [Bell], but we have enough players who can shoot low enough scores for us to repeat that.
SJM: When you look ahead to the season, are sectionals and states at the top of your priority list?
BL: I like all the tournaments. The matches are a good way to stay competitive and all, but I like the tournaments because they're 18 holes and they kind of show who the real players are. I like all of them, but states and sectionals are definitely at the top of the list. Those are the big ones because you play all the best kids in the state and you really get to test your skills.
SJM: Do you have a favorite course to play in South Jersey?
BL: I've been a member at Burlington, I joined there last summer. But my favorite course would be Laurel Creek. That's a challenging course. It's kind of like a links-style course. It's really open, so the wind will get you, but there's also a lot of trouble everywhere. The greens are big, so hitting the green is only half the battle. The greens have a lot of slopes, so you can be on the wrong side of the green and three-putt easily. There are a lot of different challenges on that course and it's always in great shape.
SJM: Do you try to get around to all of the courses in the area, because there are definitely a lot to play in Burlington, Camden and Gloucester counties?
BL: Yeah, whenever I can I try to go to different courses and change up the scenery a little bit. If you play the same course all the time, you know the different shots and it gets kind of silly. So I try to spread it out.
SJM: Do you have a dream course you'd like to play, like Augusta or Pebble Beach?
BL: I got the opportunity to play Torrey Pines in a tournament last summer, the World Golf Championships. That was kind of a dream course for me. It was surreal seeing all the holes in real life, because Tiger [Woods] won there, they had the U.S. Open there a couple times. So that was a dream come true, to be honest. It was a great tournament too; it was all the best players in the world, so it was a good experience. It was a four-round tournament—three rounds and then a cut—and I missed the cut by three strokes. I didn't make the cut, but I was playing against some really, really good competition and it was my first time at a tournament like that. I've played in some national ones, but nothing like that. The course itself was so challenging, and I thought I played pretty well. I shot 74-79-75 and I missed the cut by three shots. So that was a dream course to play. I'd also love to play Pine Valley, anyone would like to play that.
SJM: What were your reasons for choosing the University of Delaware?
BL: It's a great academic school, obviously. I knew I had to have a pretty good summer because I kind of started late with golf, and coaches weigh the summer tournaments pretty heavily, along with states and sectionals. My freshman and sophomore years I didn't make states and at sectionals I didn't have a great performance each year. But junior summer I had a lot of good national tournaments. I tried to challenge myself with harder tournaments. I knew they were going to be hard to win, but I tried to make cuts and qualify, because coaches like that stuff. So I got a lot of interest, and I was looking at Drexel, James Madison, George Mason and Delaware. I met with the coach and he was a really nice guy, and they get to play at Wilmington Country Club, and that was a big factor because I like that course. Cody Dazen goes there, he's from South Jersey. I knew him and he's a nice kid. I just really liked the school and it has good academics, and I'm going to study accounting or finance. I also like the conference … it's really strong. All of those things added up to me choosing Delaware.
SJM: Is your twin brother [Liam] going to Delaware with you?
BL: No. He might try to play golf in college but I'm not sure. He wants to study engineering so it might be hard. He's looking at Rutgers.
SJM: What do you think that's going to be like, going to different schools?
BL: I think it will be different. I don't think I'll get sad or anything, but it will be weird because we help each other out with homework and everything. He won't be too far away but it will take some getting used to.
SJM: Do you guys help each other out when it comes to golf?
BL: Oh yeah. That was always one great thing to have, because we learned a lot about the swing and technique. Anything you need to learn about golf, we went through that together. It's nice to always have a practice partner so you're not out there alone, and seeing stuff that you wouldn't be able to see by yourself. That was great help, I think.
SJM: What do you think are your greatest strengths as a golfer?
BL: I think my biggest strength is my swing off the tee and on the fairways. I've worked with [local instructor] Steve Sieracki, he really helps with your swing a lot. I think my wedges are really good too, my wedge shots from 60 to 100 yards. My short game really needs to sharpen up. Whenever I go bad, I think that's what is hurting. My putting is off and on, I think it's like that for everyone.
SJM: When you get into the big tournaments, does a lot of it come down to putting?
BL: Yeah. I think in the big tournaments, you kind of realize that everybody is going to be hitting it good. The top 10 or 15 or whatever are all going to be hitting it the same. It comes down to whoever can save shots around the green, put the ball in the hole and avoid three putts. Putting definitely separates the best players. That's how you get to the next level.
SJM: When you watch the professionals, are you able to take anything that they do and apply it to your game?
BL: It's hard to watch swings and figure that out, you kind of have to make that your own. But I like to watch how they handle themselves, because they're in pressure situations all the time. Some guys collapse, some guys pull through. On Sunday during the last few holes, you always see guys do things they would never do because of the pressure. I like to watch that because in golf, handling pressure is a big, big factor. It can really change your game if you let pressure get to you. I like to watch the way they react to bad shots and their demeanor in general.
SJM: Who are some of your favorite players?
BL: I'm a Tiger fan. I like Dustin Johnson, and Bubba Watson is fun to watch. I don't know if you've ever heard of Charlie Wi, but I like his swing the best. I just love watching the tour in general, but those are my main guys. I like watching the Americans win, though.
Shelby Cain, Haddonfield track and field
The senior distance runner was the South Jersey champion last spring in the 1,600 meters and 3,200 meters and helped the Bulldawgs to their fourth straight sectional title. She is coming off an indoor season this winter in which she was crowned the state champ in the 3,200.
SOUTH JERSEY MAGAZINE: What does it mean to you to be entering your final season of high school track?
SHELBY CAIN: I can't believe it's almost over. It's gone by really fast and I know I'm going to miss it a lot. It's bittersweet because at the same time I'm excited for next year. But I've had such a good experience here and I know I'm going to miss my team.
SJM: Last year was successful for you and the team. What are your goals for this spring?
SC: Team-wise, we had a really good winter season, so we're looking to come back strong in the spring. We have some new girls who are joining our team, too, so hopefully we have a shot at winning some big meets. Individually, I would like just like to PR [set personal records] some more before I leave high school.
SJM: Last year in outdoor you won South Jersey titles in the 1,600 and 3,200. Is it important to you to repeat in those events at sectionals?
SC: Yeah, it is. I hope that I can do that. I think I've been the champ in the two-mile every year so hopefully I can finish that. That's definitely a goal for me.
SJM: You should be in contention for state titles in those events as well. Is that something you think about?
SC: Yeah, that's definitely a goal of mine. Probably for the two-mile more than the mile, but I'm definitely thinking about that.
SJM: Do you prefer the two-mile to the mile?
SC: Yes, I prefer the longer distance and I think I'm better at it, too.
SJM: Is it challenging to go from indoor season to outdoor season, or does your preparation stay the same?
SC: It's pretty similar. My training doesn't change too much. The biggest difference is that we go from Group I in the winter to Group II in the spring, so we're racing different teams. Other than that, I'm doing the same events. It's just better because it's outdoors in the fresh air on a bigger track.
SJM: How long have you been into distance running?
SC: I did cross country and track in middle school, but not too seriously. I decided to join the team in high school, and my freshman year we had the best captains ever, and they really got me into the sport.
SJM: Is that when you first figured out you were good at it?
SC: Yeah, I guess so. That was the first time I had real training and I was actually competing at bigger meets.
SJM: What do you think are the different aspects that make for a successful distance runner? It seems to be a combination of the physical side and having the right mindset.
SC: It is really mental. It's not over with quickly; you have a lot of time to think and a lot of time to question yourself. You have to stay focused throughout the whole thing, have a goal in mind and stick to it.
SJM: Do you try not to pay attention to the other runners, or do they affect what you do?
SC: The other people definitely affect me. You can't just think about yourself because you don't want people passing you. Having people out there to race with definitely helps to push me. There are battles that go on during races and it makes you a better runner and lowers your time.
SJM: Is there another runner in South Jersey, maybe from a rival school, that pushes you and brings out the best in you?
SC: I can't think of anybody from another team that I've raced a lot this year, but one of my teammates, Briana Gess, pushes me and helps me train better.
SJM: Briana obviously had a great cross country season [when she won the Meet of Champions title as a freshman]. What does it mean to have another super talented runner like that on your own team?
SC: We started running together in the summer and became really close. It's such a big help, because without her I don't know who I'd be running with. It's just nice having someone with me for all the miles. There are a lot of strong freshmen that came in this year; we're really lucky.
SJM: Is the spring your favorite season for running?
SC: It's actually cross country [in the fall]. I like the courses, I like that it's a longer distance. Just being out on trails racing instead of on a track.
SJM: What's it like being part of a program like Haddonfield which has had so much success in cross country and track?
SC: I love it, it's great. There's so much support and there's so much depth. Our team works together really well and we have such great coaches. I feel really lucky to be a part of it.
SJM: Haddonfield has won a Colonial Conference championship every year since 2006 and has an impressive streak going in dual meets. Does that bring added pressure when you're competing?
SC: We definitely talk about it, it's one of our goals to win every meet. We go into every meet and try not to mess around and make sure we have a lineup in all of our events that can get us points. Hopefully we can keep it up because the seniors get T-shirts at the end of the spring season that say how many we've won in a row. I don't know the exact number but it's definitely over a hundred.
SJM: At last year's Group II state meet your team ended up taking second by just a few points. Is that fuel for this year?
SC: Yeah, definitely. We won two years ago and we usually come really close. We have a lot of new girls this year and we're feeling pretty strong. We'd really like to get that win. We just don't want a repeat of last year and finish a couple points short.
SJM: At a meet like states, are you able to watch your teammates and cheer them on, or are you just focused on what you have to do?
SC: I do watch the other events. The only time I don't is when I'm warming up. We all try to watch each other and cheer each other on, and that's what I love about my team. We support each other so much.
SJM: Have you ever tried anything else in track, like the sprints, for example?
SC: No, I haven't. I've never tried anything other than distance. I just like running the longer events.
SJM: What's the next step after this season? Have you made a college decision?
SC: Yeah, I'm going to the University of Richmond. I've been talking to the coach since this time last year. The coaches and the team are great and it's a beautiful school; I really liked it there. They have some other good runners from New Jersey who have been successful there, like Marisa Ruskan [from Bridgewater-Raritan]. There are some other New Jersey girls going next year so it will be nice to have people from where I'm from.
SJM: Are you nervous at all about going away to school?
SC: Yeah, I am. I think everyone who goes away is a little nervous because you don't know what's going to happen. But it's not like I'm going across the country, so I think it will be fine.
SJM: Do you know what you want to study in college?
SC: I'm not 100 percent sure but right now I'm considering environmental science.
SJM: What do you think you're going to miss the most about South Jersey when you go to college?
SC: Just my friends and family and everything that I'm used to.
Taylor Warrick, Lenape softball
The junior slugger was a first-team all-star in the Olympic Conference American Division, arguably the toughest division in the area. This year she hopes to help the Indians become a contender for a South Jersey Group IV title.
SJM: You have almost the entire team back from last year. Are you expecting big things as a team?
TW: Yes. I think we'll be pretty good this year, I'm pretty excited. I know that some teams like Washington Township and Eastern lost some really good seniors, which gives us a better chance of winning against them.
SJM: The conference is always competitive. Do you like the fact that it's a challenge almost every game?
TW: Yeah, because they're all really good teams that have good pitching, hitting and defense. It's nice to have competition and play the game of softball the right way, the way it's supposed to be played. It's fun.
SOUTH JERSEY MAGAZINE: How do you feel about what you've been able to accomplish on an individual basis and do you have certain goals for this year?
TAYLOR WARRICK: This year I want to hit better, because even though I did well last year, I could be better. I want to lower my strikeouts, I've been practicing that.
SJM: What's the key to cutting down your strikeouts? Is it just a matter of shortening your swing and focusing on putting the ball in play when you have two strikes?
TW: Yeah, and you have to swing even if the ball is close, because you can't count on the umpires to always make the right call.
SJM: Is it tough to adjust when the pitcher is mixing up speeds?
TW: It is tough sometimes but it's something that you have to get used to. I've been playing for a while now, and it is hard with changeups and risers, but I've gotten better at it. You have to watch how the ball leaves their hand. I also have a problem with swinging at high pitches, so I have to focus on calming down in the batters' box and not go after everything.
SJM: Your coach calls you want of the best hitters in the state. What is your reaction to hearing that compliment?
TW: I guess it's flattering, but it's kind of weird because I feel like there's so many better players than me.
SJM: Do you enjoy being at the plate when runners are in scoring position are you're being counted on to bring them home?
TW: Yeah, I always try to get the person on third in. When I don't, I feel like it's all my fault and I'm letting the team down. I take things so personal and I need to just let it go and keep a positive attitude.
SJM: Which travel team do you play for and is it important to play throughout the year, not just during the high school season?
TW: I play for the New Jersey Outlaws. It's a lot of practice and you travel to a lot of different states, so you see a lot of different competition. It is really important, because it puts you in different game situations that you never would've seen before. You see all these different teams. We played a team from Alaska before; that was pretty crazy. And you meet a lot of people and make a lot of friends, so that's nice too.
SJM: How far have you traveled with that team?
TW: Florida.
SJM: Do you just play with that team in the summer?
TW: We play in the summer and the fall and we have winter workouts.
SJM: How did you get started in softball?
TW: I think I was in fourth grade when I started. My mom played, but my dad got me into playing. I didn't really want to play a sport but he talked me into trying out for the team. I made it, so I just kept playing. And I like it now.
SJM: I know you're only a junior, but have you thought about playing in college yet?
TW: Yeah, I have. I know that one coach came out to see me play.
SJM: Do you have a dream school you'd like to attend, or a certain state where you want to go to college?
TW: I want to go to school in Florida. My mom says she wants me to leave New Jersey but Florida is too far away. So the farthest would probably be Virginia or something like that. My mom wants to be driving distance away, basically. My mom went to Duke, my dad went to St. Joe's, my sister goes to the University of Maryland, my cousin goes to Towson, my other cousin went to South Carolina. So we were all kind of driving distance and my mom likes that.
SJM: One of your teammates at Lenape, Dallas Hogan, is going to Harvard. Does that give you motivation to play in college?
TW: It does. Dallas is a great player and before I came to Lenape, my dad talked about this great player named Dallas and how I had to see her. … I think it's great that she's going to Harvard. She's actually going with my friend from my travel team, so I think that's really cool.
SJM: Is there anybody from around South Jersey who stands out as someone you really respect as a player?
TW: Our catcher, Olivia Mahon. She's in my grade and we've been playing together for a while, and I always liked playing with her. We always feed off each other during games. Sometimes I play outfield and sometimes I play first, and when I'm in the infield we talk a lot and throw together. I also like Lindsey Manera, she's a great pitcher for us. She's won a lot of games for us and I think she had a perfect game last year. It was really cool to see.
SJM: Are there any older softball players you look up to, or even professional baseball players who you are a fan of?
TW: I like Natasha Watley [of the U.S. team] and I actually met her before. I was playing with my other travel team when I was younger and we went to Florida to play at the Wide World of Sports. They had a game and she came over after and signed my jersey. I also like the Phillies, so I've always liked Ryan Howard and Jimmy Rollins and Chase Utley and Shane Victorino, even though he's not with them anymore. I remember Aaron Rowand, too—I think that's the furthest I go back.
SJM: Obviously you play a lot of softball throughout the year. What do you like to do away from the field?
TW: I like to hang out with my friends¬—go to their house, go to the movies, go to the mall. When I'm home I like to play my guitar. I do a bunch of different things.
SJM: How long have you been playing guitar?
TW: I think it was seventh grade. We had a music class and we started playing guitar in there. I wanted to learn how to play, but I'm a lefty and they only had righties. So I had to learn it that way, but then I switched back and now I do guitar lessons.
SJM: What kind of music do you like to play?
TW: I play a lot of things. I play pop, R&B, gospel, soul. I haven't gotten into jazz because that's kind of hard. But I enjoy it a lot and I enjoy all types of music.
SJM: Does that help you relax after an intense softball game?
TW: Yeah, it's really relaxing. Sometimes I play too loud and my parents barge in here to tell me to be quiet. But it is relaxing because it gets stressful with softball and school and everything.
Published (and copyrighted) in South Jersey Magazine, Volume 11, Issue 1 April, 2014).
For more info on South Jersey Magazine, click here.
To subscribe to South Jersey Magazine, click here.
To advertise in South Jersey Magazine, click here.