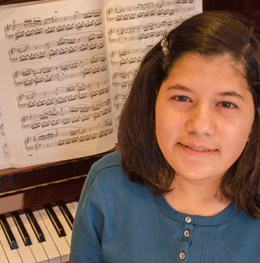 Making Sweet Music
Voorhees teen doesn't let rare disability keep her from hitting the high notes.
Don't ever tell Joanna Joy Costa she can't do something, because like any teenager, she's determined to prove you wrong. Even from birth, Joanna—with the help and support of her parents Roy and Nancy—has found ways to overcome obstacles life has thrown at her.
The Voorhees teen was born with a rare disability called arthrogryposis multiplex congenita that affects the flexibility of her joints and causes muscle weakness. Nancy was pregnant when doctors gave her and Roy the diagnosis. They warned that the baby would likely have severe neurological issues when she was born and they advised the young parents to get an abortion. "That was not an option for us," Nancy says.
The couple spent the next few months learning as much as they could about AMC, connecting with other families whose children also have the condition, and lining up physical and occupational therapists to work with Joanna when she was born. The difficulties she would encounter throughout her life were evident at birth, her father says, who recalls seeing Joanna's feet up by her head when she was delivered. He explained that Joanna's joints became "locked up" in the womb and she was unable to "develop a range of motion."
With the help of therapists and doctors at A.I. duPont Hospital for Children who started working with her immediately after her birth, Joanna has made amazing strides throughout her short 15 years so far.
For Joanna, having AMC means she struggles to lift her arms above her shoulders, has to wear leg braces when she walks, and only has use of two fingers on each hand. "Usually, I can do most things that I try to do, but it was always hard when I realized I can't do something," Joanna says. Simple, everyday tasks that most of us take for granted, like brushing our hair or eating, can be challenging for Joanna, but a special device that she wears on her arms gives her more mobility—and with it, more confidence.
The WREX, or Wilmington Robotic Exoskeleton, was conceived and developed by the Pediatric Engineering Research Laboratory at duPont. At age 5, Joanna was one of the first people to test the device. The exoskeleton is worn on Joanna's arm and it works by using rubber bands to counteract gravity and give her the extra strength she needs to lift her limbs. Today, nearly 20 children with neuromuscular diseases use the WREX and have gained more independence from it.
Even without the WREX, Joanna has been able to fulfill some of her dreams, including pursuing her love for music. "She always loved music from a young age. I didn't think it was something she could enjoy, but obviously she's proved me wrong," Nancy says.
Joanna says she was around 7 years old when she became interested in the piano after watching her mother teach her older brother how to play. "I wanted to do everything he did. I started begging her to give me piano lessons but she wasn't sure how to teach me."
Only having use of two fingers on each hand, Joanna was bound to have some difficulties with the instrument, so the family solicited the help of musical therapist Janet Robertson and "she just took off," her father says. Robertson taught her how to take a classical piece and reduce the notes to a point where it was manageable for Joanna, yet still didn't lose the beauty of the song, Roy explains.
Three years ago, the family decided to record Joanna's performances on a CD. The Costas' acoustic piano has sensors inside of it that allows them to record the music digitally. So far, Joanna's sold about 100 CDs online. The album, titled, "Four Fingers, Two Hands, One Piano," includes pieces from Muzio Clementi and Joseph Haydn.
Proceeds from her album go toward an organization, Joni and Friends, that provides wheelchairs to children around the world. The organization was founded by Joni Eareckson Tada, who became a quadriplegic at age 17 after a diving accident. While Joanna herself doesn't need a wheelchair, she credits Joni as one of her heroes. The ministry Wheels for the World collects unused and older wheelchairs, restores them and hand-fits them for children with disabilities. "It's a way of getting the message out about Joanna's story that the disability doesn't have to stop you," Roy says.
Joanna isn't stopping at just the piano, either. After being introduced to a dulcimer at her friend's house, her parents purchased one for her about three years ago and Joanna is now teaching herself how to play. "You only need two fingers on each hand to play, so I can play that normally. You use little hammers that you hold in both hands and hit the strings with it. I really love it," Joanna says. "I have been amazed from the beginning of how well she just figures stuff out," her father says. "She hasn't let her limitations hinder her."
Published (and copyrighted) in South Jersey Magazine, Volume 11, Issue 1 April, 2014).
For more info on South Jersey Magazine, click here.
To subscribe to South Jersey Magazine, click here.
To advertise in South Jersey Magazine, click here.