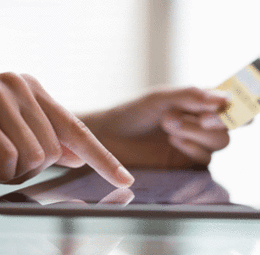 Change for a Dollar
As banks continue to evolve technologically, they've found a renewed focus on customer service.
Banking has evolved with the times and seen numerous changes over the years. Many thought the financial crisis of 2008 would collapse institutions and yet banks have largely rebounded. In their resurgence, banks have turned to a stronger focus on their local community. Even the large name banks that have opened branches in small towns have aimed to connect with the residents on a more personalized level. That's no surprise since a study by Cisco recently found most consumers desire a bank that offers personalized service. With extended hours, weekend banking and other changes, there's no doubt that today's banks aim for convenience and customization.
Banking and technology
Technology has changed the face of the bank forever. Services that used to require a trip to one's local branch can actually now be done at home—or on the go via tablets and mobile phones. "Extended hours do offer convenience to customers who prefer to go to a branch," says Christie Wiggins, vice president of marketing for Cape Bank. "But many prefer self-service channels … bank-by-phone, online banking, mobile and tablet banking, all of which allow customers to decide how, when and where they want to do their banking."
These days, it's become an expectation that banks offer online services. Considering consumers manage much of their lives over the Internet, it's not surprising. They book airline tickets, go shopping and even telecommute to work. Of course they also want the option to do their banking online. "Mobile banking and mobile deposit services are very popular and convenient," says Jeremy Shackleford, SVP, central New Jersey retail executive, Susquehanna Bank. "Mobile banking gives customers access to online banking in order to manage their accounts anytime, anywhere. They can even set up alerts, make transfers and pay bills."
But it's the versatility that is helping banks meet all of their customers' needs. That includes those that don't prefer online services as well. "Thanks to all the technology advancements in ATM, mobile and online banking, customers have the option to bank whenever and wherever is most convenient for them," says Brenda Ross-Dulan, southern New Jersey regional president of Wells Fargo. "Our online and mobile banking features keep expanding. You can easily monitor your accounts, receive alerts, transfer money, deposit checks and pay bills from your mobile phone or tablet. Yet, if they prefer, they can still visit a store to speak directly with a banker about their financial needs."
And some customers do want that. They prefer speaking to someone directly—and in person. Gerard M. Banmiller, president and CEO of 1st Colonial Community Bank, says it can be a generational issue. Many (but not all) younger folks want quick service on the go or at home. But many older folks prefer personal contact. "Those in their 40s and up prefer talking to someone and asking questions," Banmiller says. "They are willing to wait a little bit for the answer or for the next person to help them. Often the millennial generation prefers to access their account via the computer. As a result, our bank provides both levels of service in abundance."
Community connections
While the term "community bank" is thrown around a lot, many bank branches are truly increasing their focus on their own local community. Banmiller says a community bank should be defined as one that stays involved in the community. That's something he says 1st Colonial has always aimed to do. The bank devotes a minimum of 10 percent of their net revenues to support the community. "For example, our Collingswood office sponsors the Christmas parade, the May Fair celebration and the Farmer's Market," Banmiller says. "We identify ourselves as part of the community by this corporate sponsorship as well as our officers becoming involved as leaders. I am president of the Business Involvement District for the borough of Collingswood."
Even as many banks have grown larger, they've made a concerted effort to continue a small-town community feel. Tellers get to know customers by name and local branches make commitments within their local communities. As Susquehanna has grown, for instance, it has divided into regions in order to retain that sense of community. Each region has its own leadership comprised of people who live in the local community and have firsthand knowledge of the economy and the local people. "We keep as much decision-making as possible at the local level," Shackleford says. "Banking is a business of relationships and we value the importance of building close relationships with our customers so that we can better understand their financial goals."
Volunteer efforts and donations are also ways that local banks are building ties with the community.
Cape Bank has formed partnerships with several charitable organizations that are dedicated to health and human services. "Our goal is to assist in the enhancement of quality of living by supporting these organizations through philanthropic giving and employee volunteerism," Wiggins says.
Shackleford says in 2013 in New Jersey, Susquehanna's bankers served on the boards of nearly a dozen nonprofit organizations, helped support 128 different nonprofits with financial donations, and contributed more than 1,200 hours of employee volunteer time. Ross-Dulan says although Wells Fargo is the fourth largest financial services company in the country, they aim to retain that local feel by giving back to the communities they serve. Last year, Wells Fargo donated more than $6 million to New Jersey nonprofits.
"These funds went to support community development projects, education opportunities, health and human services, and arts and culture initiatives," Ross-Dulan says. "Our New Jersey team members also performed 27,800 hours of community service."
Looking ahead, listening to customers' wants and needs will continue to drive increasingly personalized service. Even feedback from social media sites like Facebook and Twitter are noted. In this day and age, Shackleford says paying attention to that "constant flow of communication and feedback" is what helps them improve. Going forward, those banks that continue to listen to their customers' wants and needs will have the best success in expanding their reach within their communities.
Published (and copyrighted) in South Jersey Magazine, Volume 11, Issue 1 April, 2014).
For more info on South Jersey Magazine, click here.
To subscribe to South Jersey Magazine, click here.
To advertise in South Jersey Magazine, click here.