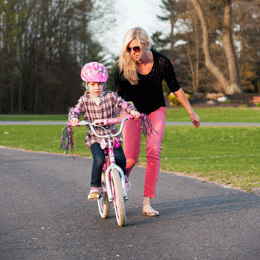 A Cohesive Community
A look around Washington Twp.
Like many South Jersey towns, Washington Township offers a mix of rural and suburban life. Though its main corridor along Route 42 is bustling with business, at its outskirts lay large tracts of farmland that remind residents of the way things used to be. Not everyone embraces such sundry living conditions. Some people would prefer to still have the township occupied by more farms, while others think development has helped the town make a name for itself—but Mayor Barbara Wallace says the diverse nature of the town, which locals simply call Township, is its biggest asset. "Washington Township is constantly moving forward and changing and I think that's the beauty of this township—that it continues to grow," she says.
Though the recession caused some of that growth to slow down for a time, the township saw 73 new businesses open in 2013, according to Administrator Bob Smith. And if the number of new applications brought to the planning board this month is any indication, the township is back on track to continue new growth. "The month of March was unprecedented in terms of the number of new planning board applications received," Smith says. "I believe it was six or seven, which, compared to the last, truthfully, five or six years, is a high number." He says the applications are for both residential and commercial development, though he does note that he has "had more inquires from developers and real estate brokers over the last six months than [he has had] over the last two and a half years."
Smith says he believes the strong health care presence the township has now will be one of the key players in determining what new developments are brought to the township. Both Kennedy Health System and Virtua now have roots in the community, and a number of Philadelphia hospitals have started partnerships with these hospitals to bring even more health care services to South Jersey.
Though she appreciates the commercial developments that have grown in the township, and she is especially grateful for the health care presence, Wallace says she still has an affinity for the farmers that call the township home. "I'm glad there are still farms in Washington Township," she says. "Would I like to see more farms? Absolutely. They certainly helped my children in appreciating fresh fruit and vegetables and just how hard farmers work. I still try and support them whenever I can. I don't want to lose them."
Another aspect of the township Wallace says she appreciates is the amphitheatre at Washington Lake Park. "I appreciate that a former mayor brought culture to the township when he had an amphitheatre built in Washington Lake Park," she says. "I think it's one of the most beautiful amphitheatres in the state and we hold a lot of events and concerts there. It allows us to highlight the beauty that is the arts." Among the 29 free concerts and events to be hosted at the amphitheatre this summer will be a performance by Payton Taylor, a Washington Township native who has been making a name for herself on the country music scene and was featured recently at the 2013 CMA Music Festival as an emerging artist.
Perhaps the most well-known event to take place in the township is Super Saturday. An all-day, family-friendly event, Super Saturday is a way for the community to highlight the people and businesses that call Washington Township home. "We started Super Saturday as a way to bring a focus to the services that Washington Township offers. It had gone away from that for a few years, but it's really coming back to that," Wallace notes.
Whether you're a business looking to open an additional location, a family hoping to relocate to a burgeoning town, or a couple in search of a new place to spend an afternoon, Washington Township has become the community with all the answers.
In this ever-evolving town of more than 48,000 people, it's clear there is something for everyone, and that the options are only going to continue to grow and evolve over the next few years.
Meet the Mayor
Barbara Wallace did not grow up in Washington Township. Originally from Atlantic City, she moved to the township 44 years ago with her husband, John, who grew up in Pitman. It was the school system that initially attracted the couple to the area, but over the years, Wallace has grown to love a lot more about the township. "It's a really great place to live," she says. "I absolutely love it." We spoke to Wallace, who has been mayor since 2011, about what it is that she thinks makes her township great and how she feels the changes that have taken place within its boundaries over the years have only made it better.
When I first moved to Washington Township, its whole framework was just beginning to change. It was 1970, and they were just starting to build the developments we see today. I remember there were farms everywhere, and I appreciated them.
I consider Washington Township a city without streets. A lot of times when you think of cities, you think of all the busy streets they have. Washington Township, as big as we are, we don't have those busy streets. We still have the roads and drives that slow things down a bit.
I'm proud of the supportive community Washington Township offers. It's like we're all family and we work to take care of each other. We have the same struggles as any town, but no matter how dark it gets, we tend to pull together and make the best of things. For any cause or whenever one of our residents is down, our community pulls together.
A hidden gem in town is Washington Township Golf Course. It's a wonderful 9-hole golf course which I would love to see used more often. It's a great place to bring kids out to practice. It's a good option for an afternoon of family fun.
Washington Township has taught me that we, as people, must respect and love the differences in culture, ethnicity and people.
By the Numbers
Number of railroad tracks: 0 Number of zip codes: 6 Number of parks: 2 Number of townships in Gloucester County with more retail space: ONE (Deptford Township) Number of farms in 1885: 200 Number of farms in 2014: 76
Published (and copyrighted) in South Jersey Magazine, Volume 11, Issue 1 April, 2014).
For more info on South Jersey Magazine, click here.
To subscribe to South Jersey Magazine, click here.
To advertise in South Jersey Magazine, click here.