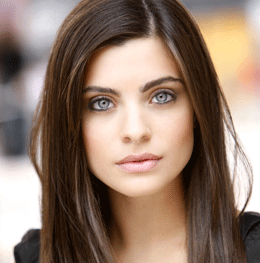 Following Her Lead
Voorhees native Julia Udine takes on the role of a lifetime in the traveling production of The Phantom of the Opera.
Few musicals have the fame and reverence of Andrew Lloyd Webber's The Phantom of the Opera. It's a show that has been in continuous production since 1986 and is the longest-running show in the history of Broadway, clocking seven Tony awards along the way. It's also been made into a hit feature film starring Gerard Butler and Emmy Rossum.
Phantom of the Opera is more than eight years older than its newest star, 20-year-old Julia Udine. The Voorhees native, a lifelong singer and dancer, was cast as the musical's lead, Christine Daaé, in the North American tour production. After a run in several cities across the country, Udine and the cast landed in Philadelphia on March 19, performing at the Academy of Music through April 12. We spoke with Udine about landing such an iconic part as her first leading role, and how she's adjusting to her short stint back home.
SOUTH JERSEY MAGAZINE: Tell me about your first shows in Philadelphia. How was it to take the stage?
JULIA UDINE: We actually opened in Providence and went to Minneapolis and Chicago, so it's nice for me to have had the chance to grow into the character before coming to Philly. It went really well. It's so great to be in Philly because the theater is kind of shaped like a horseshoe, and the sound is really wonderful and I can hear myself a lot better. It's also such a gorgeous theater. And to have such a supportive audience is unbelievable. Voorhees Middle School had a field trip with about 250 students and all their parents. And a lot of people that I've known my whole life will show up to see the show.
SJM: Does the familiarity create some extra jitters?
JU: I'm actually living at my parents' house! I'm so excited to be able to sleep in my own bed again. It's so much better than sleeping in hotels or scrambling to find an apartment in between rehearsal. Plus, it's nice that I can give my mom my laundry and get some dinner and get taken care of a little.
SJM: How are you enjoying being back home?
JU: I'm so happy to be in Voorhees. I love being home and being with my family. My mom babysits my niece twice a week so I get to be with them, and she's learning to talk right now so I'm lucky to be able to see that. I also get to go and take a voice lesson with my old voice teacher Melissa Daniels; she's been teaching me every week since I was 9 years old. And whenever I get to a new city, I would think, 'I can't wait to go home and see my voice teacher' or that I can't wait to go home and get my nails done at my favorite place.
SJM: What is life like on the road?
JU: It's really exciting. I'm used to living in one place, so of course that was a bit of an adjustment. But if there's a time that would be best for me to travel and play this part, it's right now. We're pretty lucky that we get to stay in each city for two weeks or longer, so we are able to settle in each city. It's really exciting because we get to explore these cities that I've never been to before and I get to see some of the most beautiful theaters in the country and reach so many different audiences.
SJM: Many performers consider the role of Christine Daaé to be their dream part, and you've made it your first star performance. What's it like to become Christine?
JU: It's an incredible honor to be offered such an iconic role, but it's also a challenge. She's such a well-written character, so it was really easy to connect with her, and she has such an emotional journey in the show that I was really able to immerse myself in that character.
SJM: Was this a role that you've always dreamt of?
JU: What I like the best was that I was able to bring all my training together. I've been taking ballet since I was 3 years old and I am also a classically trained singer, and Christine's doing it all. I've been preparing for it for a really, really long time. I didn't really have to go too far out on a limb or learn anything brand new.
Published (and copyrighted) in South Jersey Magazine, Volume 11, Issue 1 April, 2014).
For more info on South Jersey Magazine, click here.
To subscribe to South Jersey Magazine, click here.
To advertise in South Jersey Magazine, click here.