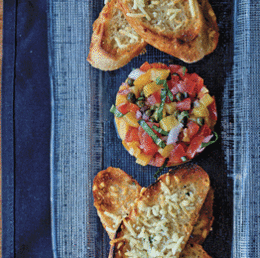 Side Dish
Quick Bite: Bruschetta
Speranza, Westville
There's nothing ordinary about this classic Italian appetizer. Speranza chef Dave Strano takes his tomatoes to the next level with the addition of basil, red onions and roasted golden beets for an added punch of sweetness. He then coats everything in extra virgin olive oil before placing it on wood-fired Parmesan toast. But the best surprise is the finishing touch of super-salty capers, a surprising burst of flavor in every bite that you can't find on any old plate of bruschetta.
Key Ingredient: Artichoke
This month, we're flipping for artichokes, especially now that they're finally in season once again. But instead of the standard spinach-and-artichoke appetizer, why not try some new alternatives with our favorite flowering veggie?
Vegetarian Artichoke Crepe
Le Café Creperie, Cherry Hill
Artichoke Crusted Beef Medallions
Brio Tuscan Grill, Marlton
Crab and Avacado Salad with roastedartichokes
Terra Nova, Sewell
Lunch Under $15: Main Street in Moorestown
Spring is in the air; don't spend your whole day inside, at home or in a stuffy office. When it comes to great lunch spots, Moorestown's Main Street has a reputation for delivering the goods. From Italian to Asian and everything in between, there's no shortage of great and affordable lunch bites.
Baked Gnocchi Fresh potato gnocchi gets tossed in red sauce and mixed with ricotta before being covered in mozzarella and baked to gooey perfection. $9.35 at Passariello's, 13 W. Main St.
Szechuan Shrimp For one low price, you get these super spicy shrimp, sautéed with fresh veggies and served piping hot alongside fried rice or lo mein, chicken salad or soup and your pick of egg roll, shrimp roll or vegetable roll. $7.25 at Oriental Pearl, 133 W. Main St.
Roasted Vegetable Quiche The Pie Lady's quiches change from day-to-day, but each one seems more satisfying than the next—like the roasted vegetable variety, a massive and fluffy slice with fresh veggies like mushrooms and peppers that only add to the savory egg. $4.25 at Pie Lady Café, 9 E. Main St.
Unaju Indulge in some Japanese delicacies on your lunch break. Akira 2 broils meaty strips of eel with their specialty sauce before serving it bento style over white rice for a lunch that's far from usual. $11.50 at Akira 2, 45 E. Main St.
Winger Wrap Moorestown locals will tell you there's no quicker service than the pros at this landmark deli. We suggest going for one of their daily specials, but you can't go wrong with their winger wrap, featuring Buffalo chicken, sharp Cheddar, lettuce, tomato and blue cheese dressing. $5.99 at Moorestown Deli, 115 W. Main St.
Tasting: Seventh Inning Snack
Check out our three new picks to "strike out" your hunger this season.
When it comes to dining at Citizens Bank Park, peanuts and Cracker Jacks went out with The Vet. These days, the home of the Philadelphia Phillies is offering food and drink options that rival some restaurants and give fans plenty of reasons to return game after game.
"Every year we take a look at the menu, and outside of what will always be here—the hot dogs, the cheesesteaks, Chickie's and Pete's—we look to bring something new to the fan base," says Citizens Bank Park Concessions Director Jeremy Campbell. "So there's a few pretty cool outside options for something new."
Harry the K's
We think the late Harry Kalas would be impressed with the newer and bigger menu at this outfield eatery. Along with beer-cooked PEI mussles with chopped bacon, you can now find a gourmet Over Easy burger with a fried egg, sundried tomato and pepper jelly; a BLT with a supersized onion ring and slab of bacon; and even poutine—a Canadian snack featuring French fries smothered in brown gravy with bacon and cheese curds.
Alley Brewing Co. and Specialty Sandwich Shop
Citizens Bank Park dives into the barbecue world with a specialty deli pastrami sandwich and a brisket grilled cheese, both made on-site. "From beginning to end, the cooking and prep of the pastrami is a five-day process," says Campbell. "When you go to the Alley Brewing Co. behind Section 147 you'll always be able to see them smoking pastrami for the next game."
Philly Frank & Stein
Hot dogs and beer get a serious boost with this new concession stand. Here you'll find an impressive list of craft brews alongside artisan hotdogs, like the Cheese Steak Dog and Summer Dog (pictured) with diced cucumbers, a pickled onion salsa and an ancho chile sauce.
Drink This: Must-Have Margaritas
Cinco de Mayo is just around the corner. What better excuse is there to grab a seat at some of South Jersey's top-notch Mexican restaurants and dive into a quality margarita?
These days, our favorite margaritas extend much further than some lime, tequila and a salt rim. In fact, you can find almost any flavor under the sun blended or served over ice.
Check out our favorite picks:
Blue Demon Margarita
La Esperanza, Lindenwold
Pomegranate Margarita
Los Amigos, West Berlin
Skinny Citrus Margarita
Bahama Breeze, Cherry Hill
Fast Food
Chef Joe Palombo, the chef and owner of the former Mirabella Café in Cherry Hill and one of the founding members of SJ Hot Chefs, passed away at the age of 51.
Cherry Hill's Forgotten Boardwalk Brewing Company, located at the former Flying Fish warehouse, will officially open at the start of May. Owner Jamie Queli plans to open doors to the public by mid-May.
Camden County has announced plans to open a new restaurant at the former site of Pennsauken's Lobster Trap in spring of 2015. No further plans have been announced, though officials say there are plenty of interested tenants.
Local Vietnamese chain Pho Xinh closed its Marlton restaurant. The Cherry Hill and Mount Laurel locations remain in operation.
Published (and copyrighted) in South Jersey Magazine, Volume 11, Issue 1 April, 2014).
For more info on South Jersey Magazine, click here.
To subscribe to South Jersey Magazine, click here.
To advertise in South Jersey Magazine, click here.