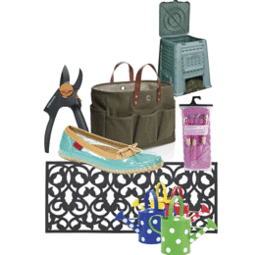 Good Buy: Green Thumb
It's finally time to get out and enjoy the fresh air.
Here at South Jersey Magazine, we're ready to dive into those big spring projects, and that means breaking out the mulch, seeds and soil to create a garden that's brighter and bigger than ever. Before you get out to start your own gardening or landscaping projects, consider these handy tools and accessories. We picked our favorite outdoor gear to give your gardening experience an added boost from beginning to end.
1. Go Green. Composting is easier and more sanitary than you think, and it works wonders on your vegetable gardens and flower beds. These days, companies like Thermoquick make composting almost effortless, with items like this one, which is made from dark-colored, temperature-resistant plastic that creates the optimal composting environment and helps prevent breaking or cracking all year. It also comes with air vents to help oxygenate your compost. Thermoquick 110 Gallon Composter, $79.95 at Sur La Table, 500 Route 73 S., Marlton, (856) 797-0098, SurLaTable.com
2. Cutting Edge. There's nothing worse than blisters and sores all over your hands after a hard day's work. This pair of sheers is small but mighty, with a specialty gear that gives you extra power without extra strength. They're light and durable, and come with a safety lock, so you can throw them in your bag when you're all done and not worry about blades getting in the way during your next project. Fiskars PowerGear Bypass Pruner, $29.99 at Bloomers Garden Center, 344 Hurffville Crosskeys Road, Sewell, (856) 589-0200, Bloomers.com
3. Loaded Up. You want to spend your time in the garden actually gardening, not running back and forth for supplies. You can load up the bag or pockets with all your seeds, tools and gloves and plop it right down in the dirt beside you. The waxed canvas fabric is built to last and also waterproof, so you don't have to worry about getting too grimy or muddy. Canvas Garden Tote by Parson Gray, $59.95 at Crate and Barrel, 2000 Route 38, Cherry Hill, (856) 662-5499, CrateAndBarrel.com
4. Tool Kit. A craftsman is nothing without his or her tools. This tool kit comes complete with a cultivator, trowel and transplanter along with a kneeling pad to add some extra comfort during those long projects. Best of all, this kit is pink with a purpose. The set is created with charity in mind, and a portion of all proceeds go toward the National Breast Cancer Foundation to provide mammograms, along with medical treatments, to those who cannot afford them. Pink Garden for The Cause Kneeling Set, $19.95 at Plow & Hearth, 500 Route 73 S., Marlton, (856) 396-0770, PlowHearth.com
5. Slip-on. Keep your favorite summer shoes clean with these cute waterproof skimmers. Chooka's slip-ons are rubber for easy cleanup, but still stylish and comfortable, featuring a soft rubber insole that removes and can be washed. You can keep them at the ready for outdoor work, then simply hose them down to keep your home looking as beautiful as your garden. Duck Rain Skimmers by Chooka, $64.95 at Nordstrom, 2000 Route 38, Cherry Hill, (856) 773-5600, Nordstrom.com
6. Dirty. We suggest laying out this rubber doormat to anyone who's planning to invest a lot of time with their hands in the dirt this spring. The mat features a scrolling design with delicate leaves for a sharp look, but is also waterproof and easy to clean. Double-wide Leaf Rubber Doormat, $50 at Pottery Barn, 2000 Route 38, Cherry Hill, (856) 662-2031, PotteryBarn.com
7. Refreshing. Sure, these watering cans are useful when you're looking to re-fuel your perennials and veggies, but the playful polka dots on the outside also add a fun splash of color in your outdoor décor. These cans come in a set of four, featuring green, blue, red and yellow paint, so you can match whatever blooms are budding this summer. Behrens 1/3 Gallon Polka Dot Galvanized Steel Watering Cans, $39.96 at Spotts Hardware, 646 Stokes Road, Medford, (609) 654-4464, AceHardware.com
Published (and copyrighted) in South Jersey Magazine, Volume 11, Issue 1 April, 2014).
For more info on South Jersey Magazine, click here.
To subscribe to South Jersey Magazine, click here.
To advertise in South Jersey Magazine, click here.