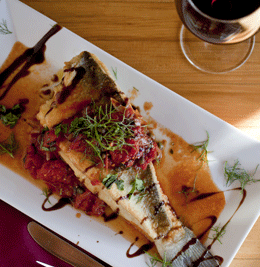 Palate Review: Café BellaVita
The Up-and-Comer : Café BellaVita
43 S. Centre St.
Merchantville
(856) 665-8388
3 and a half forks
I've probably passed Café BellaVita a dozen times without really stopping to look. It's a fairly unassuming little BYOB on Merchantville's Centre Street, next to its adjoining pizza shop that's been in operation since 2009. But to compare chef Carlo Finazzo's food or vision to what you might find in the typical pizzeria dining room is to do his menu a serious disservice.
What drew me into this restaurant in the first place was the vibrant and extremely creative Sicilian plates that Finazzo was sharing via BellaVita's budding social media pages, as well as the astounding reception his new food has gotten from local diners. Uni with clams, anyone? As the restaurant expanded and underwent renovations, so did the menu. Out are the old booths and worn-down carpet of the former Sal's Pizza shop, replaced with more intimate tables, hanging satin curtains and wood flooring that created a romantic, dramatic setting and mirrored a refined menu featuring seasonal ingredients and tons of fresh seafood.
We started with a plate of piping hot panelle, or Sicilian fritters. A corn meal blend gets breaded and then deep fried to create long, thin and airy bites, similar to a dense potato chip. They were totally original, and something I've never seen on another Sicilian menu, but a little too greasy and in desperate need of a dipping sauce or topping to add another layer of flavor.
Sicilian shrimp were sautéed with sliced figs and bedded on a mound of fresh arugula, which added a nice hint of pepper that balanced out the salty shrimp. Meanwhile, the figs added a bright pop of sweetness. It was a dish that really hit all of my taste buds in the best way possible, and was light enough to keep us looking forward to the next course.
Fresh seafood was the star of the night, and the bronzino that arrived as two filets—though the restaurant offers one filet as well—was no exception. The large filets were sautéed until flaky, and sitting simply atop stewed tomatoes, cooked with onions and capers and drizzled with a rich balsamic vinegar. The sweet tomatoes and vinegar complimented the mild fish, while the capers added a playful briny bite, almost like a subtle homage to the Sicilian seas.
And then there was the pasta, on this night a rosemary gnocchi with shredded chicken. The potato pasta and chicken were tossed in a very simple white sauce and served with plump, juicy grapes. While I would have liked to have had some fresh gnocchi, as opposed to the packaged variety we received, this was such an unusual and oddly cohesive dish that I couldn't help but come back for more. Fresh grapes in an entrée? Who would have thought that would work so well, especially when paired alongside rosemary and roasted chicken breast. Somehow a notoriously heavy pasta was instantly lightened up, with the use of some really clever, simple and well-executed ingredients.
I was disappointed to see that dessert options did not match the diverse savory menu. In fact, the only option of the night was a cannoli, and even though the hand-made filling was rich and creamy with a nice balance of chocolate chips and filling, the cannoli shell itself was stale and hard to get through.
While some menu items could use a bit of refinement, this was an overall pleasurable dining experience. And there is still a handful of dishes I was aching to try, like constantly rotating arancini that change depending on seasonally available product. And judging by the families, friends and couples that filled the seats of Café BellaVita, people are as eager as I am. Finazzo's plates provide a touch of refinement to dishes, but are still comfortable and familiar enough for a family atmosphere.
Published (and copyrighted) in South Jersey Magazine, Volume 11, Issue 1 April, 2014).
For more info on South Jersey Magazine, click here.
To subscribe to South Jersey Magazine, click here.
To advertise in South Jersey Magazine, click here.