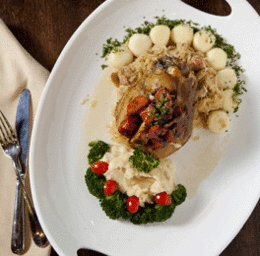 Palate Review: Royal Cracovia
Meat and Potatoes: Royal Cracovia
510 White Horse Pike S.
Magnolia
(856) 282-3300
2 and a half forks
Magnolia's new Royal Cracovia has been on the radar for some time. When word got out that local developer Stanislaw "Stan" Stachowski was investing $3.5 million into an all-new restaurant that would specialize in eastern European cuisine, people were eager to learn more about a project that's grander than anything that's hit South Jersey in a while.
Prior to opening doors on the massive space, Stachowski recruited Mirko Loeffler, the former owner of Mirko's Taste of Europe in Voorhees, as chef. The Polish-born Stachowski and German-born Loeffler then set off to create a menu and dining room that would channel Stachowski's Krakow roots, while providing an upscale atmosphere for locals to grab a bite, watch the game or just relax.
It's not the most ideal location—stuck alongside the always-bustling White Horse Pike among shopping malls and auto shops—but the building itself is beautiful both inside and out, with 16,000 square feet of brand-new space, wrapped in floor-to-ceiling windows with arched cathedral ceilings framed in red oak beams. A rectangular bar with a marble countertop seats around 30 and greets you as soon as you walk in, while rustic chandeliers hang above rows of booths and tables.
A wood-fired oven sits into the back wall, where another marble bar sits, waiting for diners. The restaurant is broken into several rooms, including a banquet hall, but only the large, centralized space is being used to seat families and couples.
Appetizers paid homage to the restaurant's Polish roots while also providing more than enough alternatives. The star of the starters was the pierogi sampler, which came with six hand-made pierogis of the potato, meat and onion, and sauerkraut varieties. The pillowy pockets of dough were stuffed, seared until crispy on the outside, then served with a mound of caramelized onions and hearty chunks of bacon. My favorite was the classic potato, which blended nicely with the smoky bacon and sweet onions.
The crab cakes appetizer came with three small cakes, breaded, deep fried and served on a bed of spinach. The spinach was sautéed with garlic and tomatoes, and while the wilted leaves didn't do much to add to the plate there was plenty of flavor. The crab cakes could have used less breading, but the plate's lemon aioli gave everything a nice boost of much-needed acid that freshened everything up.
I did feel that the selection of entrées was lacking diversity. While there was a selection of wood-fired pizzas and sandwiches, entrées like the golabki or grilled sausage platter were heavy, with accompanying sides consisting mainly of potatoes and sauerkraut; repetitive and equally as filling. Not the ideal on a spring or soon-to-be-summer night, when everything begs to be a little lighter and fresher.
After some rather fruitless searching, I settled on the Hungarian goulash, a beef and root vegetable stew served with—you guessed it—potatoes, fried into two giant pancakes. Though the potato pancakes were greasy, they paired well with the stew itself. And while the potatoes and carrots soaked up all the flavor from the rich marsala sauce, the chunks of beef were too big and subsequently dry, as well as being painfully under-seasoned.
However, the pork shank in the Bavarian-style golonka was cooked just right. A massive shank was brined, then slow-cooked in Polish beer and spices before getting a quick fry to crisp up the skin on the outside. It was served alongside sauerkraut, mashed potatoes, fresh horseradish and mustard. The mashed potatoes could have used seasoning, but the traditional combination of sweet, tender pork and sauerkraut was well-executed and refined.
The beautiful space could have done without a diner-esque dessert counter at its entrance, and the desserts it held were also in need of an upgrade. The chocolate cheesecake—which was actually classic New York style cheesecake with a ring of chocolate icing around the top—was stale and dry, and flaked apart before it arrived at the table. Outside of the case, Polish doughnuts—or paczki—were made fresh and served hot and soft. The doughnuts were proof that freshness and care are sometimes the most important ingredients.
If Royal Cracovia could get by on looks alone, this restaurant would be a knockout, but as of now the kitchen is still working out some minor kinks. But there are certainly plenty of memorable moments from my meals here. It's hard to imagine expecting bigger things from such a grand space, but the future certainly looks bright.
Published (and copyrighted) in South Jersey Magazine, Volume 11, Issue 1 April, 2014).
For more info on South Jersey Magazine, click here.
To subscribe to South Jersey Magazine, click here.
To advertise in South Jersey Magazine, click here.