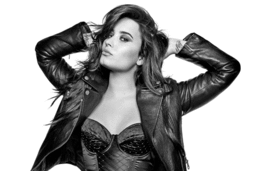 Behind the Music
There's much more to Demi Lovato than being a pop star, and thankfully she's willing to share her story.
Demi Lovato missed the music.
That was her explanation late last year when she announced that she was leaving The X Factor on Fox, where she served as judge and mentor to aspiring singers and groups for the past two seasons. Eager to start working on her own music again, it's been almost a year since her fourth album, Demi, was released, and even longer since she's been on the road. So to regain her momentum, she's embarking on the largest scale headlining tour she's ever done. The Neon Lights Tour rolled into Camden early this month, and Lovato can barely contain herself when talking about the show.
"I'm so excited to be back on the road!" she freely admits. "This year, I want to focus more on my music and making this tour an unforgettable experience for my fans. This show is definitely unlike anything I've ever done in the past. My fans should certainly expect some fun surprises."
The early dates of the tour have delivered on that promise. From the flashy stage setup and large video board showcasing memorable moments from throughout her career, there's no mistaking the size of this production. She's even been joined on stage by Nick Jonas for a few duets. Jonas is serving as musical and creative director for the tour, as if the tweens and teens in attendance needed more reason to scream at deafening levels.
In many ways, Lovato isn't that far removed from those filling up her audience, and could easily be considered very much a young girl at heart. After all, she grew up in front of the camera on Barney and The Disney Channel; she changes her hair color like people change clothes; and she uses Twitter as a platform to regularly communicate with her nearly 21 million followers, affectionately known as the Lovatics. That's right, 21 million followers. More than Tom Hanks, Mark Wahlberg and Leonardo DiCaprio combined. More than LeBron James, more than Beyoncé and more than Kanye West. There's no denying that Lovato is a major player in pop culture.
But at just 21 years old, she's also lived a life you could write a book on. In fact, she is. She's currently working on a memoir, due out later this year, that's sure to chronicle not only her time in the spotlight, but also the dark days of her young life coming up as a child star, including her struggles with depression, drugs and alcohol.
But unlike other child-star-becomes-addict stories that have been told, Lovato's story runs a lot deeper. When she was just 7 years old, the bullying she dealt with in school became so bad that she became noticeably depressed and detached from others. So much so, the principal of her school called her parents and made her sign a contract saying she would not kill herself. In a recent interview on Access Hollywood, Lovato confessed that her eating disorder likely started around 8 years old. The depression she felt regarding her body image led her to cut herself. Things spiraled as she got older and the spotlight shined brighter. By the time she was 18, she had to leave a tour with the Jonas Brothers to seek treatment. Despite being surrounded by a sober companion regularly, she was getting high, admitting that she couldn't go longer than an hour without doing cocaine. She was also drinking vodka at 9 a.m.
It's these harrowing tales that make Lovato's transformation from troubled teen to one of pop music's brightest stars so remarkable. The fact that she is open about her struggles has made her more than just a cautionary tale for the young girls that idolize her; it's made her an inspiration to people of all ages.
When actor Philip Seymour Hoffman made headlines recently due to a fatal heroin overdose, countless celebrities took to social media to express their condolences. Lovato did the same, but followed her mourning with a message:
"I wish more people would lose the stigma and treat addiction as the deadly and serious DISEASE that it is. Drugs are not something to glamorize in pop music or film to portray as harmless recreational fun. It's not cute, 'cool' or admire able (sic). It's very rare when people can actually predict their addiction and even then, you never know when too much is going to take their life or take a bad batch of whatever it is their (sic) using. It's time people start really taking action on changing what we're actually singing/rapping about these days because you never know if you could be glamorizing a certain drug to a first time user or alcoholic who could possibly end up dead because they end up suffering from the same deadly disease so many have already died from. This stuff is not something to mess with. Why risk it? Addiction IS a disease. Please spread the word so we can take the taboo out of discussing this illness and raising awareness to people of all ages. RIP Philip Seymour Hoffman… An INCREDIBLE artist who lost his life to this horrible disease… May you rest peacefully and in complete serenity now that your pain is gone. God Bless…"
And it's not just lip service with Lovato; she's gone as far as to ban alcohol and drugs on her tour and she is more than happy to use her own experiences to help inspire others to choose sobriety. She actually embraces the responsibility. "Part of the recovery process is being honest," says Lovato.
The planned memoir will actually be Lovato's second venture as an author. Last year, she penned Staying Strong: 365 Days a Year, a collection of inspirational insights for every day on the calendar. It debuted at No. 1 on The New York Times bestsellers list. The success of the book was just part of the busy year Lovato had in 2013. In fact, though she just recently returned to the road, one could argue that she was everywhere last year.
In addition to releasing the book and her time on X Factor, the rollercoaster ride also included a recurring role on Glee. The guest spot marked Lovato's first major acting gig since her Disney series Sonny With a Chance, and spurred rumors she would be starring in a spinoff of the show. And with Demi, she came of age as a singer/songwriter, expanding her audience and helping the album debut at No. 3 on Billboard, selling more than 100,000 copies its first week.
The success of the record proved Lovato could successfully juggle all her new responsibilities. It also validated her evolution as an artist who doesn't shy away from her emotions. "Over the years, my music has naturally matured and evolved, which is reflected through my songwriting," Lovato says. "Demi is my most personal album to date as I co-wrote nearly every song."
In addition to connecting to her fans through the music, Lovato continued to be a presence working with charities like We Day and Free the Children, which work to empower and educate youth around the globe. And because of the problems she faced during her school days, she's also heavily involved in anti-bullying causes.
It's just another example as to why Lovato's words, whether in print or in song, hold so much weight. As you peel back the layers of her story, you get the feeling her new book sort of writes itself. And she's willing to continue to speak as long as people will listen. "I am honored and motivated to know that my story has helped and will continue to help others," she says. "My Lovatics are amazing. They have been with me through it all; their support continuously inspires me to pursue my personal and career-oriented goals," she says. "For me, connecting with my fans is important."
To know she's influenced so many younger girls is obviously rewarding to Lovato, who counts her mother, Oprah Winfrey and Kelly Clarkson as her own shining stars. But, she's well aware that she can only offer so much outside guidance and that the true answers lie within each individual.
"Everyone's experiences are different, so there's not one Golden Rule that will prepare you. All I can say is to keep those with your best intentions at heart close and always be honest with yourself."
Published (and copyrighted) in South Jersey Magazine, Volume 10, Issue 12 March, 2014).
For more info on South Jersey Magazine, click here.
To subscribe to South Jersey Magazine, click here.
To advertise in South Jersey Magazine, click here.