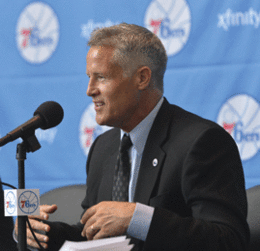 Challenge Accepted
Rookie Sixers coach Brett Brown knows that he is responsible for building a new future for the franchise, and he wouldn't have it any other way.
Brett Brown has always loved challenges and testing himself to see just how far he could push the limits of the rules surrounding him. It was the late 1970s back in South Portland, Maine. The neighborhood where Brown grew up was full of hardworking families and his parents, Bonny and Bob, were among them, both educators. Brown had a girlfriend who lived seven houses down from his own at 24 Sawyer Brook Circle, and he would be over there many a night. It was a time when cable television was just coming into his neighborhood and the two would watch movies and just do the normal stuff that young teens finding love for the first time would.
The one feature Brown was most drawn to about the new cable hookup, however, wasn't the movies or the sharper picture resonating from the screen, but the fact that you could put on a channel and the exact time of day, including seconds, would be flashing. Always the adventurer, this perked Brown's devilishness to new heights.
See, his high school basketball coach had an 11 p.m. curfew, and if he caught any of his players getting home after that time, a suspension would be levied immediately. As the team was one of the best in the state, the punishment would have far more meaning for them than for players on most other teams. So Brown would tune to that channel at the appropriate time and wait for it to read 10:59 and 30 seconds. Always a schemer, Brown knew that it would take him about 20 seconds to make the sprint down the street to reach his front door, and with 10 seconds to spare, make the curfew and avoid punishment. He relished racing through the door just in time because standing on the other side of it every night was his father, and coach.
"That's just the type of kid I was," says Brown, in his first season as head coach of the Philadelphia 76ers after being hired in August and taking over for Doug Collins. "I was, and sometimes still am, a very ornery person who just liked to push things to the limit. My father was a taskmaster and he had rules for everything. You couldn't wear your hair over your ears; you had to shower after every practice and game and then make sure that you had a hat on right away to avoid catching cold from the elements outside. There were ways things needed to be done in his head and he didn't care if you were the last player on the team or his son. If you didn't meet the rules, you paid the price."
His father was a wildly successful coach in the Maine area, having won four state titles at South Portland High School, including one with a 29-0 team in 1979 that starred his son Brett. That led to Brett getting a scholarship to play for a young Rick Pitino at Boston University. There it was more and more discipline—such as players having to always be "on time" for something by being there a half hour earlier than scheduled—and to Brown seeking how far he could go to get away with something.
"I got kicked out of practice a lot," he says with a smile. "It wasn't because I did anything really bad, it was just I was such a cocky kid and sometimes saw things in a different way than coach Pitino and I guess I listened to myself maybe more than I should have once in a while."
Not gifted enough to really take his basketball playing much further, Brown served as an assistant coach for a year at B.U., but then got into the "real" working world, doing sales for AT&T. Less than three years into it, though, his desire to keep moving—the man seems to be in perpetual motion—set his sights on living one of his dreams, seeing the world. So he packed his bags and moved in with friends in Australia. He eventually felt the itch to get back into basketball and, after meeting his eventual wife, Anna, placed a call to Aussie basketball legend Lindsay Gaze, who was coaching the Melbourne Tigers of the Australian National Basketball League.
"I remember calling him and just begging him for a job, any job," Brown says with a hearty laugh. "He was nice enough to take me on."
That was the path that started Brown into his coaching career. He eventually landed a job in the National Basketball League there, winning a title and a Coach of the Year honor. But six years in, Brown thought maybe heading back to the States may be a good idea, so an inquiry led to him being part of the basketball operations department for the San Antonio Spurs for the 1998-99 season. He returned to Australia to coach the Sydney Kings for three seasons before going back to the Spurs in July of 2002 as an assistant coach/director of player development. He was promoted by coach Gregg Popovich to the bench for the 2006-07 season and stayed there until coming to Philadelphia this past summer. In San Antonio, he accumulated four championship rings and a wealth of knowledge that has been mounting since his high school days.
"It is unbelievable when you think about the coaches I have been involved with," says Brown in his thick New England accent. "From my dad to coach Pitino to Lindsay Gaze to Gregg Popovich. Are you kidding me? How could I not have taken so much from each of them and draw from that in helping me what I am doing now?"
What he is doing now is as big of a hurdle as Brown has faced in his life. There is a reason he negotiated for so long with Sixers general manager Sam Hinkie about making sure that all four years of the contract he signed were guaranteed. He knows the process of stripping this organization to its bare bones and then building it back up into a contender is not going to be quick or easy. Always up for a challenge in basketball and in life, Brown has probably taken on the most difficult one he will ever face.
"I know what the challenge is that lies ahead of us and I wake up every morning eager to embrace it," he says. "We are not going to hide behind curtains or anything like that. We are going to be honest with what we are doing, we are going to approach it head on and we are going to get it done. There is no question in my mind. Will it be easy? Of course not. But the people of Philadelphia know what we are up against and, from the short time that I've been here, they are on board with it. Is it going to be maddening at times? No question. But it's all part of the rebuild that Sam has set in place and it is what we believe we have to do in order to get where we want to go."
Where they are going in his first season in the league is straight to the bottom of the standings. Bereft of a deep roster able to compete at an NBA level every night, Brown is often left having to use players on the floor who are better suited, talent-wise, to be playing in a league a notch below the NBA. His job this season isn't necessarily to win games, but to better the young talent that has been put around him, particularly rookie point guard Michael Carter-Williams (who is a strong candidate for rookie of the year) and Nerlens Noel, out for the season after tearing the ACL in his knee during his only season in college at Kentucky.
In his 11 seasons with the Spurs, Brown saw that team win at least 50 games each season, including those four titles. He witnessed first-hand the work ethics of David Robinson, Tim Duncan and Manu Ginobili. He played a big part in the development of point guard Tony Parker, a six-time All-Star and one of Brown's biggest fans.
"There is no one better than Brett Brown," says Parker. "He was the perfect hire for Philadelphia. He knows how to groom young players, he has a great work ethic and he is just a great guy. There aren't many people who will work harder than him, that's for sure. As a point guard, I know (Carter-Williams) is lucky to have Brett around."
One of the more difficult challenges Brown's been faced with this year has little to do with the team's on-court performance. It's the fact that his wife, son and two daughters remain in San Antonio, waiting to settle in the area until after the school year. In the meantime, Brown delights staying at a hotel near the team's practice facility. "I like the fact that I can leave, walk to the office, put in my day's work and then get back to a room that has been cleaned and the sheets are fresh," Brown quips. "I don't need a lot. It's hard as hell being away from my family, but I am immersed in the job, so, as bad as it sounds, not having the distraction right now is good for me and probably great for them to not be around me."
Fully immersing himself in the job, Brown's routine is the same every game day. He'll do his time with the team in the morning, then look over film and notes of that night's opponent. He then gets in a one-hour run to "work off some of the nervous energy." He will get recognized sometimes and, surprisingly, he says those run-ins have been pleasant.
"Only one time did someone come over to me and start getting on me a little bit about our record," Brown says with a laugh. "So I just started running faster. But for the most part, the fans have been great. They know what we're going through. They know that we're trying to build something special here. They get it.
"I grew up in Boston and the Celtics were my team. My dad used to take me to games and my favorite times were when the Celtics were playing with [Larry] Bird and [Kevin] McHale and [Robert] Parish and the Sixers had Doc [Julius Erving] and Maurice Cheeks and Andrew Toney. Those were special times, special teams and special games. I might be from the New England area, but I am fully aware of the Philly mentality and toughness and I love it."
Brown also uses his passion for basketball to give back to others. While in Australia, he became the global ambassador for the international nonprofit Big Bang Ballers, which promotes the game as a way to combat youth poverty and social disadvantages in 11 countries including Bangladesh, Pakistan, Uganda and Nepal.
He's also a music lover, and is happy to be so close to Jersey and the birthplace of one of his favorite artists: Bruce Springsteen. Though a huge fan, Brown is still waiting to attend his first Bruce concert, something that may be easier given his relocation to the heart of Springsteen country. "The guy is just jacked," he says. "I mean, he is just ripped physically and he puts every ounce of energy he has into every show he does. That's what it's all about right there. He is simply the greatest."
It's not a surprise that Brown admires the effort and intensity he credits Springsteen as having. Brown, too, still has that fiery competitive nature, the one that ensured he would come blazing through the door seconds before his father could levy that curfew punishment. But at 52 now, he's also become more like the guy standing on the other side of the door back in the late '70s. His son Sam, 9, is a cocky, left-handed point guard for an AAU team in San Antonio who "never met a shot he didn't like," according to his dad, who also serves as coach when time allows. The twinkle in the eye of the father when he watches his son jack up shots with some of the 76ers players after a practice is priceless. There is little doubt it takes him back to the days when he was a floppy-haired boy, hanging with his father.
Asked what the punishment might be if he was coaching Sam and a curfew was missed, Brett Brown flashes a quick smile, no doubt remembering those nights of the all-out sprints to 24 Sawyer Brook Circle. But the smile quickly vanishes and the eyebrows lower:
"I'd suspend him in a heartbeat."
Published (and copyrighted) in South Jersey Magazine, Volume 10, Issue 12 March, 2014).
For more info on South Jersey Magazine, click here.
To subscribe to South Jersey Magazine, click here.
To advertise in South Jersey Magazine, click here.