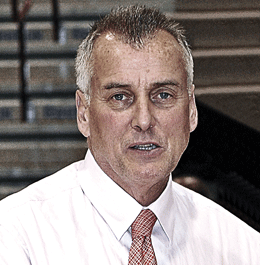 Downward Spiral
Alleged charity fraud. Hundreds of thousands of dollars stolen. A pain killer addiction. How did famed former local sportscaster Don Tollefson fall so hard, so fast?
To most people— the ones who had seen him on local newscasts, or met him at the innumerable charity events he attended—he was "Tolly." He was a fixture in the local professional sports scene, a constant presence on 6ABC and Fox 29 for decades. People gravitated toward him, drawn by his contagious smile and brimming enthusiasm, punctuated by the "awesomes" that poured out of his mouth like coins from a change machine.
In the Bucks County courtroom on Feb. 18, there was no sign of Tolly. Don Tollefson sat in the defendant's chair. He looked nearly every bit of his 61 years of age. His speech was succinct and straightforward. The Tolly that people knew—the engaging, compassionate soul who people readily gave their checks and credit card numbers to—was nowhere to be found. That day, Don Tollefson went to jail.
The lead-up to Tollefson's arrest had been months in the making. In the fall of 2013, accounts emerged from people who had bought ticket packages and trips (Eagles games, the World Cup, the U.S. Open and more) from the sportscaster for charity but never received them. The story spread rapidly as more victims came forward. Tollefson went underground, entering an in-patient facility for pain killer addiction in mid-November and otherwise staying out of the public eye.
The stories captured the attention of the Bucks County District Attorney's Office, whose investigation turned up more than 100 people who claimed Tollefson took their money and never delivered promised goods. According to the DA's office, those 100 people gave Tollefson more than $100,000. And since the arrest, both figures are rising. "We finally reached a critical mass where we have enough information that we believe we can secure a conviction," says Ryan Hyde, the deputy district attorney who is prosecuting the case. "That's why we charged at this stage."
So why would someone with fame and talent—a Hall of Fame member of the Philadelphia Broadcast Pioneers—fall into such a spiral? The full answer hasn't been revealed, but many of the pieces are there. Tollefson's career had begun to peter out. He hadn't worked on network TV since 2008. Gigs with the Philadelphia Eagles and 97.5 The Fanatic had fallen through, and his last show on Cherry Hill-based WMCN-TV (called Tolly's Awesome Friends) in 2012 was short-lived. A car accident in 2008 had led to whispers of a pain killer addiction that was confirmed by Tollefson in court.
What those events don't answer is whether Tollefson decided, as his life was unraveling, to bilk money from unwitting sports fans for his own purposes. The intentions behind Tollefson's actions rest very much at the center of the case. The state must prove the Wyndmoor, Pa., resident acted with criminal intent to take the money and deceive people. Tollefson's lawyer, Michael McGovern (who did not respond to interview requests from South Jersey Magazine), has essentially admitted missteps by Tollefson but insists the sportscaster was always trying to do the right thing. "I really think he's on the mend," McGovern told the media on the day of Tollefson's arrest, "and I think he recognizes that he needs to put people in positions where they're whole again."
To do that, Tollefson would need to repay the hundreds of thousands of dollars he stole from victims.
While their emotions vary from disappointment to anger, the common bond that links them is a desire to get their money back. "It's not right [what he did]," says Tom Tower, who paid Tollefson for he and three friends to go to the Kentucky Derby, "but in my eyes if I get reimbursed the $2,400 I'm out, or he produces the Kentucky Derby trip, I'll consider myself whole."
Tower met Tollefson at a scholarship fundraiser in May 2012. At a bar in Ancora, Tollefson had a table set up with several different trips to high-profile sporting events. The Upper Township resident was skeptical of the affordable price of the trips, but Tollefson had a ready explanation: his many charities (Winning Ways, One Child Saved and more) had access to discounted airfare and accommodations as well as last-minute ticket availability. A portion of the price would go to the trip, the rest would go to charity; in fact, Tollefson was supposed to bring disadvantaged kids or military veterans to the events.
Convinced, Tower signed up for two spots at $600 apiece to attend the Derby the following year—"to get it off the bucket list," he says. At a later date, Tower gave Tollefson his credit card number to pay for the $1,200 charge. "Believe it or not," says Tower, a concrete facility manager, "a month later I called him and gave him my credit card number again for two extra spots [for friends]. I paid him $1,200 in June and $1,200 in July."
Then, months of silence. A month before the trip, Tollefson sent out an e-mail to "MY AWESOME FRIENDS" who had signed up for the trip. The e-mail featured a rough itinerary that was light on details like airfare times and hotel specifics, with the promise that such assignments would come from his vendors. Tollefson then called Tower a couple weeks later and explained that many people were backing out of the trip after the Boston Marathon bombing. Would Tower do the same?
Tower and his friends still wanted to go, but Tower told Tollefson that if it was going to cause a problem, he would be happy to delay the trip by a year. "Looking back, me trying to be nice," says Tower, "that was the perfect thing he wanted to hear."
There were people that went on the trip. Glen Schwarzschild, a Cherry-Hill based lawyer, met Tollefson at a VIP day at Eagles training camp and signed up eight spots for the Derby—he, his wife and three other couples. Not unexpectedly, they received their airline and hotel itinerary about two days before the trip. The rooms that were supposed to be paid for by Tollefson's charity were not. (Schwarzschild and others paid and were reimbursed by Tollefson after the fact.) Transportation was non-existent; the group had to rent cars. Tollefson was barely visible. Marty Mellman, another member on the trip, recalled seeing him for the briefest of moments; the sportscaster showed up with a kid or two attending the trip through the charity, handed over the tickets and wasn't seen again by the group.
Things obviously weren't perfect, but they made the best of it. "We had a blast. We had a good time," says Mellman, a CPA in Cherry Hill. "We weren't going to be afraid. Our four couples knew each other and we stuck together."
The details of the Derby trip support the portrayal of Tollefson as a tireless charity backer who could not keep up with all the arrangements and trips he sold. "I don't believe he did anything intentionally," says Schwarzschild. "As his lawyer told me, he got in over his head." (Schwarzschild believes this even though he also paid $1,875 for a trip to the World Cup this summer—money he hasn't recouped yet.)
Lou Berman doesn't buy that at all. "That's a boldfaced lie," he expresses strongly. Berman runs a charity called Louie's Voice that helps those affected by autism, including working with Bancroft in Haddonfield, shaped by his experience with his autistic son Louie. The vice president of sales and marketing with Collision Care Auto Body Centers had planned to re-raffle the trips offered by Tollefson to raise money for his charity. He met with Tollefson several times but never received anything for the $5,500 paid for his charity. "That's the diabolical and scary part of this," says Berman, who works in Marlton and whose family had grown up in Washington Township. "We had pursued these trips and were trying to engage other people [to raise more money]. He was just leading us on."
Was there a history of this behavior? Sources told the Philadelphia Daily News that Tollefson's charitable activities had been questioned for at least a decade. As it turned out, none of his charities were registered in Pennsylvania, New Jersey or with the IRS. In Pennsylvania, charities must be registered if they draw in more than $25,000 per year, whereas in New Jersey, any charity bringing in less than $10,000 is exempt.
And then there's the account by George Richardson, a retired financial advisor who had lived in Willingboro and Lumberton. He encountered Tollefson two decades ago. Tollefson's then-in-laws believed their son-in-law had invested $200,000 of their money in Israeli bonds, and they needed Richardson to get it back. "It was one of the greatest heists that I had ever seen," says Richardson, who now lives in Kissimmee, Fla. Richardson called Tollefson to see what could be done. According to Richardson, Tollefson had the money but hadn't sold anything. "He realized at that point that I had him … and he didn't want his career destroyed," Richardson says. As he tells it, the money was returned.
It may be that Tollefson's deceptions date back decades. Even if that isn't true, the case against him can only be successful if the prosecution identifies the shift in Tollefson's intentions. At some point, did Tollefson outright lie to people? Did he sell ticket packages and not deliver (as happened to many victims last fall who purchased Eagles road game trips) with no plan to reimburse the money or offer a comparable solution? The state's case rests on this very notion of criminal intent. "[To be convicted], fraud or theft doesn't have to be his plan from the beginning," says Rocco C. Cipparone Jr., a former federal prosecutor based in Haddon Heights who specializes in criminal defense and other areas of law. "A lot of people get involved in a fraud that started out as a well-intentioned plan."
The prosecution is sure to find safety in numbers. Hyde says a significant number of additional victims had come forward days after Tollefson's arrest. "I believe we have sufficient evidence at this point to prove he had criminal intent," says the deputy D.A. To prove it, the state will have to show Tollefson took money, didn't apply it as promised and used it for his own benefit. "That's a circumstantial case, but that doesn't mean it's a weak case," says Cipparone. "It's still competent evidence."
The charges carry a 44-year maximum sentence, but while jail time is a strong certainty for a conviction, it is likely Tollefson would receive a far shorter sentence. The more pressing issue for many victims is the possibility of restitution. Many who paid by credit card were able to get their money back. But even that's not a foolproof solution. Tower paid Tollefson by credit but then canceled the card last June, when he didn't even have the faintest inkling that something would go wrong; he can't get that money back now. Others like Berman who paid by check have no recourse other than to wait the case out. As of press time, Tollefson remained in jail even though bail had been reduced from 10 percent of $250,000 to $10,000 in cash. To make bail, his Glenside home would have to be put up as collateral. Authorities planned to auction off two storage units and a Ford Explorer that belonged to the sportscaster. The events don't paint a rosy picture of his financial situation.
Tollefson's actions affected many—regular people, yes, but also charities like the Special Olympics and the Brad Fox Foundation. They put their trust in him because he was a public figure whose devotion to charity knew no bounds. Berman admits looking up to Tollefson. He hopes the man known as Tolly can put his life back together again. But in the miasma of his conflicted feelings, he knows one thing about Don Tollefson. "He's a wasted talent," says Berman. "That's one of the saddest parts of the whole story."
Photo Credit: Aspen Photo / Shutterstock.com
Published (and copyrighted) in South Jersey Magazine, Volume 10, Issue 12 March, 2014).
For more info on South Jersey Magazine, click here.
To subscribe to South Jersey Magazine, click here.
To advertise in South Jersey Magazine, click here.