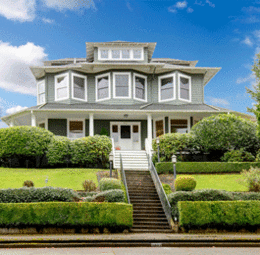 Back in Shape
This crazy winter left many outdoor living spaces needing some TLC.
To say this was a rough winter is an understatement. After spending so much time stuck in a polar vortex, South Jersey residents are thrilled that spring is just around the corner. The vortex brought along some of the coldest weather we've seen in more than two decades. But it also brought significant snowfall and layer upon layer of ice. It's been those two winter phenomena that have wreaked the most havoc on local homes. Heavy snow and ice led to fallen limbs and trees, downed power lines, and just a plain old mess of many properties. But don't worry. With a little bit of attention, you can not only get your property back in shape but you can get it ready for the spring season.
Around the yard
Because this winter did cause damage to many properties, your first step is an assessment. Wait until the snow melts and you get a nice day to go outside, advises Dan Young, owner of Young's Landscape Management, Inc. in Lumberton. Then do a thorough walk of your entire property. If you have tree damage, first decide if it can be repaired or if it should be removed completely. "If the main trunk is completely broken or if the tree is uprooted, it should be removed," Young says. "Check if there are any dangling branches or cracked limbs still in the trees overhead. There may also be broken branches or trees propped up by other trees and limbs."
After damage assessment and control, you might want to get started on the general cleanup process. Even a property that didn't suffer tree damage or other major issues has probably seen better days since this harsh winter. Something as simple as picking up debris like fallen branches or lingering leaves can make a big difference.
"Begin your spring lawn cleanup by picking up debris, including leaves, rocks, twigs and branches from your yard," advises Young. "If there is a lot of leaf litter scattered on your lawn, use a leaf blower or rake to gently remove it. The cleanup will make your yard look neater and promote new grass growth. Cleaning debris will also make it safer once you start operating your mower."
It's also a big benefit that any "prep work" you do on your own—prior to bringing in a professional landscape crew—will not only help expedite the process but will save you money. It allows the professionals to start on the bigger tasks rather than spending time doing small jobs like leaf cleanup, says Ed Swietanski, sales manager with Gill's Landscaping, Inc. in Mullica Hill. "Being able to get right into the more labor-intensive parts of a cleanup will definitely help reduce labor cost," he explains.
Swietanski says many homeowners also choose to do their mulching at the time of a spring cleanup job. This will instantly make your home look back in "shape." But the timing of your mulching is important. Keep in mind that if you were going to do any power-washing of decks, patios or siding that may have gotten dirty and grimy over the winter, it's a good idea to do those prior to mulch being installed, says Swietanski. "Also consider the types of trees and shrubs that are in the landscape before you mulch," he says. "If flowering trees and shrubs are present, keep in mind that varieties that bloom early in the spring like pears, cherries or forsythia will drop flowers and can make the mulch look dirty if installed early."
With spring around the corner, you can also start to "gear up" for a new season so that your equipment is ready to go with no downtime. "Get your outdoor power equipment ready now for the growing season," says Young. "Make sure your mower blades and tiller tines are sharp and that your mower belts are free of cracks, fraying and other signs of wear."
Up above
Many homeowners think of winter damage in terms of their yard, but you can't forget to take a look at your actual home as well. All of that snow pileup can have severe consequences on your roof and gutters. "Ice damming or snow sitting on a roof are both common causes for leaks," says Eric Meller, president of M. Rosenblatt Roofing, serving the tri-state area. "There is also the weight factor to consider when dealing with snow and ice. If a roof has been left leaking for an extended period of time, there is the chance of roof collapse due to weakened support below the membrane. That's why roof leaks need to be addressed as soon as they're found."
Meller says homeowners need to pay attention for any signs of moisture. These might appear on a ceiling or a wall. "Another issue to be aware of is proper drainage," he adds. "If a drain is blocked or frozen shut, this can prevent water from draining, which will cause a backup—and in extreme conditions, could cause a roof collapse."
Even if you don't notice obvious signs of damage, if your roof is older than 10 years, an inspection is warranted, particularly after this harsh winter. "Inspections are the key to disaster prevention," Meller says. "A certified, licensed roofing contractor should be utilized for inspection. While some contractors claim to be knowledgeable in roofing, unless they are a roofing specialist, look elsewhere."
And don't forget the pool.
If you have a pool, it's important to inspect it for damage as soon as possible. If you want the pool to be up and running for the summer, the sooner you can repair damage, the better. "Unfortunately, this was an unusually harsh winter for our area," says Mike McCool, general manager with Swim-Mor Pools in Mount Ephraim. "Other than the obvious signs such as the water level being considerably lower than when it was closed or tile cosmetic damage, not much can be determined until the cover is removed and the pool is turned on. At that point, it can be determined if there was any piping or equipment damage."
Once the cover is off, the first thing to do is to get the equipment running, says McCool. "Because of the cold winter, scale and algae growth should be minimized as long as the homeowner is not waiting too long to open the pool and allowing water to warm up on its own," McCool says. "There are some specialty chemicals today that are added immediately to begin sanitizing and clearing up cloudy or murky water once it is running. After 24 hours, these chemicals will result in drop out of suspended particles and debris. Then vacuuming begins. After the pool runs for a few days, have the water tested and begin balancing chemicals."
After this rough winter, it's safe to say that everyone is hoping for a mild spring that brings warm weather and the opportunity for time outdoors. The sooner you can put the effort into cleaning up your property, the sooner you can enjoy your outdoor living space to its fullest.
Published (and copyrighted) in South Jersey Magazine, Volume 10, Issue 12 March, 2014).
For more info on South Jersey Magazine, click here.
To subscribe to South Jersey Magazine, click here.
To advertise in South Jersey Magazine, click here.