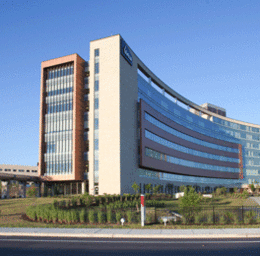 In the Neighborhood: Voorhees
A look around South Jersey towns
Voorhees used to be what Mayor Michael R. Mignogna calls "a township of developments." Unlike many of the other towns in South Jersey, it did not boast a bustling downtown section where residents and visitors could go to eat, shop and play. Instead, the town was made up of several small sections with no area to identify as its home base. Recognizing the importance of such an area to any town, Voorhees has been working over the last few years to change that.
"There was never a true downtown area in Voorhees," Mignogna says. "As the Voorhees Town Center concept developed, the idea was to create our own downtown, a place where people could gather to shop, see parades, attend festivals, to eat, to drink. It's not easy to create a downtown after the fact. We'd like to think the Voorhees Town Center is fast becoming the downtown we never had."
The town center may not have the history of downtown Haddonfield or Collingswood, but what it does offer is catching people's attention. Most notably would be the addition of eateries Elena Wu, Burger 21 and Iron Hill Brewery in 2013. The restaurants joined Catelli Duo and Rodizio Grill on what Mignogna says is now being called Voorhees' own "restaurant row," which shares retail space with
It's a Doggie Dog World, The Sporting Club and Rizzieri AVEDA School for Beauty. The town center was also home to several popular events last year, including the weekly Farmers Market, the annual holiday parade, Italian festival and even a carnival. These events attract hundreds of people each year, and having a place like the town center to hold them has only helped them continue to gain popularity. With the town center flourishing, Mignogna says officials of the town have been battling with a problem they never had to before: a lack of parking. "It's a nice problem to have," he says. "We're working with PREIT [Pennsylvania Real Estate Investment Trust, which manages the center] to accommodate everyone who visits."
Town center aside, Voorhees has also been developing in other areas, namely around Route 73. It is here that the so-called "medical mile" has been established, with the Virtua Medical Campus as its cornerstone. "[The campus] is a half a billion dollar project that has become an economic magnet and attracted other medical facilities," Mignogna says. "From medical offices to senior care, a rehab facility, pharmacy and even a new hotel, that area has become known as our medical mile."
The new hotel, a Hampton Inn, will be flanked by an upscale diner, according to Mike Marchitto, director of economic development. He says the goal is to continue bringing other businesses to the medical mile that people can continue to benefit from. "Without the hospital, that area probably wouldn't have been developed," he says. "But now there is going to be a need for businesses like doctor's offices and food places, and things along those lines that people can take advantage of."
While 88 new businesses opened in Voorhees in 2013, and the developments are certainly intended to attract out-of-town business, officials are also encouraging Voorhees residents to shop locally. As an incentive, the township is offering a new property tax reward program—the first of its kind in South Jersey—where residents can receive credits toward their property tax bills by shopping at participating businesses in town. Even those who live in apartments can take advantage of the deal, as they will receive a check at the end of the year instead of a credit, Mignogna says.
"The way it works is that businesses sign up to be part of the program and they determine the amount of purchases that will go as a tax credit to the residents' property tax bill," he explains. "Residents were mailed a card they can activate and then shop at the businesses and they get a tax credit toward their property tax bill based on the percent the businesses choose to give back. Over 50 businesses have signed up so far. It's become a wonderful program. The residents get a tax break and it encourages our residents to shop in Voorhees."
While all of the economic development that has been taking place in Voorhees is important, Mignogna says what draws individuals and families to the town is its uniqueness. "We used to have a saying that we're close to everything but far from it all," he says. "While we are a suburban area, our location is wonderful. We're 50 minutes from the Shore, 15 minutes from Center City Philadelphia, 90 minutes from New York City and about two hours from Washington, D.C."
Along with its uniqueness, Mignogna says Voorhees is proud of its diversity, which it celebrates every year with its annual International Day, an event sponsored by the Voorhees Township Citizens Cultural and Diversity Advisory Committee. The event includes a parade of nations, as well as a presentation of international foods and multicultural displays from countries around the world. "We were actually the first community in South Jersey to create a diversity committee," he says. "We recognize and celebrate the diversity in our community. Every year, International Day draws thousands of people."
Voorhees has also continued to make its park systems a priority, utilizing a $25,000 grant in 2013 to install a new playground and fencing at the Rabinowitz Baseball Complex. Another $25,000 grant was also used to repave the walking path at Kirkwood Park, a permanent cricket pitch was installed at Connolly Park, and improvements were made to the nine-hole disc golf course at Stafford Woods.
Voorhees may not have a historical downtown, but the entire community is quickly making a name for itself, establishing a strong history all its own that will be appreciated by generations to come.
Published (and copyrighted) in South Jersey Magazine, Volume 10, Issue 12 March, 2014).
For more info on South Jersey Magazine, click here.
To subscribe to South Jersey Magazine, click here.
To advertise in South Jersey Magazine, click here.