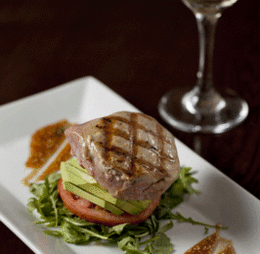 Palate Review: Rexy's Restaurant and Bar
New and Improved
Rexy's Restaurant and Bar
700 Black Horse Pike
West Collingswood Heights
(856) 456-7911
3 forks
Rexy's: It's one of those South Jersey spots that everyone seems to know. Some may call it an institution, with stories about Broad Street Bullies blending with more than 70 years of memories. For me, I remembered Rexy's as a go-to spot for my family, an old-school bar that was good for a quick sandwich or some wings and not much more.
That was until I stopped by Rexy's a few weeks ago, and found the "dive" bar that I grew up with completely gone. What stands in its place is an all new eatery, a completely remodeled restaurant serving up Italian inspired entrées alongside Mediterranean and even Asian-fusion plates.
And then there's the redesigned restaurant itself. The legendary bar is still there with televisions mounted on the walls for sports fans, but everything has been taken to the next level with refinished stone and wood accents. The dining room gets the same treatment, with the addition of divider walls that block the sound of the central bar and add intimacy to booths and tables around the room. It's chic, but still family-friendly, with an added new level of privacy at each table.
Alongside a series of specials, the regular menu features familiar dishes, mostly Italian with a few unusual suspects thrown in. Like the Ahi tuna stack, which may not have necessarily fit in with other offerings but still seemed appealing. A large cut of Ahi tuna, cooked medium rare, came alongside a thin-sliced avocado, all of which was drizzled with sesame seed vinaigrette and served with a side salad.
It would have been nice to have the Ahi cut in a way that was easier to enjoy, as opposed to being served in one large piece, but the tuna was cooked to perfection and the avocado was at its peak of ripeness. When combined, the two formed a beautifully flavored dish, creamy and fresh with a snap of sweetness and saltiness from the vinaigrette. It was one of the most memorable tuna dishes I've had in South Jersey, and something I have revisited more than once since my first visit.
The asparagus appetizer felt more like a charcuterie board than the grilled asparagus that was advertised. Grilled asparagus was wrapped with thick-cut prosciutto and served alongside large cuts of fontina cheese and tomatoes. It all came drizzled in a tart balsamic glaze, and while the asparagus was well-cooked, the thick slices of prosciutto were a little too salty for such a delicate vegetable.
There were plenty of Italian dishes—including an extensive pizza list, and entrées served with or without pasta—but I would have liked to have seen a few dishes that were different from the classic Italian fare. Their pasta-free entrée of veal prosciutto came with a thin cut of veal, topped with more thick-cut prosciutto and tomatoes, then smothered in mozzarella cheese. It was finished in a thick and flavorful demi glace, then plated alongside creamy mashed potatoes and grilled asparagus. The veal lacked seasoning, but went well with the demi glace and accompanying sides, and the saltiness of the prosciutto took everything up a notch.
A dish of cioppino was more than large enough to share, and came with capellini pasta, a spicy marinara sauce and mounds of lump crabmeat, shrimp, scallops, clams and mussels. While the marinara could have used more spice, the seafood's freshness amplified the dish. Mussels were giant and meaty, and the mini scallops were perfectly cooked with a hint of natural sweetness. Meanwhile, the crab was flaky and buttery, and was especially good when mixed into forkfuls of al dente pasta.
The night ended with a lengthy list of desserts, including their house-made chocolate chip bread pudding with house-made ice cream that the chef also sells to-go by the pint. But the bread pudding was a little too dense and needed either more chocolate or more flavor.
Walking into Rexy's and tasting their new menu was unlike anything I had experienced from them before. But in the case of this South Jersey landmark, change is good. Rexy's has kept that familiar feeling, but has gifted guests with an added touch of elegance that matches the refined dining scene that our area has grown into.
Published (and copyrighted) in South Jersey Magazine, Volume 10, Issue 12 March, 2014).
For more info on South Jersey Magazine, click here.
To subscribe to South Jersey Magazine, click here.
To advertise in South Jersey Magazine, click here.