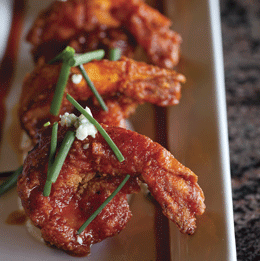 Side Dish
Quick Bite
Buffalo Jumbo Shrimp (pictured)
Redstone American Grill
Marlton
Buffalo wings are a thing of the past thanks to these spicy starters. Redstone chefs bread and fry massive, juicy butterflied shrimp until they're crispy on the outside but soft on the inside, then toss them in a buttery Buffalo sauce that packs a punch. The plate of five gets finished on a bed of bleu cheese sauce for dipping.
Key Ingredient: Mussels
The summer may be the most common season associated with seafood, but did you know that mussels reach their peak in the middle of the winter? Check out some of our favorite mussel dishes for the full experience.
Thai Mussels
Max's Seafood Café, Gloucester City
P.E.I. Mussels
High Street Grill, Mount Holly
Mussels and Fries
Iron Hill Brewery, Voorhees
Lunch Under $15: Haddonfield's Kings Highway
Looking for some affordable lunch spots? Take a stroll down Kings Highway in Haddonfield, where the lunching possibilities are all within a five minute walk from each other. Here's our five favorite and inexpensive ways to break up the work day, all under $15.
Apron's Lunch Box Special
The line runs out the door for this deal, which includes your pick-two choice of daily soup, a half sandwich or wrap, quiche and salad specials. $8 at The Apron, 47 Kings Highway E.
Katsu Curry Bento Tray
Choose pork, chicken or salmon katsu curry, all fried and served with vegetables, soup and a salad. $11 at Fuji Japanese Restaurant, 116 Kings Highway E.
Ploughman's Lunch
This hearty lunch board comes with sliced ham, Irish cheddar cheese, bread, pickles, mustard and a side of tossed greens. $10 at The British Chip Shop, 146 Kings Highway E.
The Popeye Salad
Baby spinach gets topped with candied walnuts, dried cranberries and chopped bacon, then gets drizzled with Animo's specialty vinaigrette. $8.50 at Animo Juice, 113 Kings Highway E.
Four Piece Lamb Chop Combo Platter
Four juicy lamb chops come cooked to your liking and served with basmati rice, tossed greens and house-made naan bread. $14.95 at Cross Culture, 208 Kings Highway E.
Hot Plate: Sea Urchin
Sapori Trattoria has become a staple on Collingswood's Haddon Avenue thanks to a menu that has earned a reputation for excellence. Chef and owner Franco Lombardo, a native of Palermo, Italy, embraces his roots with southern Italian flavors and ingredients. And that includes one of his favorite signature dishes, sea urchin pasta, a technically simple but complex dish that uses fresh sea urchin roe as the base for a briny and powerful sauce.
"The sea urchin that I use here is from the Pacific Coast. It's a species that is either black or purple. We get them every week live and still moving. We crack them open and take just the eggs out. The sauce is very simple; it's parsley, olive oil, the sea urchin egg and a little bit of garlic. Simple. I've seen other chefs add bottarga or zucchini, but this is the classic southern Italian way of cooking it."
Chef's Tip
"When it comes to pasta, let the water boil, add your salt, put the pasta in and wait about five to six minutes and then you start to taste. It has to be al dente, which means when you squeeze it with your teeth it starts to stick a little bit, but it shouldn't be hard. Al dente means 'tooth' and you have to be able to feel it with your teeth. You should also be able to see a little bit of white starch forming at the top of the boiling water. And I always tell people to put that white starchy water on the side and add it to their sauce. Whatever sauce you're using, I use that starchy water as a natural stock to add flavor to dry sauces."
Drink This: South Jersey Sweet Wines
Vineyards and wineries are popping up all across South Jersey, and using Jersey-centric fruits like cranberry, blueberry, peach and more to create blends you won't find anywhere else. If you're looking for a sweet wine to sip or complement your next dessert, you don't need to stray too far from home.
Blueberry Wine
Sharrott Winery, Winslow
Castillo Blanc
Amalthea Cellars, Atco
Cranberry Wine
Valenzano Winery, Shamong
FAST FOOD
Glassboro's Prime burger restaurant has begun selling beer and wine. The fast-casual eatery, located at Rowan University's Whitney Center, features craft and domestic beers, as well as wines by the glass.
Zeppoli in Collingswood's owner and head chef Joey Baldino was nominated for a 2014 James Beard Award, one of three chefs in the state to be nominated for Best Chef in the Mid-Atlantic region.
Gusteau, a French bistro coming to Main Street in Moorestown, is slated for a spring opening at the hands of executive chef Olivier Desaintmartin.
The owners of Philadelphia-based Estia have transformed their Marlton-based Pietro's Coal Oven Pizzeria into Estia Greek Taverna, specializing in Greek comfort food.
La Piccola Cucina Italiana, a family-style Italian eatery, opened its doors in Medford.
Joseph Lamberti opened Pasta Vino, formerly in Maple Shade, in Berlin. The Italian restaurant specializes in coal-fired brick oven pizza and includes a sushi menu.
A new Greek restaurant rolled into Voorhees with the opening of Black Olive Greek Cuisine. The kitchen offers traditional Greek lunch, dinner and take out options.
Published (and copyrighted) in South Jersey Magazine, Volume 10, Issue 12 March, 2014).
For more info on South Jersey Magazine, click here.
To subscribe to South Jersey Magazine, click here.
To advertise in South Jersey Magazine, click here.