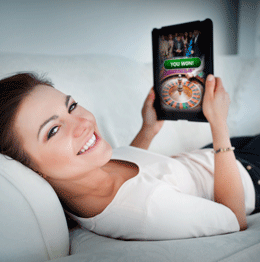 Battling the Odds
Online gambling has shown sustained growth in its early stages, but is it keeping people away from already-struggling casino floors?
When New Jersey became only the second state in the country to offer regulated online gambling last November, many wondered if the risk far outweighed the reward. While there was hope that it would offer a much-needed source of income for an otherwise struggling Atlantic City, there was just as much concern the brick and mortar casinos would suffer if their already dwindling audience decided that they'd rather play against the house from inside their own house.
Admittedly, for being only the second state to roll out this venture—Nevada was first; Delaware became the third shortly after—the initial numbers that came out after the first few weeks of operation were admirable—$8.4 million in November and December. However, they did not meet the $10 million that many investors expected. An uncertain customer base, poor geo-location applications (users must be in New Jersey to play) and difficult payment processing options were all contributions to the slow start.
Numbers improved in January to $9.5 million, which overall shows another gain for online gambling, but not enough to keep total gaming wins for the state from continuing to decline. According to the state's Division of Gaming Enforcement, there was a 4.6 percent decrease in gaming wins from 2013 to 2014, which "reflects a 9.2 percent decline in casino win, combined with $9.5 million in Internet gaming win."
Though Atlantic City is still struggling to keep up the pace, casinos don't believe they've lost patronage due to the online venture and officials remain optimistic numbers will continue to improve. "As we continue to refine our technology, we believe there is significant upside to our business," says Tom Balance, president and chief operating officer of Borgata, which has led other state casinos in revenue since the inception of online gaming. "In January, Borgata launched a mobile gaming app for iPhones and iPads, and we are scheduled to roll out a version for Android devices shortly. As Borgata expands into mobile gaming, we believe we will further grow our business and the overall market."
Of the six Atlantic City casinos currently involved in online gambling, only representatives from Borgata and Trump Plaza were willing to speak to us for this story. Keith Smith, president and chief executive officer of Boyd Gaming, the company Borgata partnered with to offer online gambling, says part of Borgata's success is due to its strong brand name.
"Our market-leading performance is testament to the quality of our online product and the power of the Borgata brand," he says. "The results also once again demonstrate online gaming's potential to expand our business. About 85 percent of our online players have not had rated play at Borgata in at least two years, showing there is little overlap with our land-based business. Online gaming is growing our database … to an entirely new group of customers."
Anton Dobrosevic, head of customer relationship management for Betfair US, Trump Plaza's online partner, agrees the "online market has been a shot in the arm of the whole of Atlantic City, as opposed to cannibalizing the offline casino market." He also notes South Jersey has made a strong showing in the winner's bracket of the new market. "We've been fortunate enough to welcome patrons from all over the state. However, we've noticed that we've had some big winners from South Jersey," he says. "Perhaps there is a competitive edge to having Atlantic City on your doorstep."
One patron who has enjoyed the convenience of gambling from home is Anthony Cicali, of Riverside. Though he got kicked off specific sites initially because the geo-location software didn't recognize that he was in New Jersey, he feels the conveniences far outweigh the inconveniences. "No tolls and gas money savings are an automatic plus," he says. "Plus, the rake [commission fee] on poker tournaments is a lot less. A normal $100 tournament in Atlantic City or Pennsylvania could have a $20 to $30 rake on top of the buy-in. Most $100 tournaments online only have a $9 rake."
Mount Laurel resident Russ DiRico says he also had problems with geo-location software initially, and that he didn't realize his credit card company would charge him a fee when he made a deposit to a site so he could play. Though the casinos and their gaming partners say these issues will soon be cleared up, and DiRico admits "jumping on the Internet and playing right away will always be more convenient than driving a half hour to Parx in Bensalem or taking the hour-long drive to Atlantic City," he still finds being at an actual casino more appealing than playing at home.
"I generally prefer playing in person," he says. "I think that's how the game is meant to be played. You have more of a feel for the game when you can look your opponents in the eye and perhaps get a read on whether he or she has a big hand or not. … The ambiance of going down to Atlantic City trumps sitting by yourself in a corner and playing on a computer."
While casino executives obviously hope to continue to appeal to patrons like DiRico, executives and users alike are hopeful online gambling will continue to grow in the state and help generate the necessary revenue to help Atlantic City, and even the state, benefit. "I feel as though this is good for New Jersey, as long as the money we work hard for and use to play on these sites goes toward improving the state that we live in," says Jamie Beringer, an avid gambler from Mount Laurel. "I, as a person who loves the casino experience and has the tattoos of cards to show my loyalty, feel as though it will be big and continue to do well as long as the payout is worth the time you put in."
Published (and copyrighted) in South Jersey Magazine, Volume 10, Issue 12 March, 2014).
For more info on South Jersey Magazine, click here.
To subscribe to South Jersey Magazine, click here.
To advertise in South Jersey Magazine, click here.