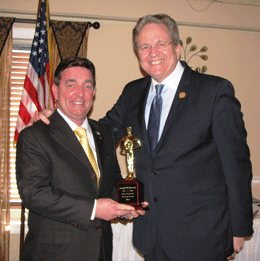 Scene: March, 2014
Click here for this month's Scene photos.
Moorestown Dental Alliance's Give Kids a Smile Day
Photo 1: Moorestown Dental Alliance Hygienist Irene Koutoufaris, Dental Assistant Cindy Fullerton, Dr. Susan Armstrong and Hygienest Abby Krangel
Photo 2: Dr. Richard Kaye, Dr. Chris Esposito, Mayor Chris Chiacchio, and Dr. Charles Esposito
Moorestown Friends School Camp Fair 2014
Photo 3: (Front Row) Stacy Farber, Marylinda Schoifet, Audrey Pierce, Anu Momi, and Director of Parent and Alumni Programs Christine Schantz, (back row) Karen Murphy-Cain, Susan Geyer and Paul Barbin
Kennedy President and CEO Joseph W. Devine Honored at Washington Township of Commerce Luncheon
Photo 4: Washington Township Chamber of Commerce President Robert Timmons with Joseph Devine
Annual Jewish Federation of Southern New Jersey Super Sunday Fundraiser
Photo 5: Cherry Hill Mayor Chuck Cahn, Pam Benedon, Burlington County Freeholder Joanne Schwartz, Cherry Hill Township Council President Dave Fleisher and Bob Benedon
Photo 6: NJ Assemblywoman and New Jersey Federation of Southern New Jersey board member Pamela Lampitt, Federation President Betty Adler, Federation Annual Campaign Chair Peggy David, Former Congressman Rob Andrews, Voorhees Deputy Mayor Harry Platt, Temple Emanuel Rabbi Jerome David, Federation CEO Jennifer Dubrow Weiss, and Congregation Beth El Rabbi Aaron Krupnick
Photo 7: Annual Jewish Federation of Southern New Jersey Fundraiser co-chairs, Jamie Dollinger and Suzanne Levy Polikoff with Super Sunday event planner Helene Klimberg
New Jersey State Agricultural Convention in Atlantic City
Photo 8: New Jersey State FFA Vice President Delaney Gray, Honorary American FFA Degree recipient Alfred Murray and New Jersey State FFA President Kyle Clement
Photo 9: NJ Agricultural Society Executive Director Kristina Guttadora, NJ Secretary of Agriculture Doughlas H. Fisher, Phillip Alampi Industry Marketing Award winner Scott Fein, and NJ Agricultural Society Vice President
Deborah Heart Challenge and Art Competition
Photo 10: Deborah Physician Judge Matthew Samra, event emcee CBS 3 anchor Pat Ciarrocchi and Deborah Physician Judges Betsy School and John Cooper
Photo 11: Deborah staff Doreen Liller, Pemberton High School principal Ida Smith and Deborah's Michelle King
Photo 12: Deborah Vice President of Operations Joseph Manni, Heart Challenge Coordinator Sue Kanzler, Diane Wallace and Government Relations Officer Jim Wallace
Dr. Charles Dietzek's Vein and Vascular Institute Girls Night Out
Photo 13: Shaellie Dietzek and Dr. Charles Dietzek
Photo 14: Diane Albany, Judy Aarons and Abigail Moats
Burlington County College's Taste of Soul
Photo 15: Burlington County Institute of Technology Culinary Educator Kevin Wichter, Burlington County College's Culinary Arts Instructor Cynthia Adams and Chef Kevin Sbraga
Kennedy Health System's annual Gala
Photo 16: The 2014 Kennedy Gala Chairpersons pose for a photo. Clockwise, top left: Andre Beckett; Kennedy President & CEO Joseph W. Devine, his wife, Dina; Dr. Todd Levin.
Photo 17: Robert Timmons, President of the Kennedy – Washington Township Auxiliary and wife, Eileen; Kennedy's Business Director of Emergency Services, Patricia Madden, and her husband, State Senator Fred H. Madden.
Published (and copyrighted) in South Jersey Magazine, Volume 10, Issue 12 March, 2014).
For more info on South Jersey Magazine, click here.
To subscribe to South Jersey Magazine, click here.
To advertise in South Jersey Magazine, click here.