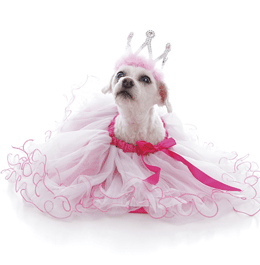 Pampered Pets
In South Jersey, pet lovers stop at nothing to give their furry friends the best.
When economists study what Americans spend their money on each year, we expect essentials like housing, transportation and groceries to rank highly, followed by fun things like movie tickets, beer and alcohol. But one sector where spending is steadily increasing year after year is in the pet industry.
In 2012, Americans spent approximately $53 billion on their pets, according to the American Pet Products Association (APPA). And when 2013 numbers are reported, it's expected to increase to more than $55 billion. But within those staggering amounts, we wonder what exactly that money is going toward. The APPA reports food and vet care account for two-thirds, and grooming, boarding and pet hotels amount to $4.4 billion. And believe it or not, Americans spend more than $300 million on pet costumes alone, according to the National Retail Federation.
These statistics reinforce what many can readily admit—pets are more than furry companions, they are full-blown members of the family. We take them to dog parks for play dates, put them on our holiday cards (even signing their names), and yes, dress them up on occasion. Call it torture if you will, it's still pretty cute.
Pet lovers in South Jersey have a wealth of options to pamper their pets, from spa-like grooming treatments to dog-friendly restaurants; they are living better than some humans. In fact, one of the increasingly popular services for dogs is day care—places where Fido can go on a daily basis and romp around with fellow dogs while you work your 9-5.
"People's view of their pets has changed from when I was young," says Mike Sinko, co-owner of Villa La PAWS Resort & Spa in Maple Shade. "They are a part of the family, and owners want to make sure they are happy, which means getting socialized."
Before opening his own doggie day care last September, Sinko says he remembers how sad his dogs used to look when he would leave for work every day. "I used to work in an office and of course I couldn't bring my dogs with me, and it was hard to leave them home alone," Sinko says. Now he spends his days with his own dogs, plus others, who play indoors and out in a fully supervised environment.
But is day care all that necessary? "Dogs aren't that much different than people," Sinko says. "Imagine being alone all day. When someone comes home, you'd be all wound up and ready to go. But when most people get home, they are tired and don't devote the proper amount of attention to their pets."
Ryan Kowalski, co-owner of Woof Day Care in Mantua, believes day care benefits both the pet and its owner. "After a long day at work, the owner doesn't have to worry about rushing home to let their dog out, or wonder if they will find any surprises or chewed up items," Kowalski says. "When they are at day care, dogs aren't at home causing damage or dealing with separation anxiety. They are getting exercise and having fun. Both the dog and the owner will be happier."
Kowalski opened Woof Day Care in April 2013 after seeing how the trends in pet expenditures were on the rise. "I'm not surprised people spend money on their pets like they do, and this is just another opportunity for owners to care for their pets," he says. "Dogs are pack animals by nature, and sure, not every dog needs day care, but I think socialization is a big component of a dog's happiness and this helps fulfill that for them."
Dr. Jennifer Forsyth, a mobile veterinarian in South Jersey, has been taking her dog Martin to Woof Day Care since it opened. She says Martin's pent up energy led him to some destructive behavior around the house. "The day care seemed like something that would be fun for him and an outlet for his energy," Forsyth says. After taking him two to three times a week, she noticed a change in him. "He quit destroying stuff in the house and seemed a lot happier."
As a professional in the animal industry, she sees doggie day care as a must, not a luxury. "Any dog trainer will tell you that dogs need an outlet, and that socialization is a necessity," she says. Forsyth, who also cooks for her dogs and has them on a raw food diet, believes in caring for her pets on all levels. "I take care of them nutritionally by not feeding them kibble from the store and buying high-end dog treats from specialty stores; day care is the mental component. It's part of the package of taking care of my pets."
While how dogs feel on the inside is important, for many, it's also about keeping their dogs in the latest fashion trends. Michael Baker and Brian Jackson, co-owners of It's a Doggie Dog World in Voorhees, could never find things they liked for their dog, Rocky. After attending trade shows and seeing all of the products available for dogs that couldn't be purchased in the area, they left their day jobs for the pet industry in 2008, and relocated from Egg Harbor to Voorhees in 2012.
It's a Doggie Dog World offers an all-natural bakery, gourmet treats, toys with organic fibers, treat jars, gift items, grooming, and clothing and accessories. "It's a whole different world that many pet owners didn't know was there," Baker says.
Lisa Torquati, a Voorhees resident, has been shopping at It's a Doggie Dog World since it opened. For her cockapoo, Jersey, Torquati was looking for products that were not only trendy, but safe. "I buy all natural food and treats made in the U.S.A., which has become a huge conversation among pet owners," she says. "I think that's something that any knowledgeable pet owner should be doing."
Torquati also looks for fashion-forward trends for her dog, whose collar and leash she changes by the season, and dresses up in the colder weather. "She is a smaller dog, so I want her to be warm, and I will put her in coats and sweaters, and I can find ones for each holiday, like Christmas or Valentine's Day."
She doesn't think any of her purchasing habits are unusual. "I don't do anything outlandish, but I do try to give my dog a certain quality of life. She's part of my family and I think she should be treated as well as anyone I'm responsible for," Torquati says.
Her feelings are reinforced at the parties held at It's a Doggie Dog World, some for holidays, and others just for fun, like Yappy Hour, where humans and their dogs can mix and mingle with light refreshments. "It brings those of us with pets together, and helps us to feel not so, well, nutty," she says.
How Much Do You Love Your Dog?
Here are 10 outrageous specialty services we discovered in South Jersey
1. Blueberry facial
2. Nail polishing
3. Hair dying
4. Soothing music played for overnight boarding
5. Bedtime stories and tuck-in with bone on the pillow
6. Webcams to watch your dog while at work
7. Pet menus with items like pancakes, scrambled eggs, burgers, pizza and ice cream treats
8. Personal playtime with staffer to include frisbees, tunnels, and even time in a baby pool to cool off
9. Couch time where they lounge with a snack and have 30 minutes of television
10. Raised beds with lamb's wool blankets in overnight suites
TOP PETS
This year's winners for funniest pet photos.
Click here for all of the photos.
1. Garcia – Jessica Crismond, West Deptford
2. Laci – Pat Levan and Kim Matsinger, Blackwood
3. Ressie – Tracy Jadico, Maple Shade
4. Duncan – Kristin and Mike Burke, Pennsauken
5. Lily – Elizabeth Fargo, Deptford
6. Cinnamon – Pamela and Christopher Musulin, Mount Holly
7. Betty –- Dillon Grey, Blackwood
8. Lucy –- Kat Mulholland, Washington Township
9. McKenzie and Makayla –- Marie Brown, Magnolia
10. Chase –- Laura Green, Cherry Hill
11. Bentley – Sheree Sacco, Berlin
Published (and copyrighted) in South Jersey Magazine, Volume 10, Issue 12 March, 2014).
For more info on South Jersey Magazine, click here.
To subscribe to South Jersey Magazine, click here.
To advertise in South Jersey Magazine, click here.