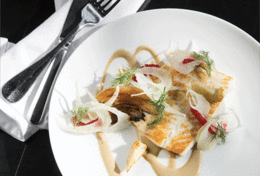 2014 Golden Fork Awards: Good As Gold
Good As Gold: Culinary excellence is abound in South Jersey.
Have you ever sat down at a restaurant, been handed the menu, and after staring at it for a while, been unable to decide what to order? Well, we've got you covered.
For this year's installment of our annual Golden Fork Awards, we ate our way across South Jersey to be able to suggest the dishes that should be on your radar the next time you venture out for a quality meal. Here we present appetizers, entrées and desserts from our favorite restaurants at the moment. We even went as far as to plan your entire meal from start to finish at some of the eateries. From Italian to Indian, Continental to Chinese, we promise these 55 mouthwatering plates will linger in your mind like an amazing recurring dream. You'll also find feedback from our readers on how they approach a night out at a local restaurant. We've done the research; now it's time for you to reap the benefits.
Tavro 13 in Swedesboro
While still young, Tavro 13 has swept into town with a Continental menu heavy on seafood and seasonal produce. And with a new menu in the works for 2014, the super-chic restaurant seems to be getting better with age.
Crisp Lamb Belly
Look no further than this addicting serving of juicy Colorado lamb belly, slow braised for ultimate flavor.
Pan-roasted Fluke
Chef Terence Feury earned his stellar reputation cooking quality seafood up and down the East Coast. This catch, served with artichoke purée, fresh fennel and citrus, shows off his skilled technique.
Chocolate Ganache Cake
Moist and supremely decadent, this ganache cake comes topped with house-made vanilla gelato and caramel sauce for a rich, but not overwhelmingly so, dessert.
Indiya in Collingswood
Traditional Indian cuisine gets a modern wist at this Haddon Avenue staple. It's chef Vipul Bhasin's second South Jersey restaurant (he also runs Coriander in Voorhees) and he continues to pack a ton of flavor through an assortment of curries and tandoor-cooked plates.
Vegetable Samosas
Spiced potatoes are ground with peas and garbanzo beans, then stuffed into sharing-side turnovers and fried to perfection.
Chicken Lababdar
Sweet meets savory in a delicate curry combination. Pieces of chicken are stewed in a chunky onion and tomato sauce, and served with lentils and basmati rice.
Gulab Jamun
Delicate cheese dumplings are lightly poached in a sugary rose syrup, then served with vanilla bean ice cream. It's creamy without being too heavy, and ends a meal on a light note.
Han Dynasty in Cherry Hill
Philadelphia-based Chef Han Chiang brings his Szechuan style of cooking to South Jersey with his only New Jersey location. Be prepared for lots of spice (we mean LOTS) and unapologetically authentic dishes.
Bok Choy with Black Mushrooms
A dish from the vegetable portion of the menu that's simple yet sophisticated. It starts with a mound of baby bok choy served around soft black mushrooms in a mild brown sauce.
Dry Pot Style Beef
Your beef comes out sizzling in your own personal wok, cooked in a fiery blend of sauce, peppers, Sichuan peppercorns, mushrooms and bamboo shoots. Just don't say we didn't warn you.
Dan Dan Noodles
Han Dynasty doesn't serve dessert, so why not load up on these amazing noodles hand tossed tableside. They are the restaurant's calling card for good reason.
Yokohama in Maple Shade
This Japanese food mainstay uses extreme prejudice when choosing its ingredients to assure they only serve high-quality food. The attention to detail does not go unnoticed.
Seared Tuna with Wasabi Aioli
Fresh fish lightly kissed by a hot pan is served up along an addictive sauce.
Curry Udon Hot Pot
Shrimp, chicken, scallops and plenty of vegetables make this hearty bowl the kind of comfort food we want to eat year round.
Fried Green Tea Ice Cream
This palate-pleasing dessert is refreshing, vibrant and one of our absolute favorites.
Da Soli Trattoria Rustica in Haddonfield
You'll find lots to eat on Haddonfield's Kings Highway, but there's nothing quite like the Italian fare you'll find at Da Soli. Rustic-but-creative plates get the refined treatment of local and fresh ingredients.
Clams Oregenata
Meaty clams are nestled in their half shell and topped with panko bread crumbs and seasoned with fresh herbs, before adding a generous dose of lump crabmeat and then broiling them with garlic butter.
Braciole di Maiale
In this neighborhood favorite, boneless pork chops are rubbed with fennel and pepper seeds and grilled, then served in a white wine sauce with sautéed broccoli rabe and risotto.
Risotto Rice Pudding
Chef Mark Berenato incorporates his specialties into a dessert that you won't soon forget.
Café Madison in Riverside
This elegant restaurant is more than just eye-popping décor; it also serves up some of the most refined plates in South Jersey courtesy of veteran chef Jack Connor.
Escargot
You don't have to be sitting in a café along the Champs-Élysées to get a taste of this rich appetizer that's buttery, garlicky and extremely memorable.
Jumbo Lump Crab and Shrimp Cakes
Seafood cakes are popular, but few are as delectable as the ones coming out of Café Madison's open kitchen. Add the lobster and vanilla sauce and try to contain yourself; you're in public.
Beignets
A staple in New Orleans, here the mini orbs of fried dough sidestep the powdered sugar in favor of strawberry marscapone cream and the result is as wonderful as you imagine.
Zeppoli in Collingswood
Now in it's third year, chef Joey Baldino's 35-seater continues to put out fresh and seasonally inspired Sicilian dishes that have earned him such critical acclaim.
Gamberetti e Fagioli
Chef Baldino sautées whole shrimp (yes, that means with the heads-on) with chili, lemon juice and garlic, and lays them over a bed of hearty cannellini beans.
Coniglio Pizzaiola
Beautiful cuts of rabbit are stewed in fresh tomatoes and oregano, then plated with roasted rosemary potatoes.
Biancomangiare
Similar to a panna cotta, this Sicilian white pudding is light but still creamy, and comes with a drizzling of caramel sauce, fresh fruit and crushed almonds.
Caffe Aldo Lamberti in Cherry Hill
An institution in the South Jersey dining scene, Caffe Aldo Lamberti caters to its well-heeled crowd with an array of fresh seafood, Italian specialties and homemade desserts.
Wild King Salmon Carpaccio
This sushi-grade fish appetizer pops with flavor thanks to drizzles of olive oil and an enhanced citrusy blend of lemon, orange and lime zest.
Veal Carciofi
Pounded out veal cutlets are cooked in white wine with artichokes and oyster mushrooms, and the saltiness of capers assures this dish is far from one note.
Cheesecake
This homemade New York style cheesecake is spiked with amaretto and sheltered inside a graham cracker crust. Fresh seasonal berries drizzled with a sweet balsamic glaze are well worth the added cost.
Arugula in Washington Township
Crowds flock to this fine eatery to feast on skillfully executed traditional Italian dishes with modern twists.
Veal Meatballs
Nonna would be proud of these meatballs lathered in San Marzano tomato sauce and finished with dollops of whipped ricotta and aged balsamic vinegar. That would be enough, but the shaved Grana Padano catapults this dish to another level.
Pappardelle Bolognese
Chestnut flour gives these wide ribbons of pasta a sweet, nutty flavor, and the veal-based Bolognese gets added bursts of flavor from Chianti.
Brioche Bread Pudding
Warm dense brioche is the star of this headlining dish that's covered in bananas foster and neighbors up to a scoop of vanilla gelato.
The ChopHouse in Gibbsboro
At this steakhouse you may find local attorneys, members of the Flyers or your next-door neighbor.What you won't find? Any signs of pretense.
Lobster Bisque
This isn't the soup you're used to; it's better. The lobster is butter poached and tarragon makes each spoonful undeniably aromatic.
Bone-in Kansas CitySirloin
This popular steak is 16 ounces of pure carnivore bliss, well seasoned on the outside, perfectly seared and oozing with mouthwatering flavor on the inside.
Salted Butterscotch Pot de Crème
If you want to end your meal with a bang, order up this custard where salt adds a new dimension that just may have you considering adding it to all your desserts moving forward. Crumbled Oreos add nice texture, and who doesn't like a little whipped cream on top?
EXTRA PLATES
Catelli Duo in Voorhees
Signature House Meatball
This whopping meatball stuffed with cheese is meant to be shared, but good enough to keep all to yourself.
Fleming's in Marlton
Double-Thick Pork Rib Chop
It's a steakhouse; who orders the pork chop? We do, and you should, too. Thick as War and Peace, yet perfectly tender, the taste lingers thanks to an apple cider and creole mustard glaze.
RiverWinds in West Deptford
Mussels and Chorizo
The smokiness of the sausage adds the right amount of heat and spice to a bowl full of plump mussels bursting out of their shells in a enticing broth.
Braddock's in Medford
Horseradish Crusted Halibut
Here they take the delicate, yet versatile fish and give it the royal treatment, complete with an indulgent molasses butter sauce.
Marlene Mangia Bene in Woodbury
Proscuitto Wrapped Pork Tenderloin
Pan roasting helps this pork stay incredibly moist before being cloaked in the salty cured meat and finished off with garlicky sautéed broccoli rabe, toasted pine nuts and raisins.
Elena Wu in Voorhees
Peking Duck
The crispy, almost candied brown skin is gleaming when it arrives at the table, already sliced and served with ribbons of cucumber, crunchy scallions and crepes. Combine the ingredients, drizzle with hoisin sauce, sit back and enjoy.
Zinc Café in Medford
European Breast of Chicken
This well-executed plate boasts some of the juiciest chicken we've tasted in the past year, and the sweet touch of a black currant demi glace builds with each forkful.
La Posata in Marlton
Tortellini Gorgonzola
Chef Joe Vento has many quality dishes on his menu, but we're suckers for his plate of homemade pasta and sundried tomatoes in a rich, cheesy cream sauce.
Nunzio Ristorante Rustico in Collingswood
Carpaccio di Manzo Con Olio Tartufato e Pepi
Raw angus beef loin is shaved thinner than Kate Moss and brought to life thanks to EVOO and lemon juice and complemented with a bed of arugula, shaved parmesan, long hots and some white truffle oil for good measure.
Pelican Restaurant in Washington Township
Drunken Seafood Bisque
Forget a cup and order a bowl of this silky, complex (not to mention well seasoned—so important) soup brimming with blue claw crab meat.
Megu Sushi in Cherry Hill and Moorestown
Central Park Roll
Toro, or the fatty underside of a tuna's belly, is a revered sushi ingredient. This roll treats it with the respect it deserves by filling the inside with a spicy, crunchy version and then, for good measure, piling even more on top.
La Esperanza in Lindenwold
Mole Poblano
Mole is one of the most multi-layered sauces in the culinary world and it seems no two people make it the same. That's fine; we wouldn't dare try and replicate La Esperanza's delicious chicken dish swimming in the velvety chocolate sauce.
Illiano Cucina Mediterranea in Medford
Scallops Verde
Whole scallops get a fresh twist with fresh tomatoes and field greens before being sautéed in a white wine sauce with baby shrimp and sundried tomatoes and served atop house-made pasta.
Fuji in Haddonfield
Takoyaki
Chef Masaharu Ito's sushi is unforgettable, but start your meal with this small plate of octopus dumplings, served with bonito flakes and pickled radish along with Japanese mayo and tangy katsu sauce.
Los Amigos Restaurant in West Berlin
Paella
It doesn't get more satisfying than this traditional dish of shrimp, grilled chicken, chorizo and seasonal shellfish, all of which get stewed together in Mexican rice to create one hearty plate.
Mediterranean Café in Haddonfield
Grilled Lamb
Chunks of juicy leg of lamb are smothered in a simple-but-savory marinade, then grilled and served with basmati rice or grilled veggies and a very addictive house-made tzatziki sauce.
Giumarello's in Westmont
Espresso Rubbed N.Y. Strip
The coffee gives this 16 oz. grilled steak a wonderful crust, while hot pepper rings provide a little spike next to crispy onions.
Scaturro's in Marlton
Veal Arrogosta
Scaturro's veal filet in lemon garlic white wine sauce over risotto gets taken to new heights with artichokes, sundried tomatoes and a whole lobster tail
Monsoon in Mount Laurel
Salmon Tikka
You won't find salmon like this anywhere else. The filet first gets marinated in a ginger-garlic sauce, then picks up added flavor that only a tandoor oven could provide.
Max's Seafood Café in Gloucester City
Creole Clams Casino
An appetizer that has stood the test of time, here they get a little more creative using andouille sausage and cornbread stuffing.
Toscana in Cherry Hill
Champagne Pear Sacchetti
Pears and ricotta are skillfully packed into pillows of pasta and then coated in a sweet, satisfying Champagne cream sauce. It may look simple, but the subtle nuances are evident after every bite.
The Pub in Pennsauken
Texas Rib Eye
This 16 oz. rib eye is charcoal-grilled in The Pub's booming open grills and served with a potato and the restaurant's famous salad bar.
Al Dente in Moorestown
Mezze Luna Florentina
Pillows of half-moon pasta are filled with grilled chicken, chopped and tossed with fresh spinach and cheese and served on a bed of roasted garlic cream sauce.
Il Villaggio in Cherry Hill
Gnocchi Adriatico
Light and fluffy house-made gnocchi are tossed in a creamy blush sauce then topped with mounds of jumbo lump crab meat to create an unforgettably indulgent plate.
Filomena Lakeview in Deptford
Tilapia Livornese
Fresh tilapia is baked with tomatoes, potatoes, olives and salty capers in Filomena's wood oven, then laid over a bed of spinach and served in a white wine sauce.
SMALL BITES
What do you typically drink with your dinner?
Beer/liquor 34%
Wine 31%
Water 25%
Soda 10%
How often does your family go out to eat?
Once a month 35%
Once a week 26%
More then once a week 39%
What do you typically order with your entrée?
Appetizer 82%
Dessert 4%
Appetizer & Dessert 7%
Neither 7%
Published (and copyrighted) in South Jersey Magazine, Volume 10, Issue 11 February, 2014).
For more info on South Jersey Magazine, click here.
To subscribe to South Jersey Magazine, click here.
To advertise in South Jersey Magazine, click here.