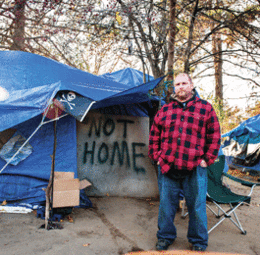 Gimme Shelter
In tents, South Jersey's homeless find safety, community
"I was on top of the world. I had it all; a family, a nice truck, a house with a deck. Then everything fell apart. Now this is where I live…in a tent." John, a 53-year-old from Deptford, sits under multiple layers of blankets inside a small red camping tent, surveying his surroundings in a small patch of woods near a WalMart. There's no TV, no phone, no running water, no bathroom, no heater, no bed. His only company is the book in his lap and the sound of passing cars. "I don't want to start crying. I try to be strong," he says. "But out here, man. It ain't no joke."
He has lived in a tent for two years, but he's been homeless for four. A union carpenter for 15 years, John—a father of two—lost his job five years ago when the economy went downhill and work became scarce. Then he experienced knee and back pain, which made it difficult to do hard labor. Soon enough, he and his wife started fighting, which led to a court battle. He says she ended up with everything, including the house he had worked so hard on remodeling. "I put on a new roof, new floors inside, replaced the windows, added a deck … all the work I did," he trails off, lost in his thoughts. "I had a good job and a house, then the economy went down. Here I am. I didn't ask for this."
When things went south, John didn't immediately end up in a tent. He explored the options available to him, like cheap motel rooms or shelters. "I rented a room for a time in Pennsauken, but that was expensive," says John, who does receive a disability check each month. "I've been in the Camden County shelter, but I don't feel safe there. That's how I ended up in the woods. I feel safer out here."
A secret hiding in broad daylight
John's story is all too familiar. Pam Ziegler, a Mullica Hill resident who previously worked for a freeholder, says there are more homeless people in the area than people think. "It's a secret people don't want to admit they know," she says. "When someone mentioned to me that there were homeless people living in the woods in tents, I didn't believe it. But sure enough, it's true."
Ziegler was alerted to the issue a couple years back and since then has gotten to know the people living in these "tent cities," learning their stories and trying to offer assistance wherever possible. On this day, she brought John a few extra blankets and says she'll bring him some more books on her next visit.
"John was a part of a bigger tent city, but there had been some fighting so the cops cleared everyone out," Ziegler says. "It's just crazy to think that they are living in the woods right here in the middle of Deptford. It just shouldn't be."
Homelessness is no longer an inner-city issue. According to Point-in-Time statistics from the Corporation for Supportive Housing, the homeless population was reported as 671 in Burlington County, 589 in Camden County and 214 in Gloucester County—numbers obtained by volunteers canvassing the counties during a 24-hour period in January 2013. But according to the report, "the actual number of people who are homeless over the course of the year may be between two and four times larger than the number counted at one point in time."
Since the recession, the rising homeless population has prompted people to turn to tent communities.
Any South Jerseyan who has traveled down Admiral Wilson Boulevard toward the Ben Franklin Bridge has likely seen a canopy of blue tarps tucked near an overpass. While that is the largest tent city in Camden—with as many as 60 people at any given time—it's not the only one. And the people living in them are predominantly from the suburban areas, directed to Camden due to its concentration of services for the impoverished—such as shelters and soup kitchens.
When the shelters don't have enough space, tents offer something more reliable, and among those living in them, there's friendship, support and some semblance of normalcy.
"The idea of these being like real communities? No, that wasn't going on when I started," says Hal Miller, outreach manager at Volunteers of America Delaware Valley in Camden. Miller has been working with the VOA for eight years, starting out as a van driver and then working his way up. A graduate of Camden High School, Miller says he didn't know much about the homeless population at first, but the more he talked to them, the more he enjoyed helping them. He says he knew people here and there who lived in tents, but there was nothing like the tent cities now in existence. Miller is out in Camden almost every day interacting with the homeless, making them aware of services available to them.
"A lot of people won't even say hi to a homeless person, or shake their hands. They are afraid to communicate with them," Miller says. "I can talk to them and tell them about services, but they have to want it. They need to take that step to accessing them."
Community is where you make it
In a smaller secluded patch of wooded area in Camden sits approximately 20 tents. Miller walks up the path, shaking hands with people as they emerge from their tents. The ground is surprisingly clear. Leaves are in piles out of the way. Trash is bagged and separated from the main encampment. Despite the humming of cars speeding toward the bridge, it's surprisingly quiet.
Aaron has lived here since February 2011. He doesn't call himself the mayor of this tent community, but if you ask anyone else, he's the right man for the job. Aaron is a native of Burlington County and lost his job in the trucking industry, which he had for 18 years, when the recession hit. "I stayed with friends for a time, paying them rent, but then I couldn't afford to pay them anymore, so I ended up on the streets," he says.
What started out with three people is now 30 in this tent community. Men, women and couples ages 21 to 64 are represented. "A lot of the people back here are from Burlington County. Only three are actually from the city of Camden. If you live in another county and you go looking for help, they tell you to go to Camden. There are more people in this city from the suburbs and every day we see new faces. It's out of control," Aaron says.
Like John from Deptford, losing their job was the starting point that led to being homeless. "Just about everyone back here is a skilled laborer who used to belong to a union. Then when work stopped, they couldn't pay bills or rent," Aaron says.
"This is the end result of a broken system," says Will, a former repairman who admits he has a felony on his record. "We've all made mistakes, and I'm not asking for money, but not having housing I can't understand. This is the only option we have. Aaron gave me a chance." Homeless since 2008, Will says he used to sleep by the [Camden County] Hall of Justice until he met Aaron, who told him he had a tent available. "This tent, this community, it keeps the wind off my back, and with seven blankets to help keep me warm, hopefully I'll make it through this winter."
More people emerge from their tents, placing trash in bags and clearing dirt and leaves from their tent entrances. It's part of the typical day's routine, says Aaron. "Every morning, the first thing we do is make sure everyone wakes up and that they are OK since it's getting so cold," he says. "Everyone pitches in to keep the place clean; no one is at each other's throats. We don't want problems, we just want a place to lay our heads and sleep at night."
Terry has known Aaron for 26 years and joined the tent community six months ago. "We all have respect for Aaron," he says. "He's been here the longest and treats everyone right. When he says to clean up, we all get together and do it." Terry has seven kids and says he wakes up every day wanting to go home to them, but his drug addiction won't allow it. "I got myself here and I want to be the one that gets myself together, and I need to do it before it's too late," he says. "I cry sometimes because it's not fair to my family that I'm here and not at home being a father to my kids."
He is thankful for the support the people in the community have given him, and for people like Miller and other organizations that stop by. "People come by and check on us and make sure we're alright," Terry says. "Sometimes people will come in and mess with us, like gangs, and you can hear cops chasing people, but back here we stick together and protect each other."
Abraham, a man in his 60s, says at first, he didn't want to come to this tent community when Aaron asked him. But now that he's here, he doesn't want to leave. "This is a place almost like the suburbs inside the city," he says. "It's cold in the winter, hot in the summer, but at night the skies are clear and you're away from all the bull in the city. I love it here, but I would like to get out."
Abraham graduated from Moorestown High School and attended Glassboro State College (now Rowan) for two years. He lived in Kansas City for nine years, working for a truck company making good money. When the company closed down, he moved to Camden, picking up odd jobs and working at his uncle's sandwich shop. Unfortunately, that's when his career in using drugs began.
He met Aaron sleeping in a bank parking lot. He took Aaron's invitation for a tent in October 2012—even riding out Hurricane Sandy in it—and has been here ever since. "This has been a great community," he says. "There are good people here. We all get along, like a family. We have to stick together. There's not one person in these tents that I don't know and not one person who doesn't know me. We're all neighbors … very good neighbors."
Abraham says, despite the comfort he gets from the group in the tents, he does want housing. "It's colder and I have arthritis in my knees. The cold is not good for me. I'm doing better and I'd like to be out by spring. Everyone here is trying to better themselves. We keep trying to do better than we did last week."
He says he values the church groups that come to visit. "Sometimes they bring food, and sometimes it's hot food which is even better, and many times they'll hold services right here for us," Abraham says. "And that spiritual food is almost as important as the physical food. That's what's going to bring about real change in ourselves."
Aaron says he knows everyone in this community would take work if they could find it. He has close to 90 applications into businesses in the area and his résumé posted online, but nothing has come through in the two years he's been looking. "I had a job, but I lost it [after 18 years]. If someone gives me a chance, I'll prove it to them, but it's a matter of getting the work in the first place." He especially wants a job so he can find housing as soon as possible. "My girlfriend was living here with me until she got pregnant," he says. "Now she's back with her parents and she's due in a couple months. I'd really like to have a home for us, but time goes fast."
If he can get out, he'd even leave his tent open to make room for others. He points over to his tent, where there leans a giant board of plywood with the words "Not Home" spray painted on it. "My tent can fit up to four people. It's an army-grade tent and almost like a studio apartment inside, except without running water."
Until then, Aaron and the others in the tent community do their best to survive in this particularly brutal winter. To keep warm, tents are heated with propane heaters—which not everyone has—and when propane runs out, they turn to sterno burners, but those are expensive, Aaron says. "You do what you gotta do to survive," he says.
The people in this tent community will rely on other donations and supplies to make it through the winter, but more than anything they'll rely on each other.
To find out more information about the VOA or volunteer your time or resources, visit VOADV.org or call (856) 854-4660.
Published (and copyrighted) in South Jersey Magazine, Volume 10, Issue 11 February, 2014).
For more info on South Jersey Magazine, click here.
To subscribe to South Jersey Magazine, click here.
To advertise in South Jersey Magazine, click here.