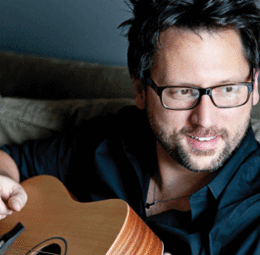 Mr. Write
Chris DeStefano's career has had more twists and turns than, say, one of the chart-topping songs he's co-written for the likes of Carrie Underwood or Luke Bryan. The Grammy Award-winning Mount Laurel native—who now divides his time between Nashville and Los Angeles—is riding high on a wave of acclaim for his songwriting and production talents in the world of country music.
It's been an interesting journey for the multi-instrumentalist, who, by his own account, was living the life of a struggling (although steadily working) musician for many years, until he landed a publishing contract with EMI Music Publishing (now Sony ATV) in 2008.
"It was the best decision I could have ever made—signing with EMI completely jumpstarted my career," the affable 39-year-old says. "It has completely changed my life."
These days, DeStefano doesn't have to struggle at all to get his songs heard; country superstars now come to him. It's a dream come true for DeStefano, who says music has always been a major part of his life. A member of the Philadelphia Boys Choir as an elementary school student, he picked up guitar in his early teens, and before long was "practicing probably 10 hours a day."
"I took private lessons, and Lenape High School (where he graduated from in 1993) had an amazing music program—I learned so much there," DeStefano recalls. His guitar playing landed him a spot in a local progressive rock band his last three years in high school, and he was also a member of the school's Jazz Band. By the time DeStefano was a senior, it was clear music was more than a hobby—it was going to be his vocation.
While he was passionate about his rock guitar playing, DeStefano always imagined himself writing music for movies, so when he was accepted to the acclaimed Berklee College of Music in Boston, he chose to major in film scoring.
"In my heart, I still loved writing my own songs and singing them, but I was truly fascinated with the orchestra and the technique of scoring a film," DeStefano recalls. From James Horner's dramatic scores for movies like Glory and Aliens—the latter of which DeStefano says he "has watched over 370 times"—to Ennio Morricone's The Untouchables, he wanted to master the art of creating music that would tie in perfectly with the flow of action on the screen.
DeStefano did so well in his major, in fact, that upon graduation from Berklee in 1997, he landed an unpaid, six-month gig in Los Angeles—a mentorship scoring film music with The Society of Composers & Lyricists.
"It was a great experience, and one that got me in the room with a 50-piece recording orchestra," he recalls. For DeStefano, being part of a musical score's progression—beginning with the director sitting down with the composer to look at the "locked print" and figuring out exactly how the music could be timed— was both fascinating and educational.
He decided to stay in Los Angeles, but DeStefano's focus didn't stay with film scoring.
Instead, he found himself drawn to engineering and studio musician work. And DeStefano's musical chops kept expanding, to the point where he found himself becoming a bona fide multi-instrumentalist who now plays everything from mandolin to pedal steel guitar to violin. (DeStefano plays 99 percent of the instruments on his own recordings, many of which are demos used to sell his songs to potential artists who, in turn, create hit versions of them.)
"Film music opened me up to recording my own music," he says. "I had to use a computer and that opened my mind and ears and taught me that I could record my own songs the same way."
Through the years, DeStefano made a decent living doing studio session work, engineering records (including some for Aaron Carter and Michael Bolton in the early years of his career) and, in 2004, was recruited to front a rock band playing the Bellagio Casino in Las Vegas for a year, just prior to signing with EMI Music Publishing.
"I always worked steadily, but it wasn't always easy," DeStefano said. "Still, I could never imagine myself doing anything else, so even when things were challenging, I never got callused. At the end of the day, I was still making music for a living and that was so great to me."
Still, DeStefano hoped he could someday break through to a wider audience. He even had a vision board in his home—a tangible representation of his life and career goals—and on it was mention of landing a publishing contract.
"I just wanted to be writing the best songs I could and making the best sounding records I could, and was hoping I could find a way to do that," he said. Shortly after creating that vision board, an old L.A. friend, Dan McCarroll, signed DeStefano to EMI Publishing.
"He became a senior executive there, and he knew my work and had faith in me, and that was the start of everything," DeStefano said. A music publisher, as DeStefano explains, "helps find homes for your songs, and connects you with other talent, writers and artists."
Since June 2008, DeStefano has lived between the two cities, but as a newlywed, plans to set down permanent roots now in Music City.
"I'm all Nashville now," DeStefano says, adding he met his new bride, Lauren, a cake decorator, in the elevator of his condominium building the night of the 2013 Grammy Awards. The two were married last month in Mexico.
During the past five years, DeStefano's songwriting career has literally exploded, with him co-writing with everyone from English pop superstar Ellie Goulding to Gavin DeGraw and Big Time Rush. Then there is the ongoing string of country hits: last year's chart-toppers "Don't Ya" for Brett Eldridge, "That's My Kind of Night" for Luke Bryan, "Hey Girl" for Billy Currington, and Chris Young's "Aw Naw." DeStefano also co-wrote Carrie Underwood's 2012 No. 1 smash, "Good Girl," with Underwood and friend/fellow songwriter Ashley Gorley. DeStefano also won a Grammy for his work on Kelly Clarkson's platinum-selling "Stronger" album.
Next up for DeStefano is the Rascal Flatts new single, "Rewind," the lead track from their upcoming album, and one he wrote with Gorley and Eric Paslay.
Times are good for DeStefano, and he's savoring every moment: "All I ever wanted was to be writing the best songs I could and making the best sounding records I could, which is exactly what's happening now. It feels so good, it's ridiculous."
Published (and copyrighted) in South Jersey Magazine, Volume 10, Issue 11 February, 2014).
For more info on South Jersey Magazine, click here.
To subscribe to South Jersey Magazine, click here.
To advertise in South Jersey Magazine, click here.