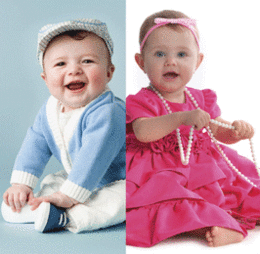 The Big Reveal
These days, expectant parents spread the news with blue cake frosting and pink party favors.
When Katie Wilson decided to have a gender reveal party so she and her husband Ben could share the sex of her baby with family and friends, she quickly put the plans in motion. The party would be held at her parents' home in August. It would require her sister flying in from Chicago. She would do the baking.
What she didn't plan for was arriving to the party in the sweltering dog days of summer wearing wool gloves.
"My plan was to make the cupcakes the color of the baby's gender, and then top them off with vanilla icing, so when my family bit into them, they would see pink or blue cake and the gender would be revealed," the Swedesboro resident recalls of her good intentions. "I had very little time to get home, bake the cupcakes, let them cool to ice them, and then get to my parents' house for the reveal. Another thing I wasn't banking on was the fact that I could be very clumsy normally, but being 20 weeks pregnant, I was worse off than usual."
While racing to make the cupcakes, the cover of the pink dye popped off, staining Wilson's hands the tell-tale color of the baby girl she was carrying. Despite her best efforts, the dye would not wash off, hence the reason for wool gloves in August. "The fact that I was wearing wool winter gloves needed explanation to my family," Wilson says. "My mom just smiled and said, 'This is why pregnant women don't bake their own reveal cakes!'"
Pregnant women may not always bake their own cakes, but more and more of them are lining up to hold their own gender reveal parties. Fueled by social media sites like Facebook and Pinterest, and the ever-evolving desire to follow the latest pre-parenting trend, gender reveal parties have become the en vogue version of the cigars fathers used to pass out in hospital waiting rooms.
"When a woman becomes pregnant, it's very common to go on the Internet and look through magazines and things of that nature," says Christine Bautista, a Cherry Hill resident who also held a gender reveal party for her baby girl this past August. "You see many different things, including different ways to reveal the gender of your baby. At the small gathering that I had, a cake was used to reveal that we were having a girl. It was a double layer cake with pink frosting in the center. The colored frosting was not visible until it was cut."
Chef Robert Bennett of Cherry Hill's Classic Cake says the bakery has seen an increase in the number of requests for such cakes. "We get requests for gender reveal cakes at least a couple of times a week now," he says.
Not everyone throwing a gender reveal party opts to disclose the sex of their baby via cake or frosting color. Some don't even want to know the news beforehand, preferring to experience the element of surprise with everyone else. Rob and Remy Maaddi, Mantua residents and reality TV stars whose gender reveal party was broadcast on WeTV during a special episode of the Marriage Boot Camp spinoff Remy & Rob, chose to reveal the gender of their twin girls by releasing pink balloons from a neutral colored box during a gathering at Caffe Aldo Lamberti in Cherry Hill. "It was my first pregnancy so I wanted to do something special," Remy says. "I knew it was a new trend, and since we were having twins and everyone was dying to know the gender, I thought it would be a great way to let our friends and families know."
Because of the gaining popularity of the parties—BabyCenter.com, a popular parenting website, reports discussions concerning the parties on their site increased 14 percent last year—people are finding inspiration for bigger and better gatherings. "It used to be mostly that only stay-at-home moms were the ones who had time and energy to execute perfectly planned theme parties, but with websites like Pinterest that give people creative ideas at the click of a mouse, or Etsy, with it's handcrafted clothes, decorations and more, these personal touches are way more accessible to every mom or dad looking to throw a party," says Lindy Gerkens, a Marlton mother who also held a reveal party to introduce her son, Luke.
"Prior to the reveal, we had our families over for lunch, where people made predictions and read some old wives tales that I found on the Internet," she adds. "It was such a nice way to be able to share this experience with the people we love, and celebrate bringing a new life into our loving family, and I think that's what's most important. We even had two people on video call during the reveal since they live too far away to be here in person."
The question remains: Are gender reveal parties an expiring trend or here to stay? After hosting her own gender reveal party for her son, Marlton's Marnie Benjamin sides with the latter.
"I definitely wouldn't say it's a fad," she says. "It's another way to have closeness to the pregnancy, and for the family to share in the excitement of the forthcoming baby. I think it will probably stay around for a while, and become like a shower, which is tradition. For me personally, because I'm Jewish, we didn't have a shower, so the gender reveal was something I got to celebrate. I loved it."
There are critics who feel that these reveal parties are a little self-serving, taking the attention away from the baby and putting it on the parents. After all, there was a time when parents didn't discover the child's sex until birth—without cupcakes and colored balloons on deck.
When she thinks back to that day last August, Wilson couldn't disagree more, saying she'd absolutely have another reveal party if she gets pregnant. She's already started on some of the planning. Step 1: Hire a baker and let them do all the work.
Published (and copyrighted) in South Jersey Magazine, Volume 10, Issue 11 February, 2014).
For more info on South Jersey Magazine, click here.
To subscribe to South Jersey Magazine, click here.
To advertise in South Jersey Magazine, click here.