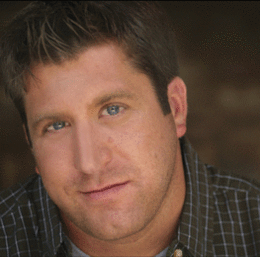 Making a Scene
From Washington Township to The Wolf of Wall Street, Dean Auer chases his Hollywood dream.
It's just after midnight on an October morning in 2012 and Dean Auer is on Long Island, waiting outside the most luxurious home he's ever seen. Standing next to him is one of the biggest movie stars on the planet, and the iconic director who gave the world Goodfellas and Raging Bull is about to yell, "Action!"
You would think things couldn't get any better for Auer, a South Jersey actor who's been toiling at his craft for more than a decade. But the real highlight comes more than a year later, when he's sitting in a Washington Township movie theater and sees that in fact he did make it into The Wolf of Wall Street, an Oscar contender directed by Martin Scorsese and starring Leonardo DiCaprio, and didn't end up on the cutting room floor a la Kevin Costner in The Big Chill.
"My big head is up on the screen—there's even a close-up of me and Leonardo DiCaprio," says the affable Auer, who plays a police officer answering a call at the mansion of Wall Street tycoon Jordan Belfort, played by DiCaprio.
"For the past year, I haven't really talked about my involvement in the movie. Sure, I told some friends and people I work with, but I didn't really go into detail and brag about it, and one of the reasons why is because I never knew if I was going to make the cut. They've cut out way bigger actors from movies than Dean Auer. But I kind of knew that the scene was pivotal and a big scene in the movie. The whole experience, I'm just so fortunate to have been involved in it."
The Wolf of Wall Street has been nominated for Best Picture at the upcoming Academy Awards (March 2), while Scorsese, DiCaprio and supporting actor Jonah Hill have also received Oscar nominations. But the film is clearly not for everyone, as it holds nothing back in its depiction of the wild lifestyle of Belfort, a real-life stockbroker who went to prison for securities fraud. Because the movie gets graphic at times, Auer was careful to just see it with his girlfriend and a few close friends.
"I didn't see it with my parents, and I'm kind of glad I didn't, because it's a crazy flick," he says. "I'm so proud that I was in it, but I wanted people to experience the movie. I didn't want my parents looking at me and my reaction; I really wanted them to be focused on the movie."
It's been a long road to Auer's first Hollywood film. A self-proclaimed "class clown" at Washington Township High School, the 1994 graduate credits teacher Martin Bouchard for first inspiring his creative side. He went on to play football and earn a bachelor's degree in communications at Rowan University, and after graduating took acting classes in Atlantic City. He landed a manager in family friend Cathy Parker, based in Voorhees, and an agent in Barbara Andreadis, who works out of New York. Together they've sent him on audition after audition during the last 13 years in New York and Philadelphia, something he's been able to do even while working as the director of guest services at Kennedy Hospital in Washington Township.
"Acting is a dream of mine and I love it, but it's really hard to stick with," Auer says. "One thing people need to know is that there are so many millions of people that would love to be actors, but it's a commitment and it's tough. You have to be able to provide for yourself, but at the same time if I got a phone call tomorrow that said, 'You have to be in New York at 11 o'clock for an audition,' you can't turn those opportunities down. So I've been really fortunate to have a great family and girlfriend and people who help me and support me. Even at Kennedy, they've been so supportive when these things have popped up."
Auer has landed a number of commercials in his career and has also appeared in an episode of Law and Order and several short films. He felt confident after reading for several parts in The Wolf of Wall Street in the summer of 2012, and found out a couple months later that he was cast.
During his several days on the movie, Auer rubbed elbows with some of the biggest names in Hollywood. He spent an hour car ride from Manhattan to Long Island with Margot Robbie, the stunning actress who plays DiCaprio's love interest and appears bound for stardom. And of course, he met Scorsese and DiCaprio on set, and now refers to them—tongue in cheek—as "Marty" and "Leo."
"Leo was fantastic," Auer says. "That's probably the No. 1 question that people ask me when they find out I was in the movie¬—'Was DiCaprio cool?' To be honest, he really was. He was super down to earth, funny. I tell a joke that the best acting I did was in between the scenes, just acting like I belonged there. I acted like I was cool and had it all together, and it was really easy to do that because he was so down to earth.
"[Scorsese] came right up to me and said hello. I don't mean this in any kind of negative way, but the best way to describe him is that he was like your grandfather. I don't mean that he was old looking or anything, he was just so kind and gentle and such a nice man. I immediately felt so comfortable being there."
Auer hopes his association with such a well-regarded film will boost his career. While he's sometimes wondered over the years whether he should've left South Jersey and moved to New York to pursue the acting dream full time, he's happy with the way things turned out. And he'll be even happier if he can land bigger and better roles in the future.
"Sometimes maybe I wish I did [move to New York], maybe I would've had more success if I bit the bullet," he says. "I always kept trying to figure out a way to do it while still living in South Jersey. New York is not that far away, and I've auditioned for a lot of local things in Philadelphia. I just always wanted to still be here—this is where I'm from. I don't really have any regrets. No matter what I did, I ended up in a Martin Scorsese film acting next to Leonardo DiCaprio. So I wouldn't go back and change anything."
Published (and copyrighted) in South Jersey Magazine, Volume 10, Issue 11 February, 2014).
For more info on South Jersey Magazine, click here.
To subscribe to South Jersey Magazine, click here.
To advertise in South Jersey Magazine, click here.