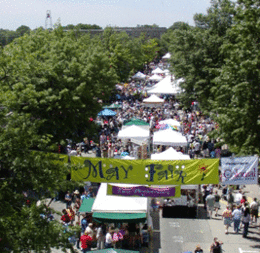 In the Neighborhood: Collingswood
A look around South Jersey towns
It's a town steeped in tradition, where you can find a chapter of the Daughters of the American Revolution alongside the Collingswood Shakespeare Company, yet it's also where you'll find groups like the Fiber Arts Guild which just this past week helped to yarn bomb the downtown. Nearly two dozen trees, poles and other items—like the borough's iconic clock and horse posts—were covered in colorful threads.
You'd think it an enigma if it weren't for the fact that the pieces blend together, creating an enclave of artists and enthusiasts of history, culture and architecture.
And then there's the dining scene. Just the math when it comes to how many restaurants there are is noteworthy. There are nearly 40 fine dining spots and eateries in Collingswood's less-than-two-square-mile space, including three Indian restaurants, the latest being Clay Oven Palace, which joined the ranks in early 2013.
This renaissance for Collingswood began about 15 years ago after targeted redevelopment led to an influx of unique independent shops and the branding of the borough's "restaurant row." Now, according to Community Development Director Cass Duffey, the job is simple: to keep it going.
That's being accomplished mainly three ways—finding new ways to promote art and culture, catering businesses to a changing demographic, and satisfying the gourmand in us all.
An evolving arts scene
Headlining names and local artists have flocked to the Scottish Rite Theatre (think anyone from Ben Folds to The Beach Boys) and Perkins Center for the Arts for years. The annual May Fair arts and crafts festival, in its 34th year, draws in 50,000, while the Collingswood Book Festival, in its 12th, attracts about 20,000.
Those are examples of what Duffey views as events they need to maintain; likewise, the focus is also on finding inventive things to throw into the mix that, above all, cater to everyone. Last year, that meant anything from free Mummers performances every month to a prancercize event that raised money for charity.
The most popular new event may have been the Pop-Up Gala, a trend seen across the country where guests decked out all in white—who don't know the location until the day of—take over an urban space and transform it into an elegant dinner party. Some 240 people attended, and Duffey expects to double that for September's second annual gala. She also plans to introduce more pop-up surprises throughout 2014.
These events illustrate what Duffey stresses makes Collingswood unique: creative freedom. "When you say you want to do a Pop-Up Gala or yarn bomb the town, people will think it's weird and they might not totally get it," she says, "but they'll say go for it anyway."
New niches in business
Antique storefronts, galleries and boutiques line Haddon and Collings avenues, but two new trends have dominated new business—stores geared toward young parents and the DIY crowd.
"There has been a big influx of younger families leaving the city, and that's influenced retail," Duffey says. Among the new businesses are The Nesting House—which offers environmentally friendly baby clothing and products—and Duck, Duck Goose, a combination free playroom/retail space that moved over from Merchantville.
The increase in families as well as people looking to downsize also led to the quick selling out of townhomes and apartments in The LumberYard, which is now in its final phase and will wrap up this year with the last section of apartments and retail space.
"We've also had this great influx of what I call 'to-do' businesses where, instead of buying something, you make something," Duffey explains.
This includes House of Clay, Jubili Beads & Yarns, and last year's opening of I Made This!, a drop-in, Pinterest-themed craft shop.
Taking the DIY trend even further is The Factory on Fern Avenue, the 13,000-square-foot former Venetian-style movie theater that was empty until business partners Tom Marchetty and Josh Longsdorf transformed it last year into a co-op community makerspace. Along with housing new businesses—including a coffee company, Web/app development firms, photographers and more—a grand opening was held last month to show off the workshop space that's open to the public.
"I had all of the machinery," says Marchetty, owner of Marchetty Machinery in Haddon Township, "so I thought, let's find a place where people can use this, craftsmen can come build and make whatever they want and bounce ideas off each other."
The equipment includes table saws, milling machines, drill presses, welders, sheet metal equipment and more, and workshops are being offered in ceramics, sewing, welding, wood and metalworking.
"It's similar to Philadelphia Woodworks," Duffey says. "It's a really cool co-op office space like a business incubator."
Bringing people back for more
Changes to the dining scene last year ranged from frozen yogurt spot Frusen Berri at The LumberYard to the new, expanded location of The Kitchen Consigliere on Haddon Avenue. And though last year marked the closing of Joe Pesce, L'Oceano, a similar Italian seafood locale, soon opened in its place.
Table 8 Bistro opened in December in The LumberYard, serving up American fare, and Sorrento's Pizza is now under new ownership, undergoing a dramatic expansion that will also include a new BYOB menu and al fresco dining.
"Everyone keeps upping their game," Duffey says of the restaurants and the vibe, adding that's to credit for continually drawing people back to find out what's new from month to month.
That ability to keep up the foot traffic is just part of the reason why Collingswood was recently recognized as one of 10 successful suburban downtowns in a study by the Delaware Valley Regional Planning Commission, which took into account data like walkability, vacancy rates and parking.
Duffey says the study was "spot on," though it included mostly scientific data and not necessarily details about the energy that complements it.
It all goes hand-in-hand, meaning all that data is also to credit for the success of Collingswood businesses and its dozens of events, whether it's the more casual Second Saturday, monthly Cruise Night or the massive May Fair.
"I do think when you see it all at once, it can be surprising just how much is here, and a lot of it is free," Duffey says. "We work to make it as inviting a district as possible. … That's why people keep coming back."
Published (and copyrighted) in South Jersey Magazine, Volume 10, Issue 11 February, 2014).
For more info on South Jersey Magazine, click here.
To subscribe to South Jersey Magazine, click here.
To advertise in South Jersey Magazine, click here.