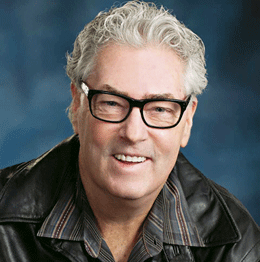 Who's the Chick in the Red Top?
Big Words: Who's the Chick in the Red Top?
Who's the chick in the red top?" I said to Mouse McCourt. We were at a keg party on 66th Street in Sea Isle City. I think I was there all of two minutes when I first noticed her. She was a gorgeous, dark-haired knockout with a killer body and one of the most beautiful, classic faces I've ever seen. Old-school beautiful. Like Liz Taylor or Ava Gardner. With killer eyes, sexy lips, and she also had this tremendously positive energy about her. She really lit up the room. She was the most fun person there. Her name was Debbie.
She knew every word to every song and, me being the music freak that I am, that was a turn-on also. I moved closer to her. I had to make a move. But what? I wasn't going to dance. Dancing is cool once you get to know a woman, but nothing can make a lousy first impression like a white guy fast dancing. Asking her for her number was lame. Bring up a movie? "What's your sign?" Get down on my hands and knees and beg? (Let's face it guys; that's what it usually comes down to.)
Then it hit me. I was down the Shore. It has an ocean! There's nothing more romantic. There was a full moon and I used that to my advantage. What woman doesn't want to gaze out on the sea with a moon shining down on it?
I waited till the gig started to wind down and suggested we stroll up to the surf and chatted her up the whole walk. To make a long story short, I ended up kissing her on the beach that night. It was the greatest kiss of my life and, 30 years later, she's now my wife and I haven't stopped kissing her. Thank you sand. Thank you ocean. Thank you moon. Thank you red top!
People love to digress about how high the divorce rate is and, frankly, I believe it's a miracle it's not way higher. Through the years, my wife and I have had to make tough choices involving the mortgage, car payments, our daughters' schooling, medical insurance, among many other serious decisions.
And all of this because she looked tremendous in that red top and I couldn't wait to get my hands on her. Did I once think about any of those life matters when I was kissing her on the beach? Hell no. It's amazing how it all works.
The Odd Couple has remained such an enduring piece of work because it proves, leaving love and lust out of it, that it's virtually impossible to live with someone. Anybody. When your car keys aren't where you left them, you flip out. When that half a hoagie you hid behind that gallon of milk in the fridge isn't there, you go ape. On top of all this, you have to live with each other every stinkin' day!
So imagine, we not only expect our spouses to get all these countless tiny details right, we (at least we men) expect them to be sexual dynamos in the bedroom also. Not too much to expect, eh?
Well, maybe not. How lucky was I? How in God's name could I have known when I elbowed my buddy Mouse at that party 30 years ago that someday I'd get throat cancer and that very same woman would take care of me every single second of every endless day for months? That she would handle the countless pills and personally administer me three IVs a day for 100 days? That she would keep track of the appointments and get me back and forth to the hospital and sit beside me for hours on end? How could I have known all that based on how sexy she looked in that red top?
The entire institution of marriage hangs on the thinnest thread. It's ridiculous. What led me to that party? What led her? The trained professionals who took such great care of me at Jefferson Hospital are just that, trained professionals. My wife was trained in one area of expertise: loving me.
And she said to herself that (as hard as this is to believe) she wanted even more time with me. More hours on the beach. More time with our daughters. More time arguing. More time just laying around watching movies and eating pizza.
Last year, our daughter got married and we went to Alaska and L.A. for this really cool film festival. This year, we're going to Hawaii and taking more strolls on the sandy beaches of Sea Isle and eating more prime rib sandwiches from Carolina Blue.
So thanks, babe, for being there for me all these years. And thank you for wearing that red top at that party. Love ya! (Now this article better get me some action!)
Big Daddy Graham is a renowned stand-up comedian and overnight personality on SportsRadio 94WIP. His Two Funny Philly Guys show with Joe Conklin comes to the Broadway Theatre in Pitman on Saturday, Feb. 15. For more information, visit TheBroadwayTheatre.org.
Published (and copyrighted) in South Jersey Magazine, Volume 10, Issue 11 February, 2014).
For more info on South Jersey Magazine, click here.
To subscribe to South Jersey Magazine, click here.
To advertise in South Jersey Magazine, click here.