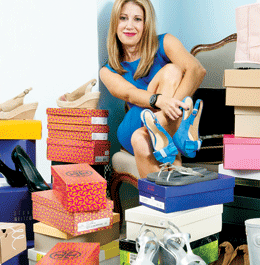 Sole Possessions
Forget diamonds. For these local women, shoes are a girl's best friend.
It's probably safe to say that we all have skeletons in our closets. Secrets we keep close, revealed only to our closest confidants. But then there are some whose closets can't even fit skeletons because they are already brimming with … shoes.
Shoe collections have been well-documented among Hollywood's elite. Celebs like Mariah Carey and Patti LaBelle have some of the most famous collections—boasting thousands of pairs—and our favorite fictional fashionista Carrie Bradshaw of Sex and the City would gladly spend a paycheck on designer shoes before putting food in her fridge.
Shockingly—or not—enough, there exists a population of women here in South Jersey who are as equally shoe obsessed. Perhaps it was a hobby that started off innocently enough, or a product of their professional lives, or an honest to goodness need to have the hottest designer heels just to say you do. No matter how it started, these women are not planning on stopping.
Why shoes?
"A shoe is something that doesn't have to fit the same way as a dress. Everyone looks good in a shoe," says Ceil Diamond of Cherry Hill. For 39 years, Diamond owned Best Foot Forward, a shoe store in Cherry Hill, until its recent closing.
As a result of her business, Diamond says she did indeed buy a lot of shoes for herself. Flat shoes appealed to her most, but particular designers like Jimmy Choo and Stuart Weitzman dominated her purchases. Diamond's collection is split between her home in Cherry Hill and another in Florida, and kept in cedar closets.
Now that she is retired, shoes still call to her. "The shoe business is something I did for so long that when I go into a store, my eyes go right to the shoe department. It's a part of me."
Tara Becker, of Lumberton, says shoes allow her to travel back in time. "My shoes represent who I was at the time I bought that shoe," she says. "I can look at how my tastes have changed since my early 20s. It's fun to have a collection that you've curated through your life and to do something as simple as slip them on to revisit a piece of your former self."
For Mindie Barnett, an overall love of fashion and career in public relations led to her vast collection of shoes. The Mount Laurel resident sees her shoes as investments, not frivolous purchases. Her profession requires her to meet clients, attend special events and often make appearances on TV, so she sees it as a necessity.
"Looking nice is part of my image. Ninety percent of my shoes are designer, and they are all expensive, but I can wear them forever," she says. "They are in great condition and comfortable. I wear high heels and I'm on my feet a lot and I'm not dying from pain. I think you get what you pay for. I'd rather pay more for good shoes than throw them out after one year."
Barnett says she maintains her collection in multiple upstairs closets, switching them out into her basement closet as the seasons change. "If I don't wear something for three or four seasons, I'll take them to a consignment shop. Then I probably buy about 10 pairs every season to replenish the stock."
Names and numbers
The average woman might own only 10 pairs of shoes, let alone buying that many in a year. But that number is just a drop in the bucket for these collectors, some of whom don't even wear the shoes they buy.
"I stopped counting my collection at 200," laughs Becker. "I would say I've been amassing my collection—meaning I'll buy a shoe and not necessarily wear it—for about 10 years. I always had a voracious appetite for shoes, but I would wear my favorites out."
Surprisingly, it was her husband Eric who introduced her to the concept of collecting. He's a collector as well, and it's something they love to share. When pressed, she estimates their combined collection to be approximately 600 shoes. She says a lot of her collection includes sneakers, but she can't resist black pumps.
Becker doesn't just get her shoes from any department store. "I have to have handmade shoes from France and Italy," she says. "The design and wear are incomparable. Some of the designers are Robert Clergerie, Dusica Dusica and Roberto Del Carlo. Some newer staples in my collection are the U.S. brand CYDWOQ, and Trippen from Germany. Those are remarkably stylish and one of the most comfortable shoes in the world."
Becker says she can't quite put a price on the most expensive pair, but she does know the most valuable. "The most valuable pair to me are the ones I wore on my wedding day—velum-colored patent leather Prada pumps—which were given to me by my mother-in-law. She took me to New York City to search for the perfect shoe and I didn't even have a picture of the dress but she nailed it. They are gorgeous and they remind me of two people I love so much."
Becker laughs, adding, "I also found Christian Louboutin's at T.J. Maxx for $26 that I don't wear out of principle."
While that was a once-in-a-lifetime find, most of these shoes carry a pretty hefty price tag. "I'm obsessed with Maison Martin Margiela. I've got to have their shoes," says Bonnie Jacovini of Pitman. "My newest purchase is a pair of their wide-topped, peep-toe ankle boots. I spent $1,495 on them. It's the most I've ever spent. I would go without food for a week to have those shoes, and I haven't even worn them yet."
Jacovini swears that was a special scenario, and most of her 300 pairs of shoes were $600 on average. Other designers in her collection include Gucci, Prada, Miu Miu, Giuseppe Zanotti, Sergio Rossi and Christian Lacroix. "I like things that are original.
You can really see the workmanship in shoes, and I appreciate that." She cherishes her purchases, too. "I have a system at home to keep the shoes organized in a dressing room. I store them in boxes with a photo of the shoes on the outside, and rate them according to how much I love them, or how much they cost," she says. "Many of the shoes are so ornate that they really are like showpieces."
Barnett says she would estimate her collection of 500 some odd shoes to cost at least $9,000, if not more. "I think $695 was the most I ever spent on a pair of shoes," she says. Her collection includes designer brands like Tory Burch, Gucci, Prada and Uggs. Her favorite pair is by designer Phillip Lim.
She has flats of all colors—reserved for weekend wear when she is dressed down—riding boots, dressy pumps for special events, wedges and embellished flip flops.
They range in color from the basic black and nude, to pops of color like red and blues, animal skin, suede or quilted leather.
Embracing the obsession
These women sort of belong to an exclusive club, and none are surprised to know others like them exist in South Jersey. Diamond knows them too well. After all, she catered to them for years at Best Foot Forward. "I met so many people through the years who became regulars," she says. "They had their list of favorite designers or styles, and I would call them to let them know when something came in. It was something I really enjoyed as an independent business owner."
Jacovini says shoe collecting is a subculture that many people don't realize is going on right around them. "You may interact with a person every day, but you don't necessarily know their habits, or how expensive those habits might be," she says. "Some husbands don't even know it about their wives. But I think everyone works for what is important to them."
Priorities are certainly something Barnett—who has children of her own—has straight. "My friends and family know about my shoe obsession. My parents think I'm crazy, but I work really hard. I would never sacrifice something my children need, or do something irresponsible in my business, just for a pair of shoes."
It's refreshing to hear people embrace the things they might hide from the public. We all have skeletons in our closets, but their skeletons just wear better shoes.
Published (and copyrighted) in South Jersey Magazine, Volume 10, Issue 11 February, 2014).
For more info on South Jersey Magazine, click here.
To subscribe to South Jersey Magazine, click here.
To advertise in South Jersey Magazine, click here.