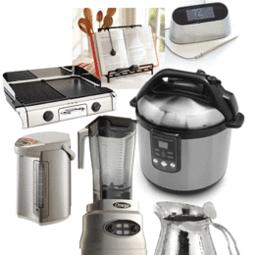 Good Buy: In the Kitchen
For some of us, cooking is a joy, for others, well, not so much. But one thing we can agree on, no matter if you're an inspired home cook or a master of the microwave, is that any tool that can make life easier is a welcomed addition to the kitchen. We love these gadgets and accessories for the convenience they provide, but more importantly for their function. If only we could find someone to clean up all the mess.
1. Grill Marks. If you're like us, you are spending this winter locked inside with a few blankets. But don't you miss juicy steaks and burgers, hot off the grill? That's where this indoor grill and griddle comes in. The aluminum plates leave those perfect sear marks on your meat or veggies, or you can flip them to create your very own flat top. All-Clad Grill-Griddle, $299.99 at Crate & Barrel, 2000 Route 38, Cherry Hill, (856) 662-5499, CrateAndBarrel.com
2. Stood Up. There are few things more annoying in the kitchen than struggling to keep your cookbook open to the right page or a stack of recipes together while you're elbows deep in ingredients. You'd be amazed by just how much stress a recipe holder can cut out. This rustic item keeps your cookbook or recipe upright for an easy view, while the weighted chain keeps pages from flipping around. Cucina Recipe Holder, $44 at Pottery Barn, 2000 Route 38, Cherry Hill, (856) 662-2031, PotteryBarn.com
3. Well-Done.. The days of battling with your main course's cooking temperature are over thanks to Williams-Sonoma's revolutionary "Smart" thermometer. Simply insert the thermometer into your meat of choice, then use your smartphone to program the perfect temperature for your dish. Your phone tells you when it's time to open the oven via pop-up alerts. You can even program reminders for basting or turning your meat, and can share photos via social media of your work in progress. Williams-Sonoma Smart Thermometer, $199.95 at Williams-Sonoma, 2000 Route 38, Cherry Hill, (856) 661-0383, Williams-Sonoma.com
4. Hot Stuff. Caffeine lovers know there's nothing like the perfect cup of tea, especially in the middle of this crazy winter. But boiling water can scald tea leaves and turn them bitter. That's why we suggest cutting out the fuss with this water heater, which achieves the perfect temperature in under two minutes. Zojirushi Hybrid Water Heater, $199.95 at Teavana, 1750 Deptford Center Road, Deptford, (856) 384-0246, Teavana.com
5. Blended. Milkshakes, smoothies, sauces: Some things are just better blended. And recently, healthy hearts are finding even more benefits with blended juices and soups. So go big with this 3 horsepower blender, which holds up to 64 ounces of hot or cold ingredients. It comes with a touch pad and adjustable dials to up your power and help you create silky smooth results. Omega 3 HP Blender in silver, $494.95 at Kitchen Kapers, 1341 Nixon Drive, Moorestown, (856) 778-7705, KitchenKapers.com
6. Pace Yourself. Whether you're looking to throw together a quick after-work meal or want a slow and low stew, this handy pot does it all. That's because it's both a pressure cooker and a slow cooker. Just program the digital settings on the front to match your time frame and be prepared for a flavorful and piping hot dish. Fast Slow Cooker by Breville, $179 at Sur La Table, 500 Route 73 S., Marlton, (856) 797-0098, SurLaTable.com
7. Thirst-Quencher. You can take your entertaining to the next level with this Michael Aram water pitcher. Crafted from stainless steel, the earthy pitcher adds an elegant touch to any dinner party or date night. Botanical Leaf Water Pitcher by Michael Aram, $269 available for order at The Polished Plate, 101 Kings Highway E., Haddonfield, (856) 428-2696, ThePolishedPlate.com
Published (and copyrighted) in South Jersey Magazine, Volume 10, Issue 11 February, 2014).
For more info on South Jersey Magazine, click here.
To subscribe to South Jersey Magazine, click here.
To advertise in South Jersey Magazine, click here.