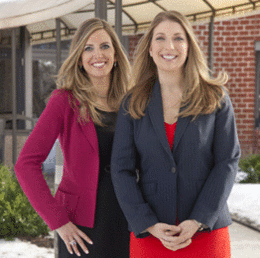 Martine & Katz Scanlon, P.A.
A Special Advertising Section from the pages of South Jersey Magazine
More than Just a Number: Martine & Katz Scanlon, P.A. provides individual attention to every family law client.
One year ago, Sarah Martine and Shira Katz Scanlon set out to open a boutique family law firm focused on South Jersey and the greater Philadelphia area. After practicing law in the community for several years, they knew there were plenty of big law firms in the area that people could turn to in their time of need, but few that could really offer the one-on-one approach a smaller firm provides.
"We pride ourselves on the relationships we build with our clients," Martine says. "We don't have a business if we don't have relationships. Our whole business model is built on being able to make connections and allowing someone to trust us enough to retain us and to help them in what can be a very difficult time for them."
Today, Martine and Katz Scanlon say they are pleased with how their firm, Martine & Katz Scanlon, P.A., has grown in the past year, and they are looking forward to what is to come. "We're proud of ourselves for taking this leap into starting our own practice," Martine says. "We've learned all the things we needed to learn in order to run a business and run a law firm while also maintaining the same level of service we expect to provide our clients, and that our clients expect us to provide to them."
According to Katz Scanlon, that service includes being accessible to clients and making sure clients are as informed as they can be regarding their cases. "We're able to maintain individualized attention by not being that 'factory' sort of setting," she says. "We always maintain communication with our clients and know what's going on with their case."
"Our clients never just talk to our assistant," Martine adds. "They always have an opportunity to speak with us. We have a goal to return all calls or emails no more than 24 to 48 hours after we receive them. We understand our clients can be very emotional given the nature of our work, and to them, 24 hours can feel like a week, so we try to be as responsive as possible."
Martine and Katz Scanlon also aim to be as accessible as possible outside the office, and to build relationships with the surrounding community, as well. For example, beginning in February, and in connection with Cumberland County College, the duo will lead a six-series seminar on family law. "What we've done is broken up the different aspects of family law and arranged them into six seminars that we will present completely free to the public," Martine explains. "We're not getting paid for our time; it's just something we really want to do." Katz Scanlon will also be on the panel of a free legal seminar regarding high conflict relationships and the law at the Katz Jewish Community Campus in Cherry Hill on Feb. 25.
"It's second nature for us to talk about [family law] and we enjoy doing it," Martine adds, noting they also just recently volunteered at the Women's Opportunity Center of Burlington County. "Now, since we're getting so busy, it's hard to fit in as much, but we would opt to do a public service event before we did a network event because it's important to us to reach out to our community."
The umbrella of family law is large and encompasses many situations that are difficult for people to face on their own, including divorce, custody, child support, prenuptial agreements, civil unions, domestic violence and more. Martine and Katz Scanlon say they understand how difficult these situations can be, and they do their best to make things as easy for their clients as possible. "I'm always honest with my clients," Martine says. "I will say to them, especially if they're coming to us at the beginning of the litigation, 'You haven't reached the hardest part yet, but now that you have us, let us take over the stressful part of the litigation, and you focus on the personal part of it.' There's not always much the client can do to make the litigation go smoother, so we just tell them to let us handle it."
Katz Scanlon says she believes making sure the client is well informed can make the process easier as well. "One of the first things we do is talk to the client about the case, and what the steps are; here's what to expect. … And we don't stop at the first meeting," she says. "I can't tell you how many emails I send a week with 'Next Steps' in the subject line. A client who is well informed is much better able to deal with the entire process, no matter what type of case they have."
At a time when big business is the standard, and we all feel more like a number and not a person most of the time, there is something to be said about a small business that is striving to maintain personal relationships with their clients. Even more, it's refreshing to know that there are small businesses like Martine & Katz Scanlon that are looking forward to keeping it that way. "Relationships are what we pride ourselves on," says Martine. "If you look at our five-year plan, it's not to have 20 attorneys working for us. We want to be a boutique firm with five or six lawyers serving clients on an individual basis the way we've always planned to."
Martine & Katz Scanlon, P.A.
2301 E. Evesham Road, Pavillion 800
Suite 218
Voorhees
(856) 396-9500
FamilyLawMKS.com
Published (and copyrighted) in South Jersey Magazine, Volume 10, Issue 11 February, 2014).
For more info on South Jersey Magazine, click here.
To subscribe to South Jersey Magazine, click here.
To advertise in South Jersey Magazine, click here.