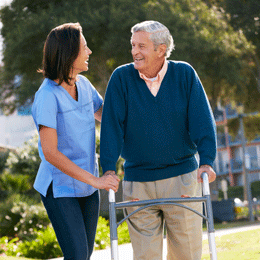 TLC HomeCare Services
There's No Place Like Home: TLC provides extra-special care in the comfort of a familiar place.
Kelly McCabe and Patti Maltese have both seen it a million times, including in their own families. An older loved one is starting to have trouble with his or her daily care, and outside help is needed. But leaving the comfort of their own home and entering an assisted living community is a major step they're just not ready to take.
Thanks to TLC HomeCare Services, they don't have to. The company, started in 2009 by McCabe and Maltese, is thriving in South Jersey as an exceptional, reliable alternative for anyone in need of non-medical home care. Their services not only benefit the elderly, but individuals recovering from illness or surgery, Alzheimer's and dementia patients, physically or mentally challenged adults, and more. They are also a preferred provider for the Multiple Sclerosis Society of the Greater Delaware Valley.
"We both had grandparents who went into nursing homes and really didn't want to, but at the time that was the only thing that the family knew to do," McCabe says of their inspiration for starting TLC. "Now, it's just therapeutic to be home. You have your familiar surroundings, your pictures, your animals. Everything is familiar to you and that's very comforting. Older children are absolutely deciding to keep their parents home, and that's their wish.
"Many of these people have been in their homes for 40 or 50 years. People do take a downward turn, their health declines and their emotional well-being declines when they have to leave their home and give up a lot of their personal belongings." McCabe and Maltese, friends for nearly 20 years, are both certified home health aides with experience in the health care field as well as staffing agencies. They felt there was a need for TLC in South Jersey, and their organization has been very well-received in the area, serving Burlington, Camden and Gloucester counties.
TLC specializes in companion/homemaker services and personal care services. In the former, caregivers help with such tasks as meal preparation, grocery shopping, transportation, medication reminders and light housekeeping. "That is a very common service that we provide for clients that have Alzheimer's or dementia," McCabe says. "Typically that individual is able to handle their personal care. They are able-bodied, so they don't need help with feeding or using the bathroom or those types of things. They just need an extra pair of hands, they need supervision and they need to be prompted to take their meds."
In the category of personal care services, caregivers help with feeding, bathing, incontinence care and grooming. "We have a lot of clients that come out of a rehabilitation center after a hospital stay and require help with those things," McCabe says. TLC's staff RN prepares a care plan for those individuals that is followed by a certified home health aide.
No matter what type of care a client needs, TLC pays a great deal of attention to finding the perfect caregiver. McCabe and Maltese meet together with each client in the initial assessment, which is free, to find out about their likes and dislikes and preferences for assistance. "We talk to them about everything from what they like to eat to what games they like to play to what they're allergic to in food or medication," McCabe says. "You name it, we're asking, because we want to get to know that person so that when we go to place a caregiver there, we know it's going to be a good match. If someone is a very quiet person and doesn't like a lot of communication throughout the day, we're not going to send someone who is chatty and bubbly and hovering over them. We'll send someone who is calm and reserved but will get the job done. The match is very important. That really has a lot to do with the success of TLC—making good matches and hiring solid, reliable, qualified caregivers."
That is just one aspect of TLC's customer service, which is second to none. Every caregiver is a TLC employee—they do not use any independent contractors—and each is taught to use a patient, compassionate approach with the clients. Caregivers use an automated system to clock in and out using the client's telephone, so the company and the families know exactly when care is being provided. TLC representatives are also available 24 hours a day, seven days a week if the need arises.
"You can always get a hold of us, and we're constantly in contact with the families to make sure we're on the same page," McCabe says. "That works for the caregivers, too, if they get sick in the middle of the night and need us to find another caregiver for someone the next day. You're never going to hear that someone from TLC didn't show up and they weren't notified."
TLC's services are not limited to the elderly—their clients range in age from 19 to 102—and they don't have to be done in the home. Caregivers can make visits to rehabilitation centers or assisted living communities, or accompany clients to special events such as weddings or graduations.
"We'll have an aide go with them and assist them throughout the affair, and then take them back to the assisted living community," McCabe says. "The whole point of these services is to keep that individual in their daily life, to keep them as active and independent as possible. We're not there to take over and do everything for them. We're there to lend an extra pair of hands and assist them so they can continue with their independence, at whatever level that is."
Sometimes, getting a loved one to accept that they need help is difficult. That's why TLC introduced care cards, which are prepaid and can be presented to a family member as a gift. Clients can redeem the cards to get a home-cooked meal or help with the laundry.
"A lot of times, these services are met with reluctance, and the care cards are a way to introduce home care," McCabe explains. "And what happens is, once they have that caregiver in their home, they can't wait to have them back. They bond with the person and they look forward to seeing them again."
The caregivers usually feel the same way. As McCabe points out, it takes a special type of person to care for another person on a daily basis, and the two owners even get to share in the experience on occasion.
"Patti and I are both certified, so in a pinch, if something happens, we're able to provide services," McCabe says. "We had an instance where it was a snow day and our caregiver couldn't get there. Patti and I put our scrubs on and went over, and the client said, 'Oh my goodness, the owners are here.' She was so thrilled, and it was just a wonderful feeling to be able to provide that. For the people who do it on an everyday basis, you can't just hire a warm body to do this job. You have to have love in your heart to provide these services."
Getting that kind of special attention in your own home, when you need it the most, is what TLC is all about. The perfect match in home care is just a phone call away.
TLC HomeCare Services
310 Commerce Drive, Moorestown
(856) 234-8700
TLCHomeCareServices.com
Published (and copyrighted) in South Jersey Magazine, Volume 10, Issue 10 January, 2014).
For more info on South Jersey Magazine, click here.
To subscribe to South Jersey Magazine, click here.
To advertise in South Jersey Magazine, click here.