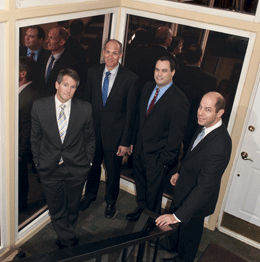 Petrillo & Goldberg Law
Taking a team approach to personal injury and workers' compensation claims
Founded in 1993 by two publicly minded freeholders, Petrillo & Goldberg Law has grown to be recognized as the South Jersey/Philadelphia region's premier choice for referral of personal injury and workers' compensation claims. "We currently serve as referral counsel for approximately 20 area law firms," notes managing partner Steven M. Petrillo, Esq. These range from some of the largest South Jersey and Philadelphia law firms down to solo practitioners who don't have the time or resources to litigate personal injury or workers' compensation claims. "They trust us for a reason," adds certified civil trial attorney Scott M. Goldberg, Esq. "We deliver."
Petrillo & Goldberg Law uses a team approach to its cases that maximizes preparation and prosecution of claims at every level. Rather than dealing with a secretary or paralegal while a case is in its developmental stages, Petrillo and Goldberg provide professional attorney management and supervision of their cases from the outset. In traditional law firms, the trial attorney does not see the case until it is in suit—often too late to ensure proper preparation. Petrillo and Goldberg remedy this.
"There's an old adage I was taught over 30 years ago," says firm founder Petrillo. "A defendant's case is won or lost in court. A plaintiff's case is won or lost in the office." "It's all about preparation and nobody does it better," adds Goldberg. "Separating case preparation from the trial and settlement work permits me to focus on what I do best—trying or settling claims."
The firm also separates pre-litigation from post-inception of litigation case management. "Once a case is in suit, I prepare for and conduct depositions and handle discovery and pre-trial motions," states long-term firm associate Jeff Thiel. "We all coordinate and communicate during the process, but I'm able to focus on the details of pre-trial discovery because that's pretty much all I do."
Workers' compensation claims are also separately handled by firm partner Scott Schulman. "In my opinion, Schulman is the most aggressive and talented workers' compensation attorney in the region," states Petrillo. He adds that all too frequently, workers are hurt on the job or abused by their employers or the workers' compensation companies. Employers will frequently fire workers hurt on the job.
Or, the workers' compensation carriers will deny clearly needed medical care.
"We remedy this by aggressive motion practices in workers' compensation court," says Schulman. "Frequently, this results in determination of temporary disability and medical benefits that injured workers are otherwise typically denied.
"Ultimately, we seek an appropriate permanency award in workers' compensation court," Schulman continues. "But we can't obtain the appropriate permanency result if adequate medical care isn't furnished, and an award of temporary disability enables our clients to keep a roof over their head during the initial healing process or following surgery."
Reason for referrals
"The bottom line is that what were once routine motor vehicle, premises liability and workers' compensation claims have now become complex, detailed and drawn out battles," comments Petrillo. "Many similar firms just don't have the specialty expertise or resources to handle protracted personal injury or workers' compensation litigation."
"Most referring attorneys are seeking competence and aggressiveness when referring cases, which we offer from the start to finish due to our team approach," notes Goldberg.
"And we take tough cases," adds Petrillo. "We litigate verbal threshold claims. We try cases against Allstate, Geico and NJM on a routine basis."
"We don't win every case," says Goldberg. "But as a judge in Camden County recently said, we're always ready for the fight."
There's an old saying in the business: "Anybody can get a million dollars for a million-dollar case." But what Petrillo & Goldberg Law does is different. "We take the tough, complex cases, prepare them diligently and aggressively, litigate them thoroughly and try them when necessary. Many of our referring attorneys and law firms are happily surprised at the results," says Petrillo.
"We do it differently," says Goldberg, "but I think we do it right." This team approach and reputation for diligence, competence and aggressiveness at each stage in the life of a case has made them one of the South Jersey/Philadelphia region's premier referral choices for personal injury and workers' compensation claims.
"We don't advertise," Goldberg concludes. "We don't have fancy credentials or labels. We don't limit our practice to the 'perfect' or 'dream' cases like some law firms. We've had countless successes for countless clients with difficult cases in the past 21 years together, resulting in a bedrock of referrals from both past clients and over 20 area law firms. And we're proud of that."
Published (and copyrighted) in South Jersey Magazine, Volume 10, Issue 10 January, 2014).
For more info on South Jersey Magazine, click here.
To subscribe to South Jersey Magazine, click here.
To advertise in South Jersey Magazine, click here.