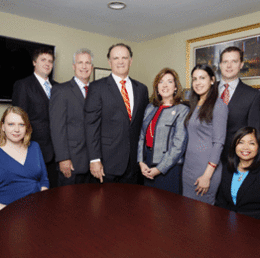 M Financial Planning Services
A proactive planning approach puts clients on the right financial path.
We all know the phrase "hindsight is 20/20," meaning it's easy to see what you should have done after an incident occurred. All too often in life we procrastinate on planning for our futures until one day when a crisis hits and we're faced with making important decisions quickly—and maybe irrationally. In particular, the significance of making your future financially secure is not to be taken lightly. The experienced professionals at M Financial Planning Services can help develop a comprehensive plan for their clients, preparing for things before they happen. Individuals, small business owners, executives and families in search of long-term planning for a better financial future can feel confident in pursuing their goals with the assistance of M Financial Planning Services.
The M Financial Planning Services philosophy
Theodore "Ted" Massaro, CLU, AEP, Chartered Financial Consultant, co-founded M Financial Planning Services in 1982. "It's easy to procrastinate on something like financial planning. It can be overwhelming and people don't want to deal with it," he says. In his 38 years in the industry, Massaro has witnessed times when clients have come seeking help on short timelines, presenting real problems. The earlier people come, the more time there may be to resolve any issues.
Financial planning is not just for the ultra-wealthy. "Everyone's situation is unique to them," says Massaro. "If you don't know where you're going, or how you are going to get there, you'll never get there. Having a clear understanding of your goals and objectives will make you more confident to achieve them." Anyone who improvises with their financial planning is destined to make mistakes or follow bad advice, which is why a professional should be consulted.
M Financial Planning Services is powered by LPL Financial, one of the nation's largest independent broker/dealers and leading diversified financial services companies. "First and foremost, we are an independent and unbiased firm," says Massaro. "We have no interest in promoting an agenda or selling any specific vendor's products." This allows M Financial Planning Services to provide guidance and advice that is tailored specifically for each client. "We take a wholistic approach to working with clients," he adds, which includes involving an individual's attorney and accountant to address the planning process as a team.
M Financial Planning Services clients are more than just a financial statement. "We have always focused on putting our clients' best interests at heart and in many cases we have a much deeper relationship with them than is typical of financial firms," says Massaro. The average tenure of M Financial Planning Services clients is more than 25 years and he says in many instances the firm is working with second and third generation families and business owners.
Planning for 2014 & Beyond
M Financial Planning Services offers a variety of services, including: investment planning, wealth management along with education, retirement and estate planning for individuals. The team is also licensed and has many years of experience to assist clients with their disability, long-term care and life insurance needs. Small business owners can take advantage of a full range of services such as group insurance benefits, key person coverage along with 401(k)s, and other qualified retirement and deferred compensation programs.
Massaro says a high percentage of baby boomers are business owners and one key component of running a business needs to be succession planning. M Financial Planning Services can proactively address scenarios that may arise, helping business owners formulate a plan that will transition the next generation into ownership and wealth management. "Other instances that can impact your business include premature death or disability and/or loss of a key employee. Small business owners should take these things seriously and plan in advance before the crisis occurs," Massaro says. Businesses can also get assistance from M Financial Planning Services regarding tax law changes that will occur this year. "Business owners should be looking to see how changing tax laws will impact them and how they can put themselves in the best position to mitigate those changes," he says.
According to statistics, only 25 percent of adults in the U.S. are confident they will retire comfortably. Sadly, Massaro says he can speak from experience when he has told people that they won't be able to retire due to lack of planning. "Every year that you put this off, you're another year closer to retirement age," he says. "Fewer companies are offering pensions, which thrusts the responsibility of retirement planning back on the individual. We sit down with clients and together we create a plan for their retirement, taking the time to fully understand their goals and objectives, and then we design a retirement roadmap that is both comprehensive and realistic." He says anyone under the age of 45 has the advantage of time and suggests setting money aside and doing it consistently.
For those who have never met with an advisor, Massaro recommends coming in for a complimentary consultation with M Financial Planning Services. "Get to know us, our approach and philosophy and see how we may be able to work with you and your family toward the goals that will make your future more comfortable," he says.
Clients can take part in ongoing educational seminars presented by the company. Topics might be focused on the planning needs of professionals, others are client specific, and some may include third party experts brought in to discuss topical family issues.
The M Financial Planning Services team
The staff of M Financial Planning Services prides itself in providing high-quality service through honest communication and innovative strategies. Massaro has built a strong foundation of team members that will guide clients in the right direction. He is a member of the Financial Planning Association, local and national chapters; Registry of Financial Planning Practitioners; and American Society of CLU/ChFC. He is an accredited estate planner and an LPL Investment Advisor Representative, Registered Securities Principal and Registered Representative.
He is joined by other knowledgeable professionals who are passionate about creating solutions in planning for their clients' financial futures. Catherine B. Allen, CFP, has more than 26 years of experience in the financial industry and works extensively with women business owners, widows and divorcees. Ed Garruto, MBA, was formerly a CFO of a major casino in Atlantic City and brings in-depth knowledge of understanding the financial needs of business owners. Tim Melly, CFA, director of research, focuses on providing research support to investment advisors in developing portfolios and financial plans. Massaro is extremely proud of the M Financial Planning Services team and the well-rounded support they offer to clients.
"Continuing education is not only encouraged, it's required—by the firm and the industry," says Massaro of his staff. "It's important to maintain a current and proactive understanding of the financial planning environment to provide our clients with the most relevant and accurate advice." Massaro himself just completed his certification to be an Accredited Investment Fiduciary (AIF), showing that he sets an example for his staff to follow.
Community involvement
In its 30-plus years of service, M Financial Planning Services has never neglected the community it calls home. Massaro and his staff are active in community service projects throughout South Jersey, including Big Brothers Big Sisters, Make-A-Wish Foundation and CASA of Mercer County. Every year, the firm also offers scholarships to two students at Cherokee High School based on financial need and academic achievement. They have also collected more than 200 pounds of food for the Food Bank of South Jersey for the past two holiday seasons.
"I have no aspirations of retiring any time soon," says Massaro. "I love what I do and thoroughly enjoy working with our clients. We are going to continue to expand and grow M Financial Planning Services wherever the opportunity provides and we hope to be a part of the South Jersey community for a long time."
M Financial Planning Services is located at 57 S. Maple Ave. in Marlton. For more information, call (856) 810-7701 or visit MFinancialPlanningServices.com.
Published (and copyrighted) in South Jersey Magazine, Volume 10, Issue 10 January, 2014).
For more info on South Jersey Magazine, click here.
To subscribe to South Jersey Magazine, click here.
To advertise in South Jersey Magazine, click here.